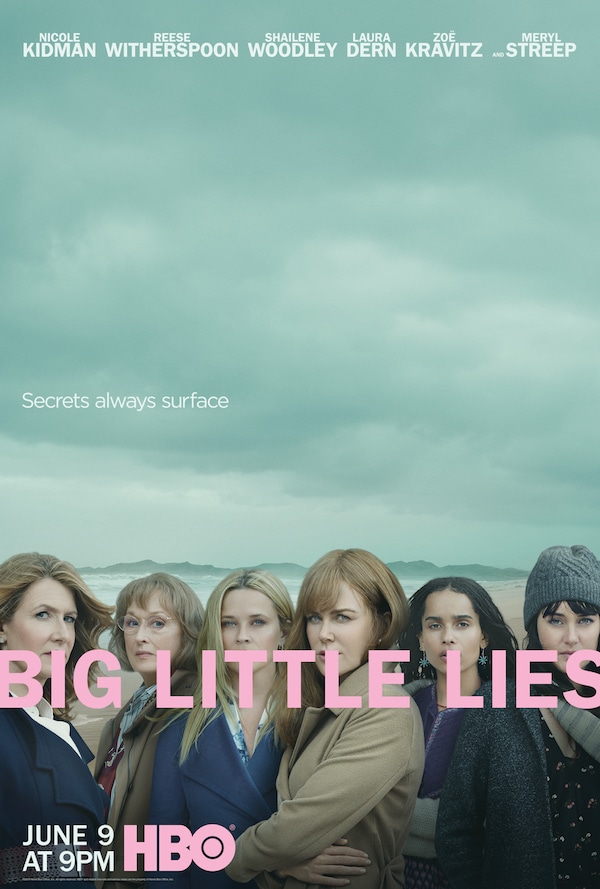 Director

Andrea Arnold

Writer

David E. Kelley

Rating

TV-MA

Running Time

46 minutes

Airs

Sundays 9pm

Channel

HBO Canada, HBO
Rating Summary
She Knows was another excellent episode that furthered the unraveling of these complex characters with plenty of excellent performances to boot from Nicole Kidman, Meryl Streep, Reese Witherspoon, and Adam Scott.
For our review of the last episode of Big Little Lies, click here.
Synopsis: Celeste accuses Mary Louise of overstepping boundaries with Jane. Renata endures a prying court hearing with Gordon. Jane opens up to Corey at Amabella's birthday party. Madeline continues to try to make things right with Ed. (HBO)
One of the best parts of the first season of Big Little Lies was Celeste's journey through her abusive relationship with Perry and in the excellent She Knows, some of those same moments continued with Nicole Kidman and Meryl Streep delivering powerful performances but there was still plenty more going on as we follow these characters and their complex relationships. Stay tuned until the end as it may or may not foreshadow a certain fate for a certain character.
The episode started with Madeline having a dream about the incident. Later in the day, she hosted a pumpkin carving party where everybody and their kids showed up. Mary Louise would show up uninvited (she also met Bonnie for the first time) which would only get worse when it became clear that she was overstepping boundaries with Jane by moving into an apartment in Jane's building. Celeste was particularly not amused at her remark about their marriage as a reason why Perry would look elsewhere, implying that there may be more women than Jane. Mary Louise would get slapped in the face for her trouble but Celeste immediately apologized after, however, this seemed to be all Mary Louise needed (as she took one last jab by calling it foreplay). Mary Louise took the slap and used it as ammunition in a tense meeting with Celeste. Celeste tried turning the tables on her by bringing up her failed marriage.
Madeline and Ed had a moment after the earlier party where Ed wondered why she was treating their marriage compared to everything else (Reese Witherspoon and Adam Scott were also great in this episode). She took the blame. She suggested they go to a workshop but Ed wasn't interested. Meanwhile in the last episode, Renata made it clear that she wanted to cheer Amabella up by throwing her a party which we now know will be disco-themed. Before that could happen, she and Gordon would have to go to an embarrassing (especially for her) bankruptcy hearing where we learned how wealthy the Kleins really were (where they also obviously kept the aforementioned party a secret).
The disco party would be a big event, Meanwhile, Mary Louise met with a lawyer to try and seek custody of Celeste's twins. Back at the party, Celeste shared Mary Louise's suspicions of her. She began to second guess the lie. The already suspicious Elizabeth was watching which would only fuel her suspicion (her bad vibes led her to have a stroke which led to a seizure). Renata was not willing to forgive Gordon anytime soon for what he did to her. Jane invited Corey who when they were dancing, memories of her rape came back which caused her to tense up (she later told him the truth and he was okay with it). Ed showed up and didn't want to dance with Madeline as he (rightfully) called out the party for the farce it was. Nathan was trying to be supportive but he wanted none of it.
Ed tried to console Madeline after the party but she wanted none of it (Ed refused her advances in bed leading her to think about her earlier affair). Jane shared with Celeste at a bar what happened at the party. Celeste told Jane that it will get better (perhaps implying that Perry raped her). In her disillusioned state, she would bring the bartender home and slept with him. Things got worse when Mary Louise brought her twins back home at the worst time after a sleepover. Meanwhile at the hospital, Bonnie's father Martin (Martin Donovan) accused her for what happened to Elizabeth. Things got worse when Bonnie saw Detective Quinlan (Merrin Dungey) who was there working an unrelated case (she would also show up later for more pestering).
The latest incident was the last straw for Mary Louise who suggested that she take the twins while Celeste took some time for herself. Celeste denied that there was anything wrong and believed that her twins should stay with her as she believed it to be Perry's wishes. On her way out, Mary Louise served with a petition for custody. Jane confronted her and defended Celeste but Mary Louise tried to put doubt in her head. Celeste shared her concern with Dr. Reisman.
The episode ended back at the hospital where Elizabeth was waking up after surgery. When Bonnie touched her, it seemed to trigger a vision of Bonnie drowning.
Make that two mothers to worry about.
---
---
If you liked this, please read our other reviews here and don't forget to follow us on Twitter, follow us on Instagram, and also like us on Facebook.