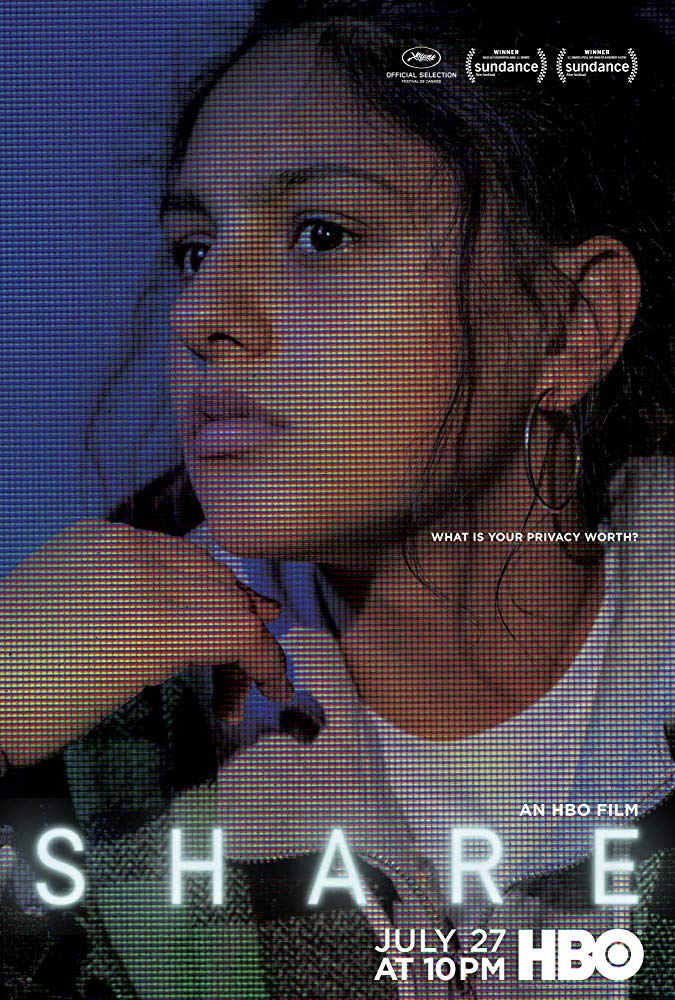 Starring

Rhianne Barreto, Charlie Plummer, Poorna Jagannathan

Writer

Pippa Bianco

Director

Pippa Bianco

Rating

R (United Sates)

Running Time

87 minutes

Release Date

July 26th, 2019 (HBO)
Rating Summary
Share is a gripping and deeply uncomfortable coming-of-age thriller led by an impressive lead performance from Rhianne Barreto. Definitely worth a watch.
The tradition of HBO's Sundance Film Festival acquisitions continues with Pippa Bianco's Share, based on Bianco's Cannes Film Festival award-winning short of the same name. While this film may be uncomfortable at times, it is still very timely with its grounded and nuanced depiction of the impact of sexual assault in the social media age on victims and their environment. It is definitely not easy and so the film does not shy away. It could be scary and victims are never quite the same afterwards. What this film does with the topic was turn it on its head by setting it as a backdrop as a thriller within a coming-of-age story.
Share was about a 16-year-old girl named Maddy (Barreto) who has her life turned upside down after discovering a disturbing video shared from a night at a party that she doesn't remember. With this news, Maddy was understandably confused but over the course of film, she would slowly figure it out what really happened that fateful night. Little did she know, the repercussions from that night would be much more severe than she had anticipated and too much to handle alone even though, being a teen, she'd rather tackle it all herself because she felt alone and no one else would understand. Despite this, Maddy's parents Kerri (Jagannathan) and Mickey (J.C. MacKenzie) were there to support her arguably at the expense of her high school life, however, this ordeal would not be easy for them either.
The mystery behind the incident in the video was suspenseful and heartbreaking to watch but watching how the overlying impact on Maddy, her family, and their small town play out was much more gripping to watch if only to see how far it would go. The story, for the most part, was tense with plenty of unpredictable twists and turns along the way while Maddy tried to cope with what happened to her and move on with her life but it definitely was not easy for her and her parents. The close-knit nature of her town and high school only made it more complicated as a cloud of suspicion formed over her. What ultimately made it all work was Share's palpable feeling of dread and uneasiness of the unknown throughout thanks to the lighting and score, pulling viewers further in and allowing us to feel right along with the characters.
The best part of Share was Barreto's impressively raw and vulnerable performance as Mandy. With the story about Mandy, the film's success obviously depends on the character but here, she definitely carries the film and was compelling to watch as the traumatized and confused teen. It was a complicated time for Maddy as she was faced with complex feelings and Barreto's handling of them was something to behold. Her likability and relatability made us care for the character. Jagannathan and MacKenzie were solid as Maddy's parents Rita and Mickey though there was more to Rita that would have been nice to see. Plummer was good in a criminally small role as Maddy's friend Dylan.
At the end of the day, Share is an experience that should be shared and is definitely worth a watch.
*still courtesy of HBO*
---
If you liked this, please read our other reviews here and don't forget to follow us on Twitter or Instagram or like us on Facebook.