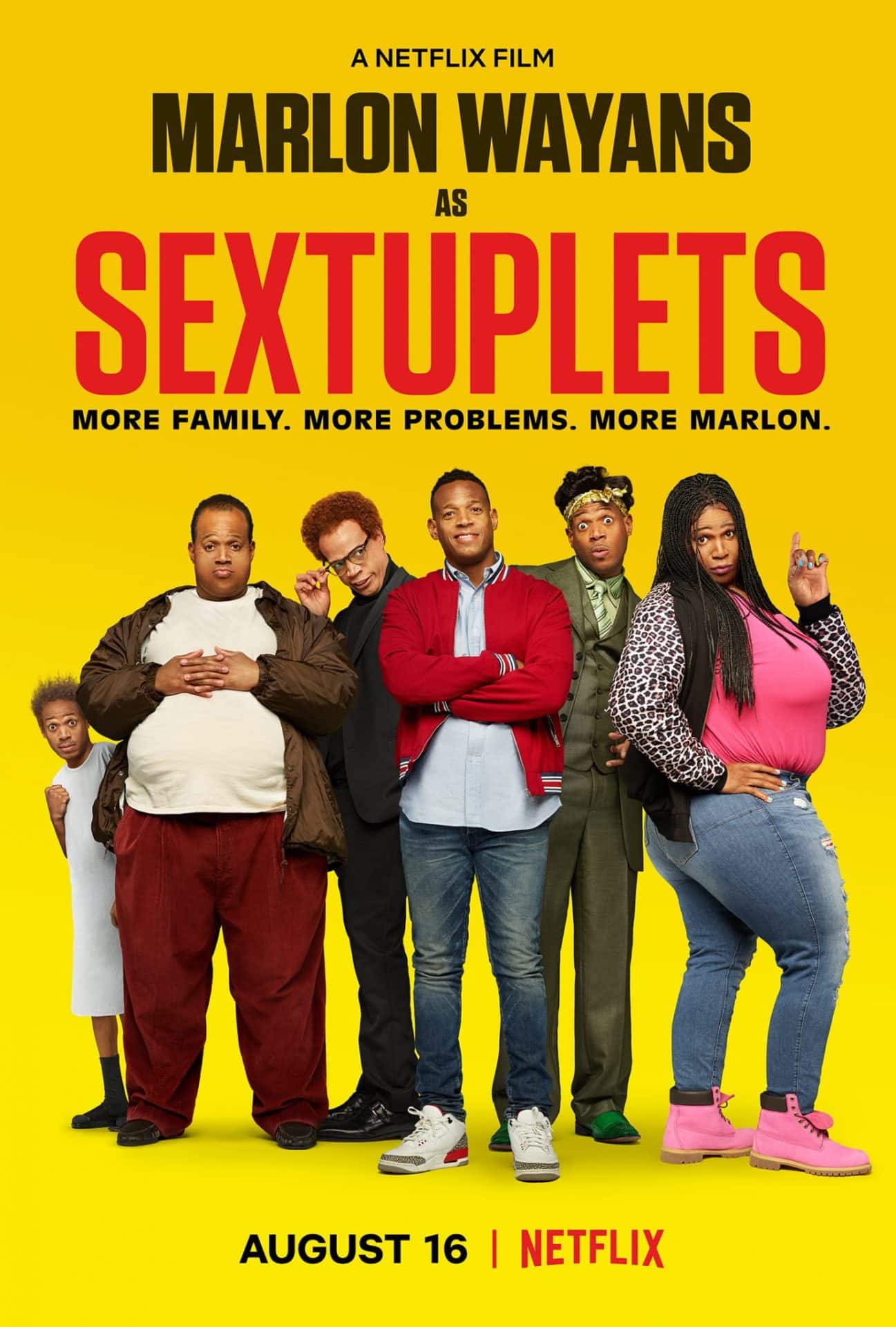 Starring

Marlon Wayans, Bresha Webb, Michael Ian Black

Writers

Rick Alvarez, Mike Glock, Marlon Wayans

Director

Michael Tiddes

Rating

TV-14

Running Time

100 minutes

Release Date

August 16th, 2019 (Netflix)
Rating Summary
Sextuplets is exactly what you would expect, for better or for worse, a painful to watch feature length version a bad 90s late night comedy sketch with a terrible, incredibly lazy and unfunny script, irritatingly thin characters, and bad special effects. Just follow your instincts and avoid this at all costs.
Nothing in this review of Netflix's newest comedy Sextuplets should come as that much of a surprise considering any of the film's promotional material. The Nutty Professor films aside, comedies with actors playing multiple roles have not usually fared very well though nevertheless, here's another one whether we want it or not. Why a humorless, feature-length film featuring a premise better fitting of a bad 90s late night comedy sketch would ever be greenlit in the first place is definitely baffling but regardless of its quality, the film will still more than likely find an audience (deservedly or not) thanks to its star, co-writer, and executive producer Marlon Wayans and the famed Wayans family name.
Suffice it to say that the plot of Sextuplets makes no difference whatsoever as it was just a means to justify its use of Wayans and the 7 characters he plays (it's pretty easy to figure out who) though the word "character" may be too strong a word. At the center of the story is Alan (Wayans), the main character, the de facto straight man among the other crazy characters, and the only character with any sense of depth, an expecting father who was adopted as a child. With no known family to introduce to his newborn child, now seemed as good a time as any to take a deep dive into his family. Of course Alan's family would be nowhere near what he expected with each new member more outrageous than the last. However, the problem with all of that was that none of it was funny whatsoever and felt like torture (and was also a little sad).
The sextuplets of Sextuplets were about as deep as you would expect (what you see on the poster is pretty much what you get) and were just as annoying to watch. They could have been fleshed out a little more but this was never going to be one of those types of films. Each served little purpose together nor individually, acting as lazy caricatures representing plenty of tired cliches and tropes. The story would see the sextuplets' personalities play against each other while getting themselves in and out of precarious situations. Unfortunately, the terrible writing, distractingly bad special effects, and the questionable makeup and prosthetic work, used to bring the different sextuplets to life, made it incredibly tough to watch or even care about. The film's arguably stupid sense of humor may elicit laughs from some audiences, however, it just plainly wasn't funny at all for the most part. In the end, these aspects all work together to make what was a reasonably short film feel even longer.
Acting can only go as far as the material takes it and in the case of Sextuplets, the answer is not very far. Marlon Wayans should get some props for attempting to play 7 different characters, they were most certainly not 7 different characters regardless of the different makeup and prosthetics on each of them. Regardless of the merits of his undertaking (did we really need that many Marlon Wayans'?) they pretty much didn't matter as the film's more glaring issue was its terrible and unfunny script. Alan was dull as a straight man character while each of the other sextuplets felt like a series of cringe-worthy impressions that were all painful to watch. Molly Shannon as Alan's boss was sad.
At the end of the day, Sextuplets is a forgettable comedy (or one that you'll want to forget) that will surely become a miss over the course of Netflix's hit or (mostly) miss run of original films. The poster tells you all you need to know so skip it.
*still courtesy of Netflix*
---
If you liked this, please read our other reviews here and don't forget to follow us on Twitter or Instagram or like us on Facebook.