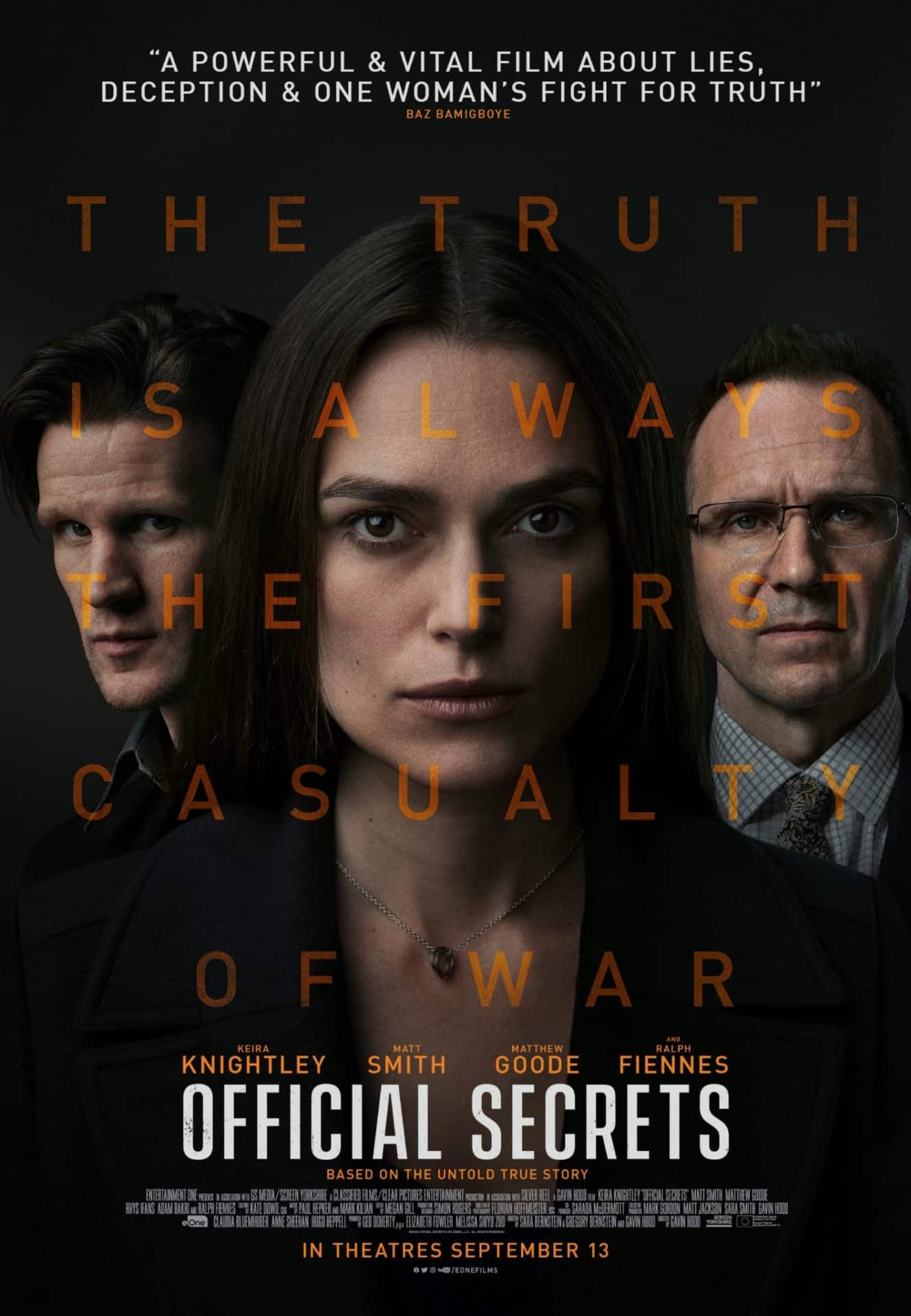 Starring

Keira Knightley, Matt Smith, Ralph Fiennes

Writers

Gavin Hood, Gregory Bernstein, Sara Bernstein

Director

Gavin Hood

Rating

14A (Canada), R (United States)

Running Time

112 minutes

Release Date

August 30th, 2019
Rating Summary
Official Secrets immediately hits you with the heat of a tight script, great lead and supporting performances and an incredibly charged and interesting subject matter, then lets you simmer for a little too long before taking you off the flame. Noticeably overcooked, but still very much edible.
Official Secrets is a tightly made whistle-blower thriller with the feel of a Snowden or The Social Network, but without the major structural issues of the former, nor the incredible screenplay and direction of the latter. This film manages to strike a fine balance between the two, leading to a very compelling if not a little disappointing results.
To start with Official Secrets' positives, Knightley gives an incredible performance as Katharine Gun. Given that the majority of the film relies on her performance, it's very important that she was able to carry the weight of the full film which she managed to do here. The film is obviously an Oscar play by Knightley and the studio behind it, but given that she pulls it off here, she will more than likely be in the conversation by year's end, and certainly on many critic's top 10 actress lists come awards season.
In addition to Knightley's killer lead turn, the supporting performances shone as well. Matt Smith was delightfully understated as Martin Bright. Smith unquestionably wants to distance himself from the youthful, over-energetic, manic character that made him famous in Doctor Who with a quiet, nervous, eyes-glued to the floor performance which he carries off excellently. In addition Fiennes puts in a great turn as a defence lawyer Ben Emmerson, with a certain court room scene later in the film being one of the most effective moments of the film. He was an engrossing, effective, and wonderful ensemble addition to Official Secrets' already stellar cast.
Official Secrets features a very tight script in sections but unfortunately the inconsistent pacing over the course of the film distracts from it. It's also confusingly edited that way, leaving much to be desired with the consistent use of "insert number months later" cards throughout. Time passing can be showed in much more effective and less cliche manners. Additionally, the film was competently shot, but the direction did not stand out enough to be considered a positive as it often felt rather bland at times as if anyone could have shot it, with the exception of a few impressive shots scattered sporadically among the others.
At the end of the day, Official Secrets is still worth a recommendation if for no other reason that it could (and honestly should) play a role in the awards race this year.
*still courtesy of Sierra/Affinity*
---
Follow me on Twitter and Instagram.
If you liked this, please read our other reviews here and don't forget to follow us on Twitter or Instagram or like us on Facebook.