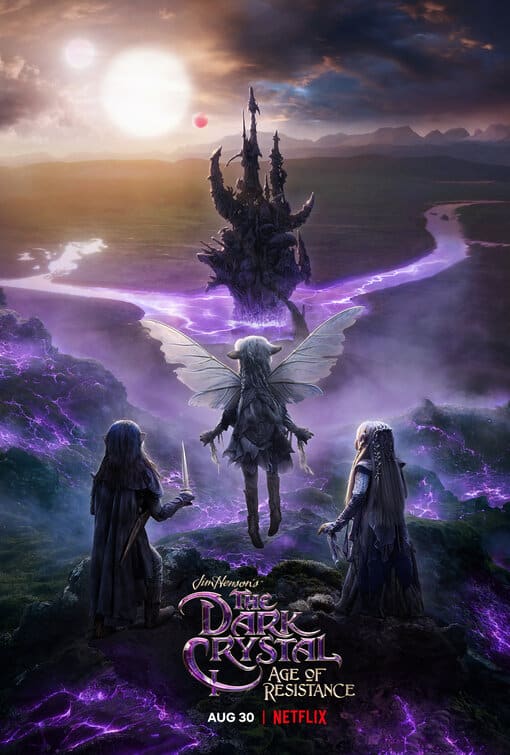 Creator

Jeffrey Addiss, Will Matthews

Rating

TV-PG

Episodes

10

Running Time

600 minutes

Channel

Netflix
Rating Summary
The Dark Crystal: Age of Resistance Season One is a mystical myriad of medieval adventure. The deeply layered story is rooted in a strong, fantastical world that tackles its darker adult themes with a phenomenal voice cast and masterful puppetry.
Jim Henson and his company are world renowned for their puppeteering magic that has brought many iconic characters to life. While he is most associated with the Muppets, Sesame Street and Yoda, Henson and Co. have done a few darker takes that, despite being less successful, have their own merits. Most people may assume that is referring to the R-rated puppet comedy The Happytime Murders, but Jim Henson started a lot earlier on a much bigger passion project called The Dark Crystal. This fantasy world looked at more adult themes while having nightmare-inducing villains, but it wasn't as well received in the 80s. Perhaps this prequel series can prove more successful in the golden age of television.
The Dark Crystal: Age of Resistance follows the story of the world of Thra where the Gelflings, a peaceful race, live under the leadership of the Skeksis. However, as the world starts to decay under the influence of the Darkening, an event caused by the Dark Crystal's transfer of eternal life to the Skeksis, Rian (voiced by Taron Egerton), Brea (voiced by Anya Taylor-Joy) and Deet (voiced by Nathalie Emmanuel) set out to save Thra from their evil overlords.
First and foremost, watching the original film is not required to enjoy this series. While it is a good complement, the series stands on its own as a very strong example of a masterclass in world building. Henson had a vision for a fantasy world that rivalled those of Middle Earth or Narnia and Thra does not disappoint. This is expanded upon in Age of Resistance thanks to the nature of television and its format allowing for a deeper dive into the lore of this universe.
Beyond the world itself, the story is a strong, entertaining ride that never ceases to be filled with tension. This pairs well with the adult themes explored throughout the season as the inhabitants of this world deal with genocide, class systems and immortality among other things. However, the story is only this immersive thanks to the cast and characters.
The characters, which could have been the product of modern CGI are instead kept in their original forms as puppets. This decision creates an atmosphere similar to the original film for continuity, but also brings an oddly humanizing quality to these creatures. Their life-like appearance due to the lack of CGI makes this world feel grounded and real. This is complemented by a fantastic A-list voice cast that deliver engaging, deep characters.
The only issue is the length of the season at a short 10 episodes. While this allows for a tight-knit medieval adventure, it also leaves the audience craving more of the world of Thra. This shows how well the show runners were able to recreate Henson's vision and set up a world that could easily be revisited.
What did you think of The Dark Crystal: Age of Resistance? Was it a good fantasy series? Let me know in the comments!
*still courtesy of Netflix*
---
If you liked this, check out my YouTube channel The Film Fanatic, my other reviews and my website!
Don't forget to follow us on Twitter and Instagram and like us on Facebook.