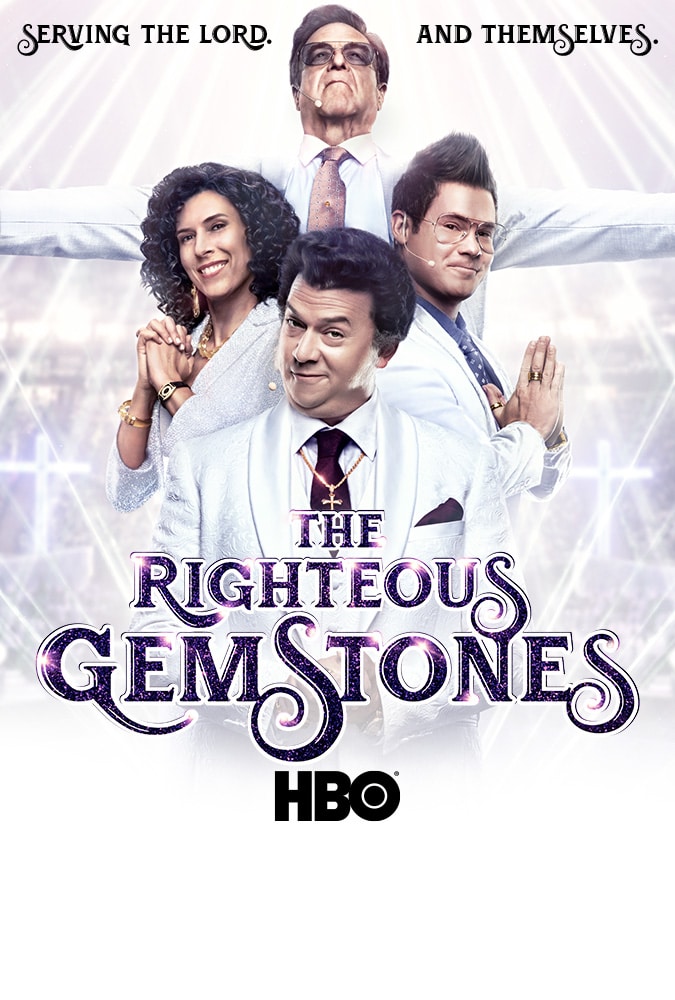 Director

David Gordon Green

Writer

Danny McBride

Rating

TV-MA

Running Time

36 minutes

Airs

Sundays 10pm

Channel

HBO, HBO Canada
Rating Summary
In the end, They Are Weak, But He is Strong managed to be more of a set up for what is to come in later episodes which was still a fairly good episode, just not its strongest.
For our review of the last episode of The Righteous Gemstones, click here.
Synopsis: Aimee-Leigh's elderly brother Baby Billy returns to the Gemstone ministry, bringing along his much younger wife Tiffany. Jesse closes ranks on his co-conspirators to root out the identity of his blackmailers. (HBO)
After all of the increasing tension surrounding Jesse Gemstone and his family over the past two episodes, They Are Weak, But He is Strong begins with a baby – Baby Billy Freeman (Walton Goggins), Aimee Lee Gemstone's (Jennifer Nettles) brother.
Baby Billy decides to rejoin the family in order to take over as head pastor of the new Locust Grove Church – the very church Brother Pastor Johnny Seasons (Dermot Mulroney) didn't want to be built. The truth is, Baby Billy needs a job and is tired of living on his family's dilapidated property and seeks the limelight once again, and also to make enough money to fix his wife, Tiffany's (Valyn Hall), teeth. Eli welcomes him into the fold of the Gemstone family but tensions arise between them once they confront Johnny Seasons as war begins to form on the horizon.
Meanwhile, Jesse and his siblings are still reeling from their close encounter with their extortionists and he inches ever closer to identifying the third party that was in the van that night at the exchange point. Jesse's family is still in somewhat disarray as Gideon's (Skyler Gisondo) return home seems to delight everyone except for himself which leads to a heated confrontation with his middle son, Pontius (Kelton DuMont), in front of all of the family.
As the Gemstones are beginning to unravel, their situation is compounded by Johnny Seasons' decision to escalate the conflict between he and Eli Gemstone, much to the chagrin of Baby Billy who seeks to win him over with smooth-talking but ultimately fails leading Eli to produce one of the best moments of the episode – throwing a potato through a stained-glass window. Seasons' retaliation is swift and brutal as goons are dispatched to Locust Grove to dismantle and burglarize the property while Baby Billy and Tiffany are still there, but they are saved by Eli's quick thinking (and a gun).
Gideon's plan to screw over his family begin to take on a new shape as he seeks his father's trust in order to steal from him without suspicion, Eli has a newfound vigor through his rivalry with Brother Pastor Seasons and Baby Billy is making a strong case to be one of the funniest characters on the show.
With the season almost reaching its halfway point, The Righteous Gemstones has shown its card in terms of plot and now continues to build its story with its stable of hilarious and strong characters. Here's to hoping that this show continues to get darker and weirder but most importantly, it has more surprises in store before this season ends.
---
If you liked this, please read our other reviews here and don't forget to follow us on Twitter, follow us on Instagram, and also like us on Facebook.