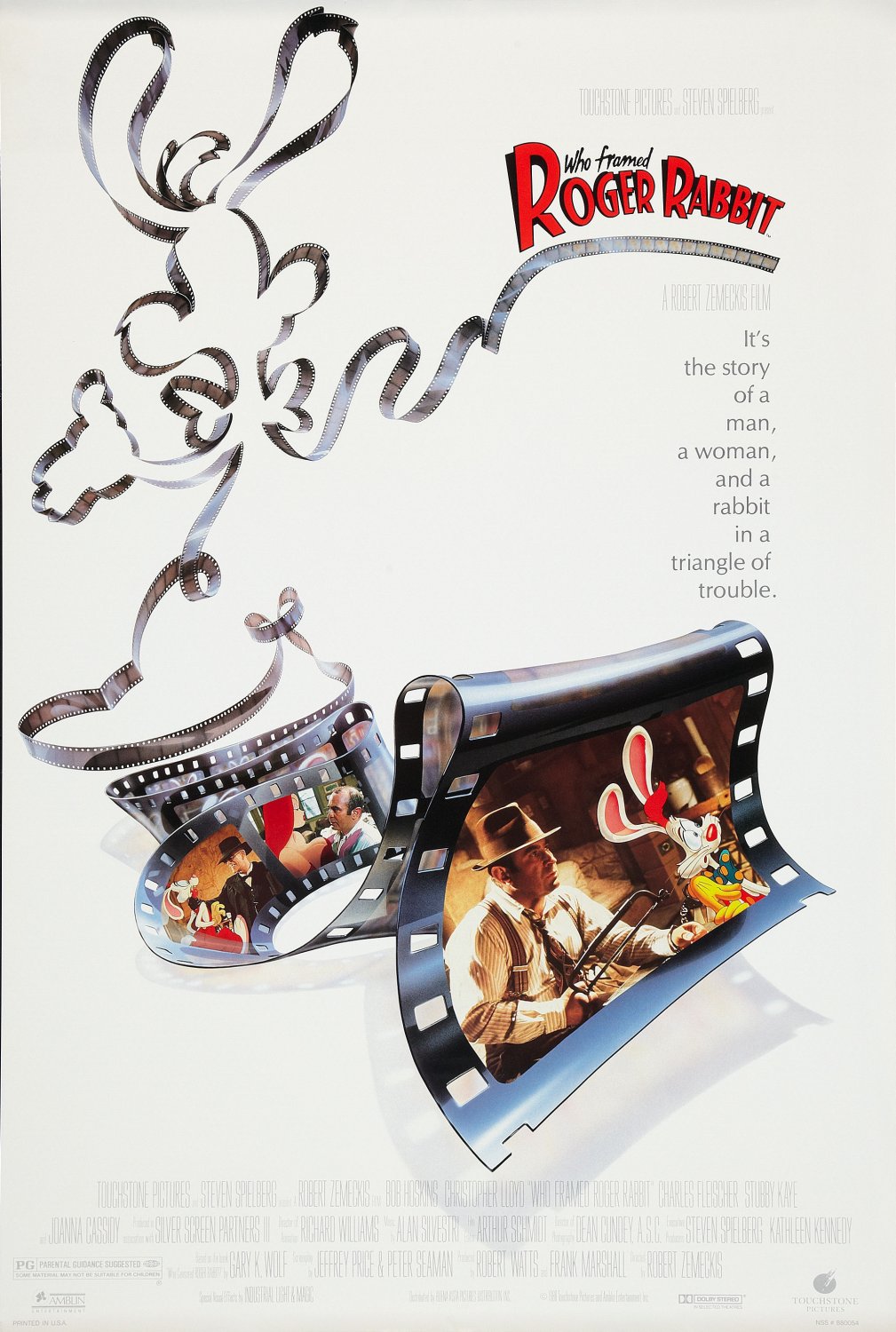 Starring

Bob Hoskins, Christopher Lloyd, Joanna Cassidy

Writers

Jeffrey Price, Peter S. Seaman

Director

Robert Zemeckis

Rating

PG (Canada)

Running Time

104 minutes
Rating Summary
Who Framed Roger Rabbit? is a delicious film that wins the hearts of everyone who watches it. A technical feat that still marvels us 30 years after its original release.
Detective Eddie Valiant (Hoskins) has a complicated relationship with cartoons: his brother was murdered by one and he could never let that trauma rest. The problem for him is that he works in Los Angeles, and dealing with cartoons is a day-to-day situation. He is hired to investigate the possible affair of Marvin Acme, a factory mogul and owner of Toontown, and Jessica Rabbit (voiced by Kathleen Turner), the unbelievably curvaceous wife of Roger Rabbit, Toontown's most famous star. Acme is killed and Roger is accused of being the one who took the shot. Roger asks the reluctant detective to help him find the truth, and things get far more complicated when cartoon despising Judge Doom (Lloyd) comes into the picture.
Watching Who Framed Roger Rabbit? 30 years after its release is a wonder. How did they manage to make this come true? It wasn't the first time cartoons and humans inhabited the same world, but this film takes it into another level. It was the first time a film made the cartoon characters feel three-dimensional. We look at them and sense they do co-exist with humans; they are not just some cute elements to the storytelling (as they usually feel in films such as Mary Poppins). They are so well done we never, for one second, question the existence of that particular world we are watching. And that in a time when visual effects were still crawling is a marvel to behold.
But the film has a lot more to offer than just its technical parts. The story is very entertaining, both as a detective/mystery story and as a clash between real and animated world. And the way the writers used animation to make this script unique is quite remarkable. They found small little details that help giving the story freshness and singularity; it's very funny and it works dramatically.
We giggle because the ideas are so well thought of but again it works in the real world. And in that way it also gives us something quite delicious: it makes us dream and wonder how would be behave, how would our life be if we had access to those animated contraptions and pretty much everything is possible. Great films transport us into their own worlds and make us forget about or own realities, and Who Framed Roger Rabbit? Is one of the best examples of that capacity.
The human cast helps turning this magical story into… well, into reality. Bob Hoskins anchors the film beautifully, grounding everything around him. His interactions with the cartoon characters and beautifully down, a proof of his undying commitment to the proposition before him; Christopher Lloyd is a sinister villain, and he walks the fine line between human and cartoon, always giving his character a slightly strangeness, as if he could never truly fit among other people.
But it's the unbelievable amount of references that makes this a joy to watch. As Ready Player One did this past year, Who Framed Roger Rabbit? has tons of cameos and special performances by beloved animated characters, from Betty Boop selling cigarettes to Donald Duck and Daffy Duck fighting of from their pianos to Mickey and Bugs Bunny sharing a fall with detective Valiant, the entire film and a tribute and a homage to the great art of animation.
*still courtesy of IMDb*
---
If you like this review, look me up on Instagram for more suggestions.
If you liked this, please read our other reviews here and don't forget to follow us on Twitter or Instagram or like us on Facebook.