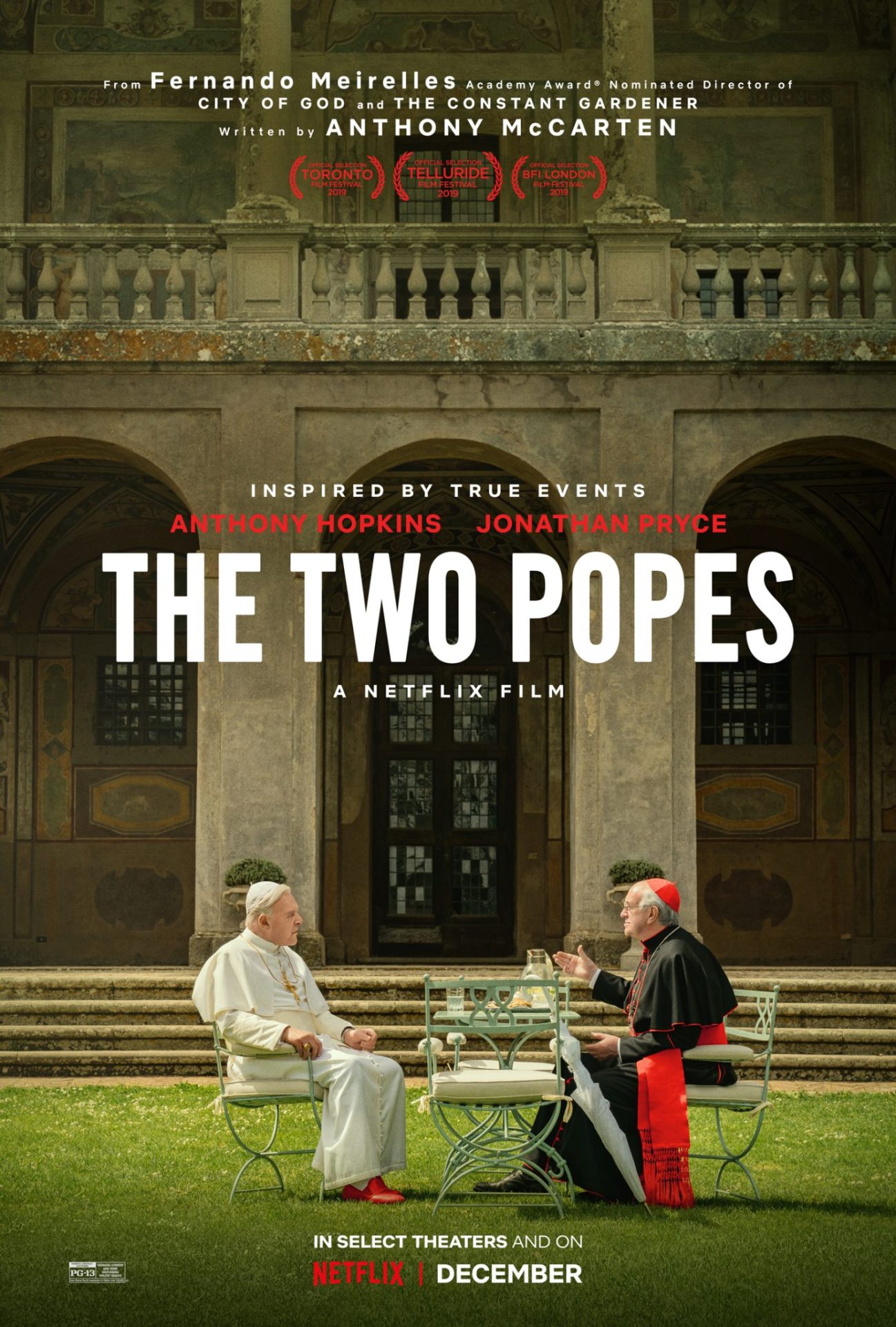 Starring

Jonathan Pryce, Anthony Hopkins, Juan Minujín

Writer

Anthony McCarten

Director

Fernando Meirelles

Rating

PG-13 (United States)

Running Time

125 minutes

Release Date

December 20th, 2019 (Netflix)
Rating Summary
The Two Popes is a masterclass of acting with a terrific script. Anthony Hopkins and Jonathan Pryce can never not be entertaining.
This will be one of many reviews during this year's Toronto International Film Festival, to keep up with our latest coverage, click here.
Don't let the title fool you. You don't have to be religious to truly enjoy The Two Popes, just great actors acting for roughly two hours. In terms of the story, the film is pretty self-explanatory as it is based on the true story of Cardinal Joseph Ratzinger, better known as Pope Benedict XVI (Hopkins), and Cardinal Jorge Bergoglio (Pryce) around the time of the highly-publicized transition of power from Benedict to who would eventually become Pope Francis. Both men, already polar opposites ideologically, that still posessed respect for one another, who were viewed differently amongst inner circles within the church, were at different stages in their lives while the Catholic church was facing plenty of turmoil of its own.
The Two Popes focuses on the relationship between Benedict and Francis as the two former rivals sorted out their differences and found common ground over a meeting in Rome. However different these two men were in terms of ideology, one conservative and the other liberal, they were more similar than they probably expected. The incredibly humble and grounded Francis came from equally humble beginnings, living a tough life in a poor and politically divided Argentina. His backstory was definitely a compelling one. Not originally on a path towards religion, the former scientist followed a calling that put him on that path, becoming an increasingly popular figure within the Catholic church among those looking for a new voice. Meanwhile, Benedict represented the old ways and had arguably become out of touch but was aware enough to realize that his days were numbered.
The best part of The Two Popes was the spectacular performances of Pryce and Hopkins and their great chemistry as Francis and Benedict. Watching them riffing together on screen was simply a delight, however, one of the biggest reasons for this was its terrific script which was both surprisingly hilarious and emotional. The story may have been compelling but it was almost irrelevant as these two greats could have done just about anything and they would still be entertaining to watch.
In the end, The Two Popes is a masterclass that should not be missed once it drops on Netflix.
*still courtesy of Netflix*
---
If you liked this, please read our other reviews here and don't forget to follow us on Twitter or Instagram or like us on Facebook.