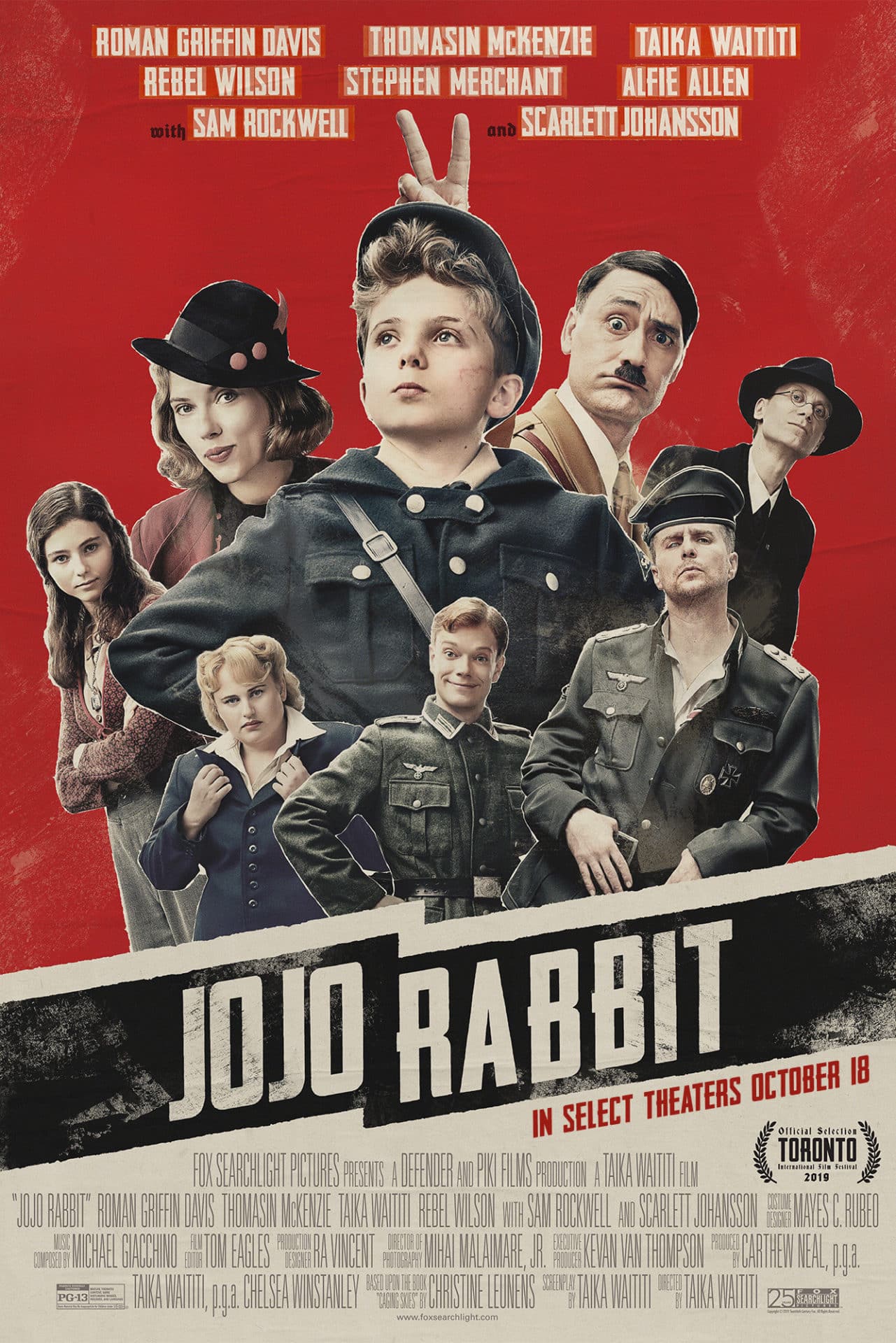 Starring

Roman Griffin Davis, Thomasin McKenzie, Taika Waititi

Writer

Taika Waititi

Director

Taika Waititi

Rating

PG-13 (United States)

Running Time

108 minutes

Release Date

October 18th, 2019
Rating Summary
Jojo Rabbit is a fantastic satire with a fabulous script that surprisingly finds a perfect balance between laughs and heart. Taika Waititi is a genius and Roman Griffin Davis is a star.
This will be one of many reviews during this year's Toronto International Film Festival, to keep up with our latest coverage, click here.
On paper, there was no way that Jojo Rabbit would ever work but somehow it did, enough so that it managed to win the People's Choice Award at this year's festival. Considering the subject matter, this may come as a surprise but with Taika Waititi at the helm, it shouldn't be. There are certain things that most people will agree with, one of them is that nazis are bad people. Now how do you make fun of them and what they did without going too far? Luckily, this satire manages to do so while finding a great balance between laughs and a surprising amount of emotion over the course of a coming-of-age story.
Jojo Rabbit takes place in Germany in the middle of WWII and follows a 10-year-old boy named Jojo (Davis) as he tries to find his place in a world that is pressuring him to grow up too fast. However, he would not have to face it alone as he had his imaginary friend Adolf Hitler (Waititi) by his side. Being a satire, the film world was absolutely ridiculous (and Wes Anderson like) but in the best way possible as it was simply hilarious to watch as it emphasized how ridiculous it truly was. Acting as a counterbalance to this was of course Jojo's story where he would have his life turned nearly upside down after discovering a Jewish girl named Elsa (McKenzie) hiding in his home. The contrast between both characters and its impact on Jojo was interesting to watch play out. While we already know how WWII went, the story was still compelling all the way until the end.
The best part of Jojo Rabbit arguably was its sharp script and direction but what really brought these to life was its excellent performances, staring with Davis as Jojo. In his first film role, he was certainly impressive to watch as the relatable young boy who grew up before our eyes. McKenzie was strong as Elsa in a scene-stealing performance. However, the ultimate scene-stealing performance was that of Waititi as Hitler. His performance was the epitome of all the ridiculousness here as he was simply having a ball.
Because of its subject matter, satire or not, Jojo Rabbit won't be for everyone but satire or Waititi fans will definitely get a kick out of this one. All the people who voted for it can't be wrong?
*still courtesy of Fox Searchlight*
---
If you liked this, please read our other reviews here and don't forget to follow us on Twitter or Instagram or like us on Facebook.