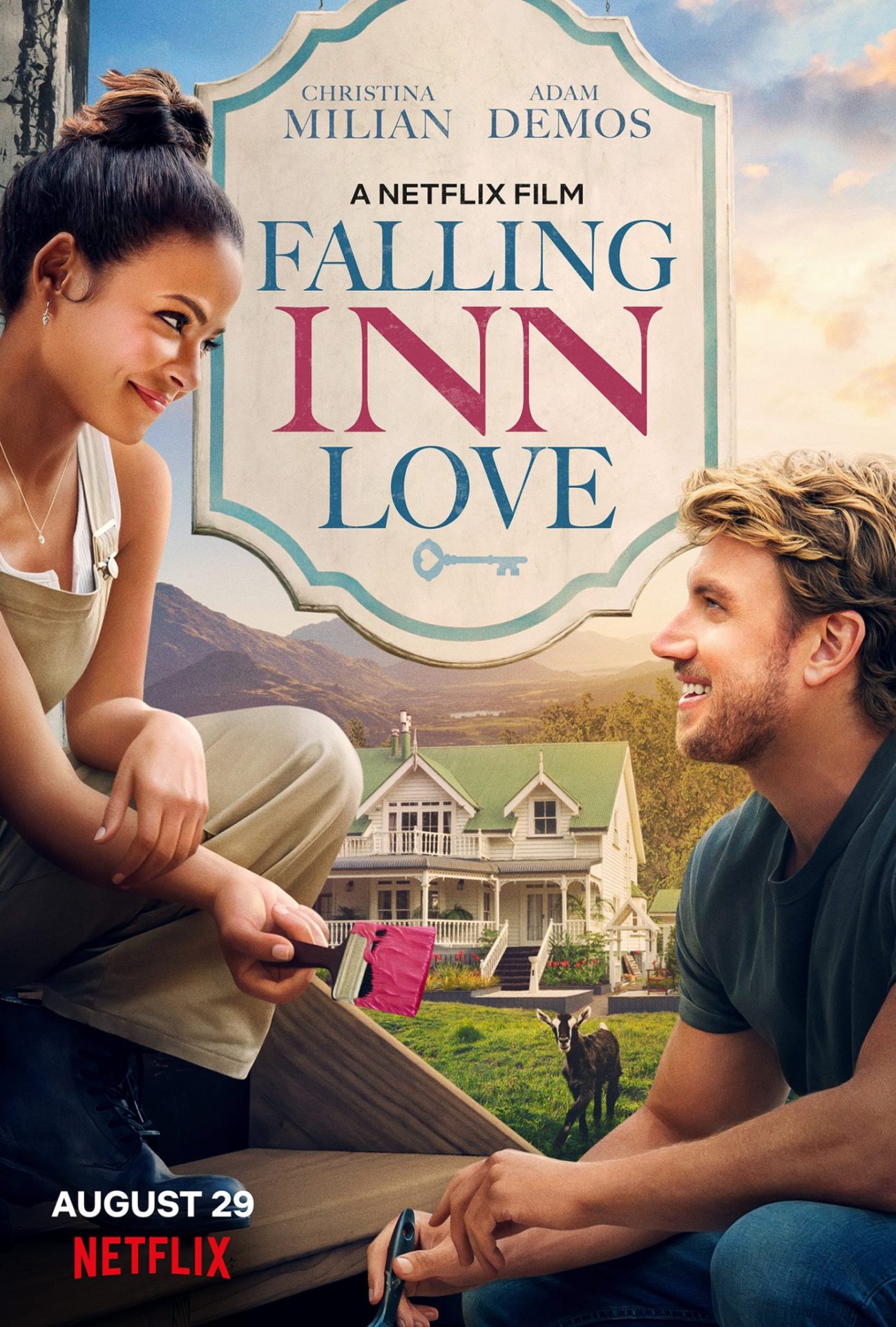 Starring

Christina Milian, Adam Demos, Jeffrey Bowyer-Chapman

Writers

Elizabeth Hackett, Hilary Galanoy

Director

Roger Kumble

Rating

TV-PG

Running Time

98 minutes

Release Date

August 29th, 2019 (Netflix)
Rating Summary
Falling Inn Love fills Netflix's quota, bringing together the sappy romance of a Netflix comedy with the appeal of one of its extraordinary home shows. 
Falling Inn Love follows the story of Gabriela Diaz (Milian) whose life turns upside-down when in the same week her design firm folds and her relationship ends. In a moment of drunken decision-making, she enters and wins a "win an Inn" contest based in New Zealand. Uprooting her life thousands of miles, Gabriela tries to update this rundown inn with the aid of local contractor Jake Taylor (Demos) while discovering herself along the way.
It feels like little can be said on the originality of these Netflix original comedies, dramedies and rom-coms as they all seem to amalgamate into one super genre of repeated cliches and bland people. It's the same story, different team behind it. Due to this, Falling Inn Love won't be expected to set streaming records and the quality shows anytime soon. Its themes are unexplored in a boring, uneventful story that in the end, will surely makes audiences question why they are watching it in the first place.
Of course Falling Inn Love has a few passable pieces to its puzzle. The ensemble is engaging and does more with their characters than they should be able to and the lighthearted tone makes for an average afternoon watch. However, the film's selling point (and most likely the sole reason it was made) was its idyllic atmosphere and setting. With the majority of the story set in New Zealand, the film is able to immerse the audience in the beautiful landscape of the country. If only the film focused more on adventures in the countryside.
It is hilarious to note that Falling Inn Love comes at a time when Netflix has recently increased its content in the reality television world concerning home makeovers, marvelous houses and AirBNB competitions. Knowing this interest from its audience, they played into the viewing numbers and hoped that people who watch those shows may put a fictitious romantic comedy in the same world on in the background. Smart move Netflix.
At the end of the day Falling Inn Love is simply a Hallmark Christmas romantic comedy without the joyous festivities. The idyllic atmosphere is complemented but a lighthearted tone and a charming ensemble. Unfortunately, the fish out of water story is boring, the themes are unexplored and the characters lack strong development throughout.
*still courtesy of Netflix*
---
If you liked this, check out my YouTube channel The Film Fanatic, my other reviews and my website!
Don't forget to follow us on Twitter and Instagram and like us on Facebook.