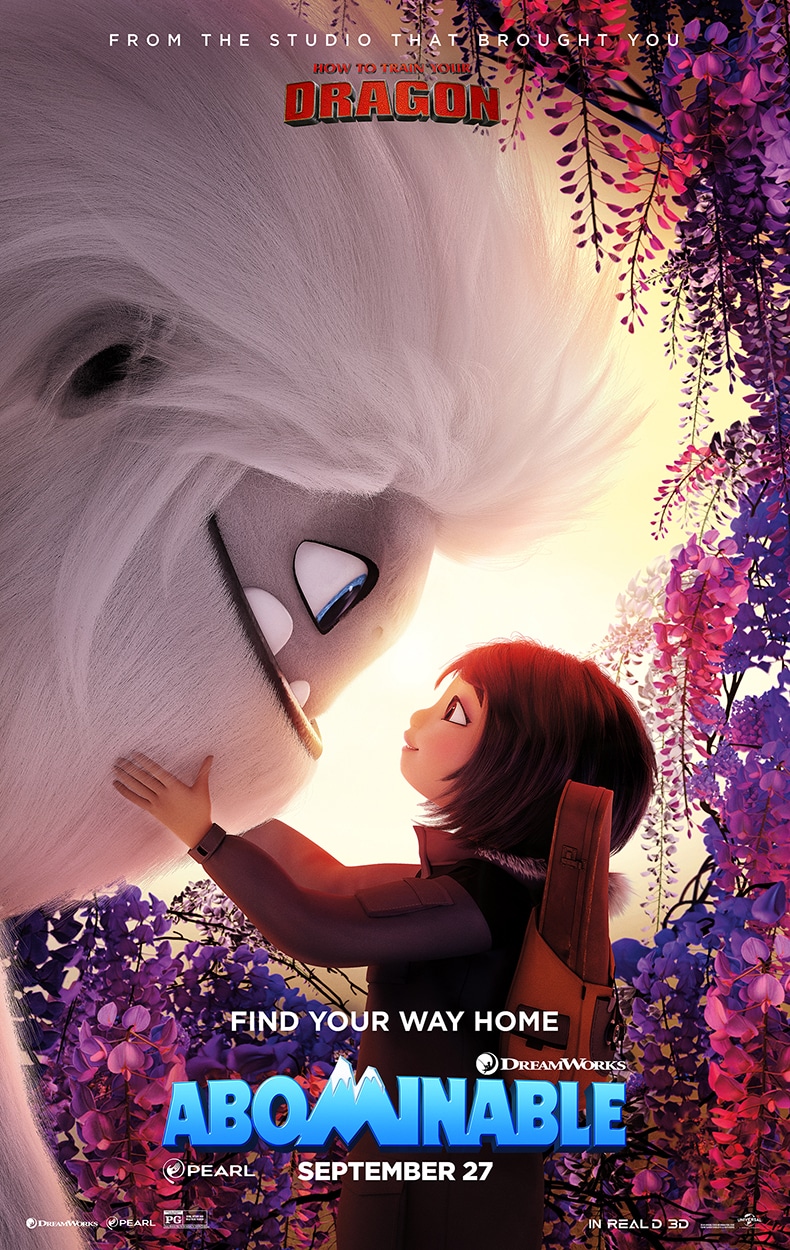 Starring

Chloe Bennet, Albert Tsai, Tenzing Norgay Trainor

Writer

Jill Culton

Directors

Jill Culton, Todd Wilderman

Rating

PG (Canada, United States)

Running Time

98 minutes

Release Date

September 27th, 2019
Rating Summary
Abominable was a standard fare, derivative, emotionally-manipulative animated children's film with great animation that still worked more often than not.
Every year, like them or not, we get a few hit or miss animated children's films that for the most part entertain those audiences and sometimes to older people taking them to the theatre. They consistently make more than enough money via ticket sales and various merchandise (especially the latter) so that's why they keep getting made. Abominable is the next film in line that hopes to find that same success. While it may not necessarily be the best animated children's film ever, which is still fine, it certainly has the pieces that will allow it to find some success. At the end of the day, it will surely do find with children but in the end, is not the worst way to spend 90ish minutes at the theatre.
Being a children's film, Abominable may be incredibly predictable but it still had its moments. The story follows a young girl named Yi (Bennet) who just happened to come across am inexplicably magical yeti (Joseph Izzo) who was clearly far from home while being pursued by a sketchy zoologist named Dr. Zara (Sarah Paulson) trying to get it back for a wealthy benefactor named Mr. Burnish (Eddie Izzard). However, the latter didn't really matter all that much. In reality, not much really mattered other than the relationship between Yi and the yeti for which she named Everest. This would be where the film truly excelled. The story would take the two, along with a pair of cousins named Peng (Tsai) and Jin (Trainor), on a journey to return Everest to his rightful home.
The journey of Abominable was fun to watch with plenty of humor that works more often than not and also a surprising amount of emotion along the way. Both unsurprisingly hit familiar beats which kids should eat up (though also making some audiences go hmmm) but despite this, they still worked though they will surely lack staying power. While some of the interactions were entertaining, it was difficult to care about most of the subplots taking place (however many will probably go over the heads of some younger viewers anyway). However, some audiences will have their heartstrings pulled by its somewhat touching family themes though the predictable nature of the story dampened its emotional impact.
In terms of its animation, Abominable was definitely impressive to look at. It's certainly vast and brimming in color and detail but what was arguably the most impressive part of the film was the work to bring Everest to life. From as little as his fur to his special abilities affecting the film world, it was all quite a sight to behold. Meanwhile, the voice acting was solid as well. The story may not be overly new, however, they at least helped to keep things interesting. Bennet brought plenty of enthusiasm, energy, and relatability to Yi. Tsai stole scenes as the exuberant Peng. Trainor was good as the prototypical straight man of the group.
Ultimately, Abominable is a decent animated children's entry that will surely entertain most children but will ultimately be forgotten fairly quickly.
*still courtesy of TIFF*
---
If you liked this, please read our other reviews here and don't forget to follow us on Twitter or Instagram or like us on Facebook.