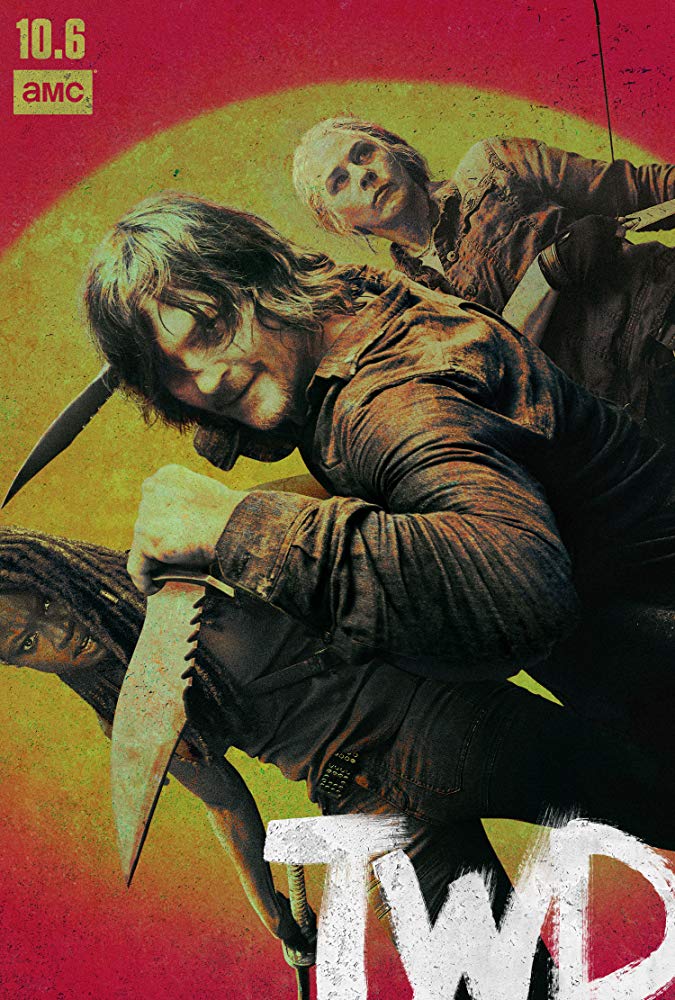 Director

Greg Nicotero

Writer

Angela Kang

Rating

TV-MA

Running Time

44 minutes

Airs

Sundays 9pm

Channel

AMC
Rating Summary
Lines We Cross was an okay catch-up episode of The Walking Dead that saw slightly different characters doing the same uninteresting things, however, Daryl and Carol are still cool.
For our review of last episode of The Walking Dead, click here.
Synopsis: The group in Oceanside continues to train in case the Whisperers return; tensions are high as the heroes struggle to hold onto their concept of civilization. (IMDb)
It's that time again! With a new season of The Walking Dead, let's crank out some more begrudging reviews/recaps!
Lines We Cross started with Judith delivering what was in essence a recap of last season to whoever her new friend on the radio was (last season's finale kind of implied that it was Maggie but who knows?) followed by a satellite flying through space and crash-landing into the ocean (perhaps near Oceanside?). From there, the episode appeared to be separated into chapters with the first entitled "Training Day" where of course training took place. Most of the Alexandria gang were hanging out around Oceanside where they seemed to have been training for quite a time. This time around, they were in a pretty impressive battle formation while clearing a washed up boat of the walkers inside (featuring bad CGI). One of the walkers may have been wearing a mask which implied that the Whispers, who were believed to be long gone, may be around (obviously).
The next logical step was to try and find evidence of Whispers which may mean crossing the border into their territory (a contentious issue for whatever reason). They were definitely around since skin was found at a nearby campsite (the second chapter was entitled "Skin"). Suffice it to say, Alexandria was ordered to be under lock down (but they didn't know what was happening). Suddenly, something came hurling through the sky which appeared to be the earlier satellite, so Eugene decided to give them a call on the radio, leading to the third chapter entitled "Bird Wisdom".
Rosita gave birth to her baby (Eugene helped). While Lydia was still adjusting, Negan got to be outside but he still didn't seem to be trusted just yet. He could tell that something was going on and volunteered to impart some bird wisdom onto Gabriel (lying about how bad things were). Also, Siddiq was still haunted from what happened (who cares?). Meanwhile, Eugene also saw an object hurling across the sky and took it upon himself to alert Oceanside about it.
The fourth chapter, entitled "Sea Dogs", started with Carol on a boat arriving at Oceanside (Daryl is learning how to speak sign language for Connie). She's been trying to forget everything that had happened while fishing. Carol wasn't planning on staying long so she and Daryl made sure to spend some quality time together. Meanwhile, the fifth chapter, entitled "New Mexico", continued the Daryl and Carol arc. They reached another Whisper border and stopped. The series of deep conversation scenes were inconsequential but there is just something about Daryl and Carol that works (she should totally switch her boat for his motorcycle).
The sixth chapter shared the same name as the episode saw the satellite crash start a fire near the Whisper border. Putting it out before it got to Oceanside meant crossing the border. It obviously posed a challenge and walkers obviously showed up just in time for the seventh chapter, entitled "Embers". The walkers were numerous, the music was dramatic, and Alexandria joined but who cares since they were obviously going to prevail. Eugene wanted to salvage the satellite.
While all of this was happening, Daryl and Carol took some time for themselves near a cliff. Daryl wanted to run away with her and she was up for it. As they walked away, Carol saw Alpha up in the distance and they locked eyes.
This episode was pretty much seven chapters of meh but a Carol vs. Alpha showdown would be awesome.
---
If you liked this, please read my other reviews here and don't forget to follow me on Twitter, follow me on Instagram, and also like me on Facebook.