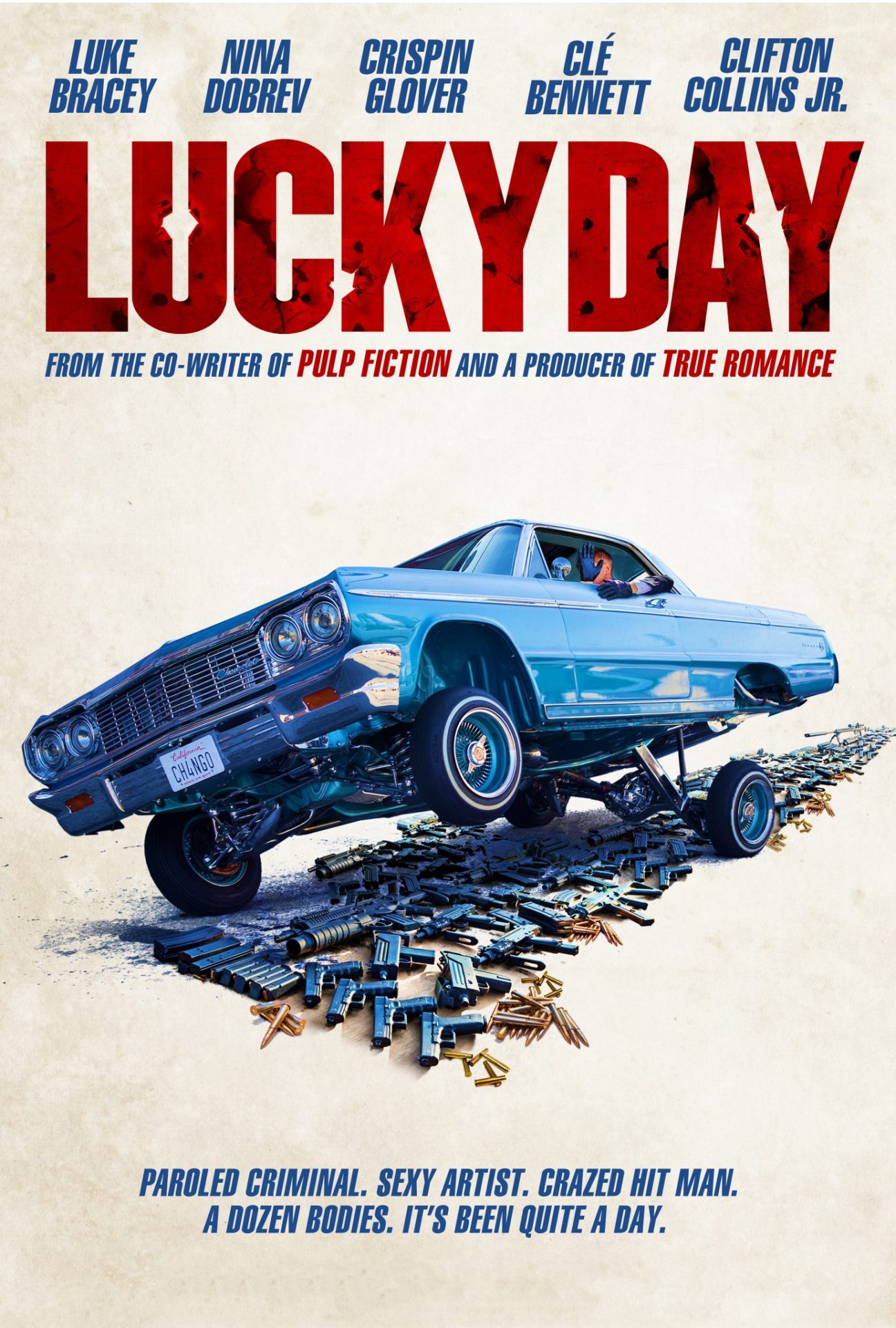 Starring

Luke Bracey, Nina Dobrev, Crispin Glover

Writer

Roger Avary

Director

Roger Avary

Rating

R (United States)

Running Time

99 minutes

Release Date

October 11th, 2019
Rating Summary
Lucky Day is an incoherent mess of a Pulp Fiction clone with little to no plot, insufferable characters, gratuitous amounts of violence, a nonsensical script, and horrendous dialog. There is absolutely nothing lucky about this one.
While this film may be titled Lucky Day, it most certainly will not be one for whoever has the displeasure of watching this. Written and directed by the co-writer of Pulp Fiction, it seems like this film tried to emulate that film but would fail miserably on the way to creating an insufferable mess that was not only incredibly offensive and dull, it was also gratuitously violent as well as questionably written and directed as if it was from a juvenile. There's nothing wrong with chaos in film, it just has to be controlled and this simply wasn't the case here. Though this film will certainly still find an audience, most will surely have their patience tested by this 90+ minute film that will often feel much longer than that.
Lucky Day's story, for the most part, was an incoherent smattering of ridiculous characters with presumable (because they're undeveloped) connections with one another. There wasn't much to be had here but the story followed Red (Bracey), a safe-cracker recently released from prison who reunited with his French artist wife Chloe (Dobrev) and daughter Beatrice (Ella Ryan Quinn). Unfortunately, his attempt to start a reformed life would eventually be cut short when a caricaturish French hitman named Luc (Glover) was out for revenge supposedly against Red for the death of his brother. Each character saw polar opposite subplots, making them feel like they were in different films, with Red's being on the dull side and Luc's being on the insufferable side.
Out of anything in what was a mostly forgettable film, the one thing most people will remember about Lucky Day was Luc. It was clear that the film was going for camp but it just didn't work here. Luc may not necessarily have been French, however, the film seemed to use his incredibly bad accent and behavior as an excuse to say and do outrageous things with absolutely no point to them (he wasn't the only character like that). Instead of being entertaining, he was simply painful to watch as he comically went about his way with little to no consequence. The film only got worse over time with the inevitable anti-climactic showdown between Red and Luc being the epitome of this.
Despite the script being a complete and utter mess with horrendous dialog, the acting was okay but it was easy to get the impression that none of the actors really tried as they mostly seemed disinterested. Bracey was dull and lifeless as Red. Dobrev's was almost non-existent with her okay French accent as Chloe. Clifton Collins Jr. was sad as Red's over-the-top parole officer Ernesto Sanchez. The only actor who gave off the impression of trying was Glover as Luc. It was just a shame that Luc was such an insufferable character.
In the end, it's understandable why Lucky Day is a VOD release. Anyone looking to turn their brains off for 90 or so minutes may find some entertainment here but this will be easier said than done.
*still courtesy of Elevation Pictures*
---
If you liked this, please read our other reviews here and don't forget to follow us on Twitter or Instagram or like us on Facebook.