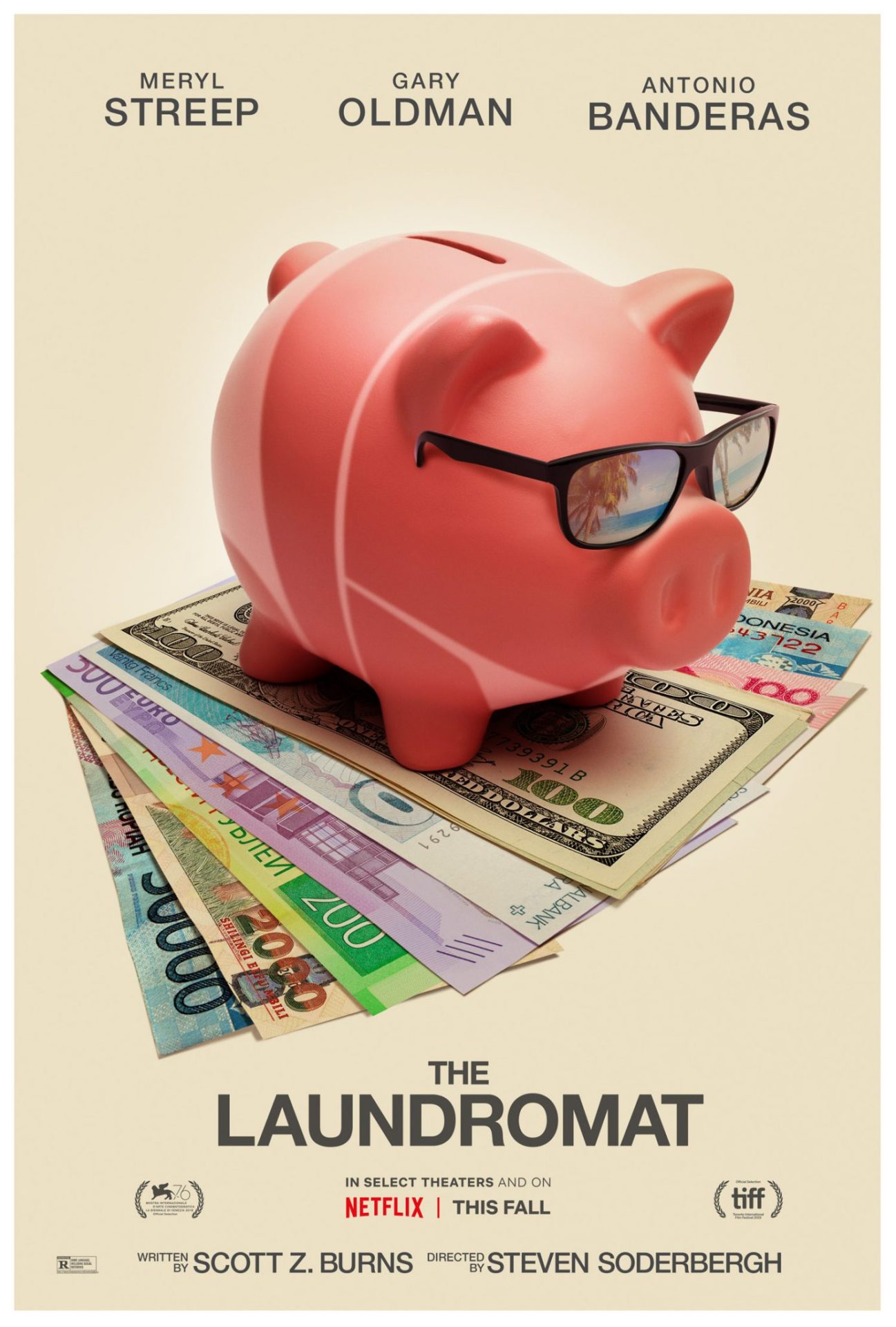 Starring

Meryl Streep, Gary Oldman, Antonio Banderas

Writer

Scott Z. Burns

Director

Steven Soderbergh

Rating

PG (Canada), R (United States)

Running Time

96 minutes

Release Date

October 18th, 2019 (Netflix)
Rating Summary
The Laundromat is a dull Big Short clone whose obnoxious, patronizing, and condescending style and scattershot message only undermine whatever well-intentions it may have had.
When you think of hard-hitting financial dramedies, one tends to gravitate towards The Big Short but why hasn't another film of that ilk been made since? Just like what that film did for the 2008 financial crisis, The Laundromat hopes to do the same by covering the greedy dealings involving shell companies and rampant corruption revealed by the infamous 2015 leak of the Panama Papers. Despite an equally star-studded cast (that it somehow managed to waste), this latter film couldn't quite capture its subject matter with the same type of flare, doing so in such a scattershot and forced way (like it was grasping too much) that it made the film hard to follow and whatever point it was trying to make thin and hollow.
The Laundromat wasn't exactly a standard film per se as, just like The Big Short, it would employ a considerable amount of fourth-wall breaking techniques to abruptly break up its vignette-style structure, or steps, as sleazy lawyers Jürgen Mossack (Oldman) and Ramón Fonseca (Banderas) of the real life firm Mossack and Fonseca, the firm at the center of the Panama Papers, tried to explain how it all worked though in a very condescending and patronizing way (that may come off as overwhelming for some audiences). While what they offer may be informative, their smugness and borderline arrogance made it tough to ever take them seriously. As the film weaved in and out of these steps, it felt like it was more interested in indicting all the various wrongdoers in exaggerated ways (check out all the things these people can get away with moments) than teaching a lesson.
Most of the vignettes found in The Laundromat were on the dull side though the one that stood out the most was that of the recently-widowed Ellen Martin (Streep). Looking to get an insurance settlement for the ferry accident that killed her husband would set her on a journey towards the truth after discovering that the ferry company's insurance policy was indeed a scam with widespread repercussions. Her journey would be what sets the rest of the film in motion as she would uncover the film's truths along with us. Now her story alone, without the film's extra bells and whistles, would have made for a much better film (despite her being more of a plot device than an actual character) but as the film went on, it lost sight of what to do with Martin before unceremoniously dropping her by the end. Meanwhile, for the most part, the film's tone was all over the place and would only undermine its important subject matter.
The Laundromat may be a dull mess but despite this, the acting was fine. Most importantly, it was disappointing to watch this all-star cast underutilized by such a mediocre script. Streep delivered the best performance as Martin, however, most will remember her other role in the film. For whatever reason, her and the filmmakers decided that it was a good idea for her to play a Hispanic secretary working for Mossack and Fonseca, riddled with bad makeup, prosthetics, and a bad accent. It's clear that this artistic choice possessed some sort of ulterior motive, however, this will surely be lost on most audiences (myself included). Though Oldman and Banderas are undeniably charming, the film overplayed this fact with Mossack and Fonseca which only worked against them.
In the end, The Laundromat may be a well-intentioned film but it would be a dull experience that ultimately sunk itself with an obnoxious style that only undermined whatever point it was trying to make.
*still courtesy of Netflix*
---
If you liked this, please read our other reviews here and don't forget to follow us on Twitter or Instagram or like us on Facebook.