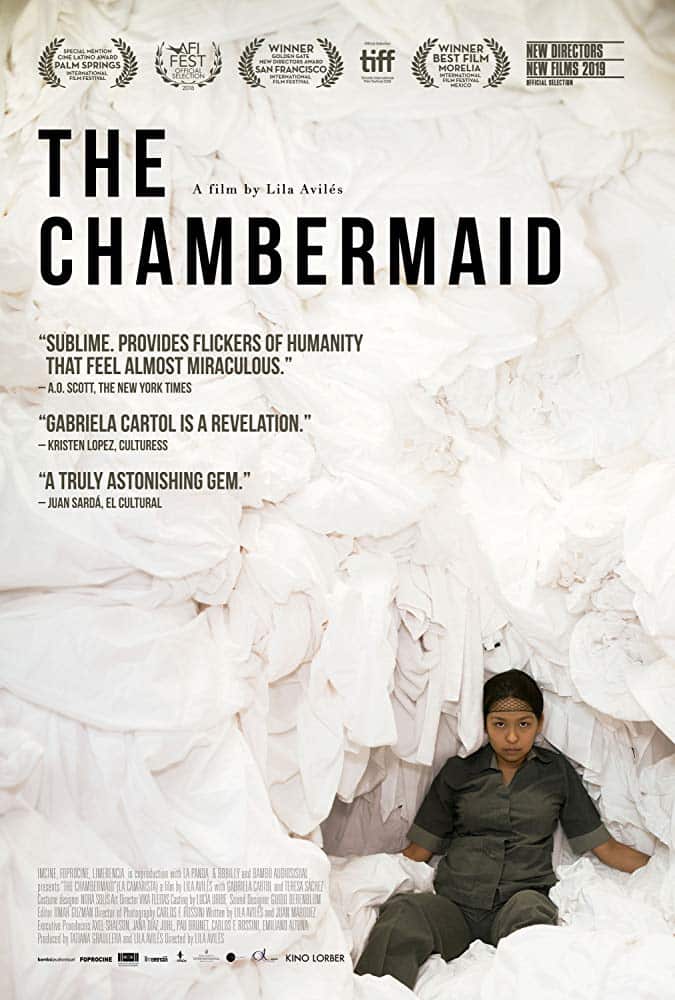 Starring

Gabriela Cartol, Agustina Quinci, Teresa Sánchez

Writers

Lila Avilés, Juan Márquez

Director

Lila Avilés

Rating

n/a

Running Time

102 minutes

Release Date

n/a
Rating Summary
The Chambermaid is not a bad film by any stretch. Gabriela Cartol's presence  and Lila Avilés' direction keep the film alive.
This will be one of many reviews during this year's Film Fest 919 Film Festival, to keep up with our latest coverage, click here.
Many of us have worked in jobs that are tedious. Many of us have also worked in jobs where we dreamed of promotion and advancement. Those jobs may have necessitated us doing odd things as part of our toil. And yet, such things aren't often what is put into a film. The Chambermaid might have needed to understand why that is.
Eve (Cartol) is a member of the housekeeping staff at a fancy hotel in Mexico City. She works diligently and dutifully without complaint. She deals with strange hotel guests including a man who requests extra shampoo and toilet paper every day for seemingly no reason or a woman who asks Eve to watch her baby while in the shower. She is routinely harassed by a window washer. And she especially longs to be able to work on the 42nd floor where the richest clients stay. Throughout all these challenges, Eve does her best to maintain her quiet confidence and dignity.
There are two forces in The Chambermaid that keep it from falling apart. Cartol completely owns the screen because she is the focus of everything. Eve is always the center of the film's story and the audience follows her daily trials. Cartol infuses her performance with a quiet grace that makes the viewer yearn for her success. The other impactful force behind the film is Avilés. Her efforts as the film's director and co-writer to ground the film in such stark reality that it envelopes the viewer in Eve's perspective and creates a pointed focus on her struggles.
Unfortunately, the envelopment is also The Chambermaid's greatest weakness. Much of the film is repeated scenes of Eve changing sheets, vacuuming floors, and scrubbing bathrooms. Focusing on the drudgery of the a hotel housekeeper's working life certainly can be effective to evoke understanding and sympathy from the audience. However, that drudgery is not usually something one wants to watch at the cinema.
However, the general inertia of the story just makes it hard to really love The Chambermaid. The audience certainly understands Eve's life and the struggles of her job. But it's just not quite enough to elevate the film to greater heights.
*still courtesy of Kino Lorber*
---
If you enjoy my work, feel free to follow me on Twitter @Film24Frames. I'm also on Letterboxd at Film24Frames.
Don't forget to follow us on Twitter and Instagram and like us on Facebook.