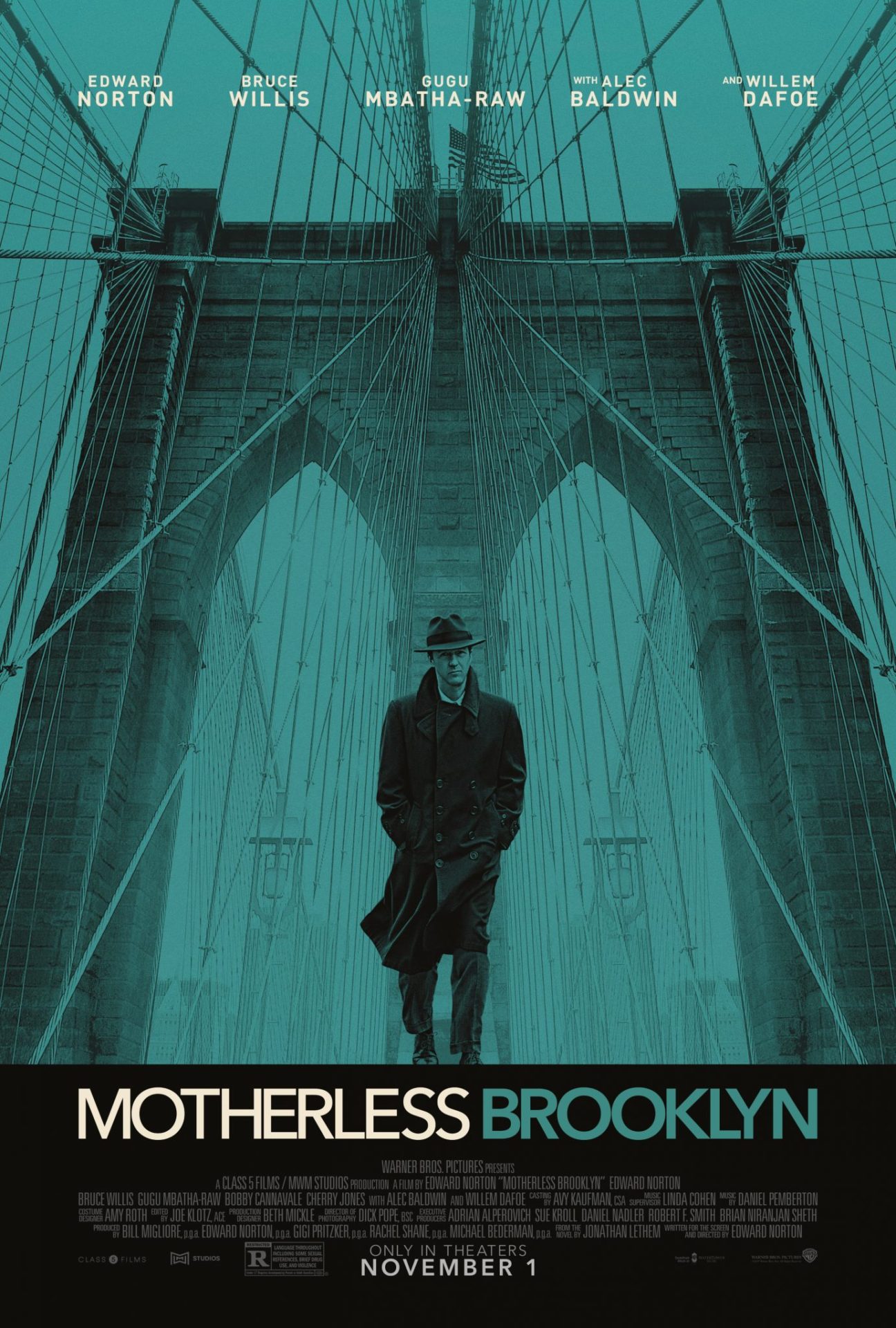 Starring

Edward Norton, Bruce Willis, Gugu Mbatha-Raw

Writer

Edward Norton

Director

Edward Norton

Rating

R (United States)

Running Time

144 minutes

Release Date

November 1st, 2019
Rating Summary
Motherless Brooklyn is a decent outing featuring solid performances from top to bottom. Edward Norton stands out for having to carry the burden of being the lead, the screenwriter, and the director. While the rest are commendable. it's a shame that the story wasn't of a similar quality.
Detective stories are a dime a dozen in the history of Hollywood cinema, whether it's The Maltese Falcon, Chinatown, L.A. Confidential, or Zodiac. It takes more than simply having a mystery at the heart of the story or hard-boiled gumshoes for characters to stand out. Motherless Brooklyn attempts to set itself apart through colorful characters and a deeply involving plot, but unfortunately comes up a tad short, with ultimately only marginal success
Motherless Brooklyn follows Lionel Essrog (Norton), a private investigator with Tourette's syndrome and some obsessive-compulsive tendencies who works for a seedy agency run by a man named Frank Minna (Willis). When Minna is killed as part of an investigation, Lionel must use the clues Frank leaves behind and the aid of a young civil rights worker named Laura Rose (Mbatha-Raw) to unravel a mystery that runs deep into both New York City's deep racial problems and the rampant corruption of a tough guy politician named Moses Randolph (Alec Baldwin) that will have consequences Lionel can't begin to imagine.
What stands out right away in Motherless Brooklyn is just how involved Norton is with this production seeing that it's a film he's wanted to make since 2000. It really is the Norton show as he was not only the director, writer, producer, and star. As an actor, Norton's performance as Lionel was very confident and well done. He lends a certain innocence to his character that goes against a lot of detective story protagonists while not coming across as false or insincere. As a director, there wasn't anything particularly special or unique about his effort, but it is definitely competent. He knows where to point the camera, but there's nothing flashy in what he does with it.
It is in the writing where Motherless Brooklyn ends up falling hardest. The story of a private investigator looking into shady city politics, particularly a megalomaniacal bureaucrat, just isn't that new or original. Having a protagonist with Tourette Syndrome and some elements of OCD is certainly a bit different, though not original either. Most significant is that there's only so many times that one can hear Lionel called a "freak show" or, conversely, listen to Norton doing an internal monologue about how difficult Lionel's life is in the face of his disability. It becomes rote and dull after awhile. Admittedly, these issues can be leveled at the source material since Norton is adapting the Jonathan Lethem novel of the same name. But, because this was a film and not a novel, it's the screenplay that should be taken to task.
The other cast members acquit themselves admirably overall as well. Mbatha-Raw is great playing the young and passionate civil rights activist Laura. At this point, it's sad to see her playing second or third fiddle when she should be one of the top leading actresses working today. Dafoe does well as a grimy bystander with a deeper connection to the overall narrative. Bruce Willis puts in a good effort for the short time he's around playing Lionel's mentor Frank. Putting Baldwin in a role as a corrupt bureaucrat almost feels like stunt casting, given his repeated appearances on Saturday Night Live as Donald Trump. Nevertheless, Baldwin knows very how to play menacing and condescending as Moses. His speeches and rants in this film may not live up to his epic monologue at the start of Glengarry Glen Ross, however, they work nicely for what is needed.
On a more positive note, respect must be given to Motherless Brooklyn's production design and costume teams. They did an excellent job recreating a 1950s era New York City. It does raise the question of why Norton decided to move the story from the late 1990s to the late 1950s. Norton has claimed that the story felt like something pulled from 1950s detective stories. That statement is a fair one, but it also feels lazy and too easy. The politics of 1950s New York City are not the same as 1990s New York City. And given the racial and class components that make up a major subplot of the film, it feels a little cheap to set the story in a time where issues of race and class carried a lot fewer shades of gray.
Motherless Brooklyn is not bad by any stretch of the imagination. It just doesn't do enough to really grab the viewer and stand apart from other members of its genre family. If you're a huge fan of detective yarns or of Edward Norton, it's worth a watch. Otherwise, it works well as something you'd watch on your couch on rainy Saturday afternoon.
*still courtesy of Warner Bros.*
---
If you enjoy my work, feel free to follow me on Twitter @Film24Frames. I'm also on Letterboxd at Film24Frames.
Don't forget to follow us on Twitter and Instagram and like us on Facebook.