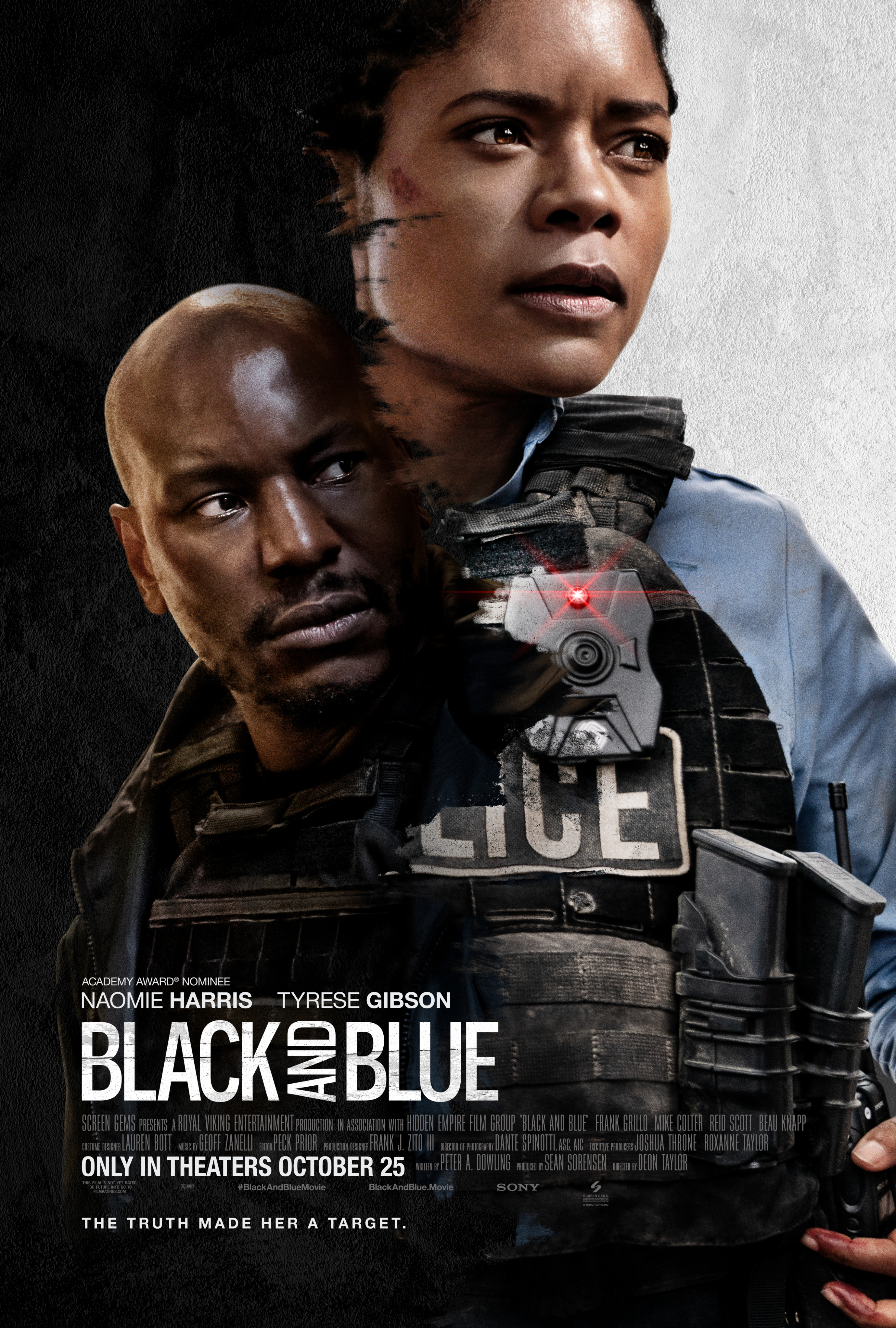 Starring

Naomie Harris, Mike Colter, Frank Grillo

Writer

Peter A. Dowling

Director

Deon Taylor

Rating

14A (Canada), R (United States)

Running Time

108 minutes

Release Date

October 25th, 2019
Rating Summary
Black and Blue is a film with good intentions and highlighting important issues. However, if it's not surrounded by more subtlety or better overall characters, it just does not work properly.
A good-hearted but naive rookie cop gets caught up in some crooked dealings, leading to a life or death situation that also tests his or her principles. Stop me if you've heard this premise before. These stories are a dime a dozen and are largely interchangeable. Black and Blue tries to set itself apart by focusing on current day United States police and racial politics. While it marginally succeeds on that front, it does so in such an obvious manner as to blunt its impact.
Alicia West (Harris) is a new officer with the New Orleans police department. While on a late night patrol, she witnesses a group of corrupt officers led by Terry Malone (Grillo) murder several drug dealers. The murders are recorded on her body camera, leading Malone and his gang to chase her across the poor areas of the city. The only way to expose the heinous acts requires West to put her trust in a disillusioned store owner nicknamed Mouse (Gibson).
To start with a positive, Harris throws her all into this role. Her performance as West was good, but she also puts a lot of effort into the physicality of the performance. Gibson also acquits himself well as Mouse. While he could have perhaps had a more substantial part, he does well with what he has. Grillo is also adequately creepy as Malone, though his character could have been even slimier.
Unfortunately, Black and Blue's story really does more or less fall off a cliff. The foot chases and gun fights are largely well staged. But the story's premise is so rote as to lose interest quickly. And then, the film wants to be about how not all police officers are corrupt monsters and not all lower class black citizens are animals. This attempt to be politically relevant in today's United States is admirable and ultimately well-intentioned. However, the script handles those themes with the subtlety of a sledgehammer to the face.
Perhaps the thematic issues plaguing Black and Blue would have felt less problematic if it had come out before 2018. 2018 gave us both Blindspotting and The Hate U Give. Those two films examined police brutality, race, and poverty with so much more nuance and with infinitely better character writing. Those films are able to express the same ideas that Black and Blue wants to express. The difference is that those films express their ideas without needing a protagonist to expound on how not all police are corrupt or have villains that border on cartoonish levels of evil.
Props to Harris for giving it her all and to Grillo and Gibson for doing what they can to elevate things. The action sequences are not half bad either. Nevertheless, Black and Blue is unable to cohere into anything more than a heavy-handed sermon.
*still courtesy of Sony Pictures Entertainment*
---
If you enjoy my work, feel free to follow me on Twitter @Film24Frames. I'm also on Letterboxd at Film24Frames.
Don't forget to follow us on Twitter and Instagram and like us on Facebook.