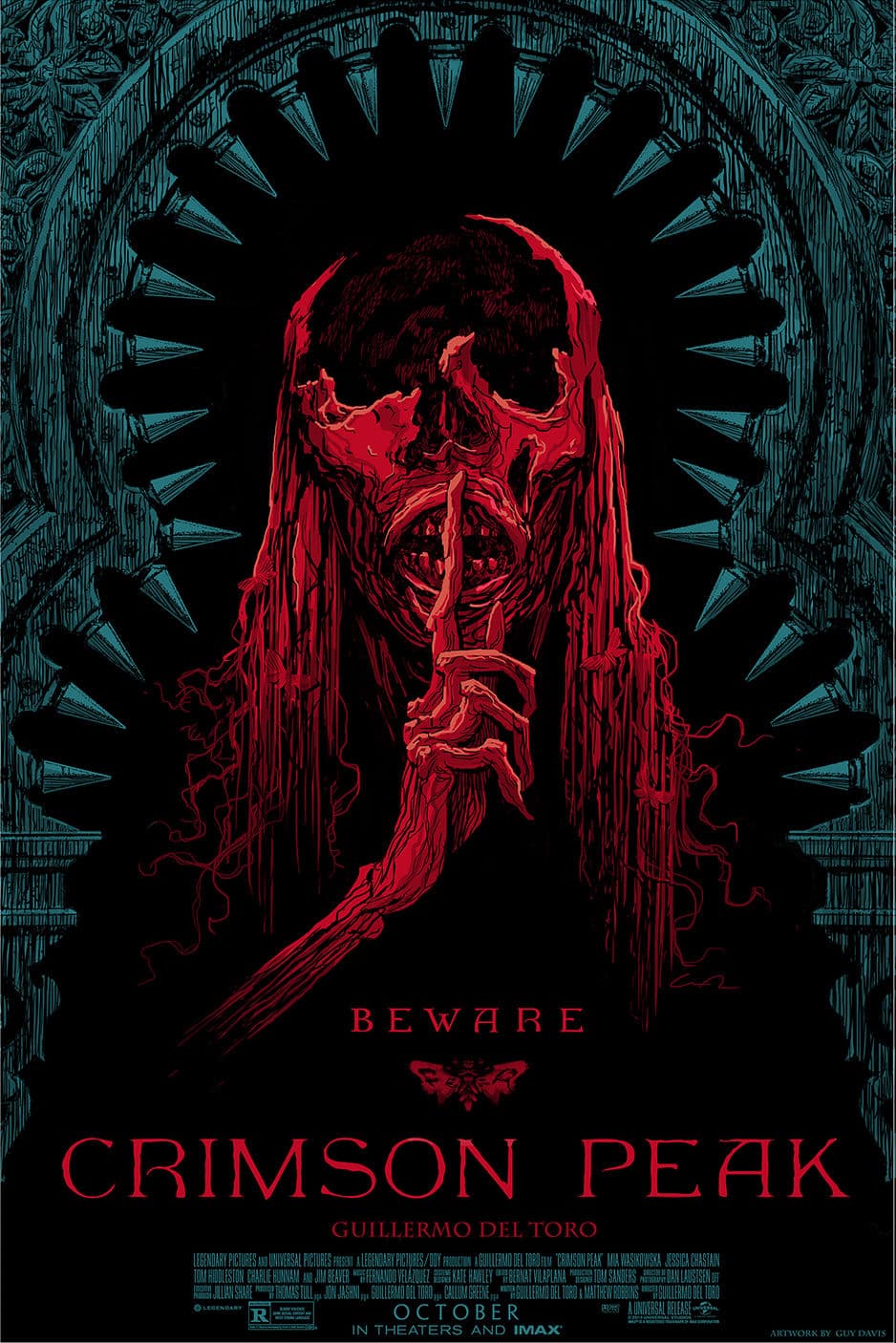 Starring

Mia Wasikowska, Tom Hiddleston, Jessica Chastain

Writers

Guillermo del Toro, Matthew Robbins

Director

Guillermo del Toro

Rating

R (United States)

Running Time

119 minutes
In 2015, a pre-Academy Award-winning Guillermo del Toro released a film entitled Crimson Peak. Advertised as a big-splashy Gothic horror, the film tells the story of an aspiring horror writing heroine who ends up in the strangest of homes under the most unfortunate set of circumstances. Though it had a gorgeous cast, stunning set design, and Del Toro's signature creativity, the film would be considered one of his more notable flops.
Now with Halloween around the corner and its 4th anniversary having just passed, it seems to be the appropriate time to give another look at this lesser known film. Because it is more than just a story of simple spooks – but one that celebrates the history of horror while examining the scariest elements that a specific genre has always had to offer. So throw on your best nightgown, and let's make a grand return to Allerdale Hall as we give an extra glance at the final product that is Crimson Peak.
---
This article includes spoilers.
Honoring The Ghosts of a Genre
Guillermo del Toro has always been known as a man who loves to play within many genres. Whether it be an action romp like Pacific Rim, a serious sci-fi influenced drama like The Shape of Water or a comic book adaptation like the Hellboy series, del Toro is always confident when dipping his toes into any story, as long as it has a good reason to exist.
In Crimson Peak's case, del Toro did not seek out to create another generic horror film but instead wanted to pay tribute to the gothic romance stories of the past. From the well-known classics like Jane Eyre or Rebecca to lesser-known stories like Dragonwyck, these tales of young women who are plucked from their dull lives and dropped into misfortune have a timeless quality to them, and del Toro wanted to breath new cinematic life into the genre.
With to the help of screenwriter Matthew Robbins (Jaws, Close Encounters of the Third Kind), Del Toro's vision of crafting a story that brings about the best of Gothic romance's past was able to be achieved. It brings about the notions of love and lose, a young woman growing into her maturity, and mixes in some of the best pop culture bits that make it a signature del Toro work.
A Sprinkle of Past Spooks
One of the most significant aspects of Crimson Peak is its nod to the history of horror media as a whole. Knowing del Toro's love of all things pop culture, it is clear from the get-go that he did his homework  – something he's proven multiple times over with his other cinematic projects.
One part of the film stands as a love letter to the work that came from Hammer Film Productions. Known for their lavish visuals juxtaposed with cartoonish shlock, Hammer Horror flicks are almost a genre all their own. And with the detailed cinematography and masterfully handled gore within Peak – coupled with the last name of the lead character (a tribute to Hammer actor favorite, Peter Cushing) – it is quite clear the homage that del Toro was attempting to evoke.
Perhaps the influence that most seem to miss within Crimson Peak is that of the classic Disneyland attraction, The Haunted Mansion. A few years before the release of the film, del Toro was supposed to write and direct his film adaptation of the ride, but nothing really seemed to come of it. Though with a creepy household, similar kinds of ghosts, and a lead female character who eventually holds a sharp object ala the Mansion's Bride, the coincidences are hard not to notice.
Though these elements are not the make or break of a proper cinematic experience, the attention to detail to acknowledge the past by del Toro in Crimson Peak is something that should be commended and appreciated – since not all modern filmmakers tend to sprinkle this much pop culture love into every frame of their work.
The Warnings of Love
One of the biggest criticisms Crimson Peak has received over the years is that it isn't exactly "scary" by modern-day standards. Yet with a simple line of dialog, del Toro and Robbins agree with and celebrate that fact – acknowledging that the ghosts are "just a metaphor" for what is really the central horror of the story.
At the beginning of the film, we learn about our lead protagonist, Edith (Wasikowska), who has lost her mother amid her childhood. One night, Edith is visited by her ghost, warning the young girl to "beware" of the film's title location- an event and phrase that haunts her for years to come. 
Though obviously a bit of foreshadowing towards Crimson Peak's eventual plot, what Edith's Mother was actually trying to warn our main protagonist was more than just "maybe don't go off to England to live inside a creepy house." Instead, she's actually trying to save her daughter from the destructive results of doomed love – like a more gothic take on "the birds and the bees" talk.
As the film progresses, the rest of the ghosts within Crimson Peak are not at all meant to evoke any real threats to the leading lady, but rather serve as a visual representation of the genuine threats ahead for Edith if she is to continue her romance. They want Edith to survive, but also seek revenge towards the film's real villain – who, when thought of in a real-world context, is more horrific than most famous monsters of cinema's past.
Edith, Lucille, and The Quest for Deep Affection
Dressed in the sharpest of reds and darkest of blacks, the antagonist Lucille Sharpe (Chastain), craves for a specific kind of affection. Stuck more in the past with her clothes and mindset, Lucille has always had a tight yet warm grip on the things she's cared for. She wants the best for her brother, Thomas Sharpe (Hiddleston), but only if that includes her in the scenario. She will do anything and everything to get what she most desires.
Then there is Edith. A girl ahead of her time, who is looking to be taken as something more than just the daughter of a wealthy businessman in 1887. Her dreams of telling "unconventional" tales are often pushed to the side by society – making her crave for some sort of acknowledgment in a world that is too old fashioned for her liking. But when Thomas comes into the picture, Edith gains the affection she never knew she needed.
From the visual representation in their costume design to the specific insect comparisons, Edith and Lucille are the yin and yang of one another – a classic example of opposites. They are two sides of a very distinct coin, yet both have the same end goal of wanting a happy ending. They're equally driven by emotion and their own sense of justice – regardless of the devastation that their emotions create.
Though perhaps audiences were looking for some horrific del Toro created creatures and bloodshed in Crimson Peak, what he and Robbins created was a battle that follows the myths of old – good versus evil, but with a much more real-world twist. Humans constantly do insane things for love – it is an addiction that when discovered is hard to breakaway from, and Edith and Lucille's struggles are the prime example of its disturbing results.
"Perfection has no place in love…."
With a series of trailers that presented Crimson Peak as another modern-day horror flick, the audience reaction to the film was mixed at best. But with years having gone by since the barrage of incorrect marketing and various rants of criticism, many (including this writer) believe that this little movie deserves to be rediscovered on its own merits.
Perhaps the dialog might evoke a smile only to those who enjoy a marathon on TCM, or some moments might come off too sentimental for modern audiences to handle, but that is the charm of Crimson Peak. It doesn't have to be a flawless masterpiece within the broad strokes of cinema, but instead, be known for continuing the quirks of a media genre that often doesn't get made anymore.
Movies that celebrate the past of classic storytelling, while bringing new flavors into a familiar genre, should have their moment in the spotlight. If celebrated filmmakers like Martin Scorsese with The Age of Innocence and Francis Ford Coppola from Bram Stoker's Dracula can bring their unique vision to old fashioned tales, then del Toro deserves the same sort of respect and recognition for his own spin with Crimson Peak.
Not every film is made for a wide audience to immediately embrace, and it seems that history has proven Crimson Peak is among those select few. But as the years fade away and we allow ourselves to re-evaluate the past, we need to smell the cinematic roses in front of us – acknowledging that perhaps this wasn't the art we were expecting, what we got was something equally as (horrifically) captivating.
---
You can follow my adventures on all social media platforms on @magicalamode.
Don't forget to follow us on Twitter and Instagram and like us on Facebook.