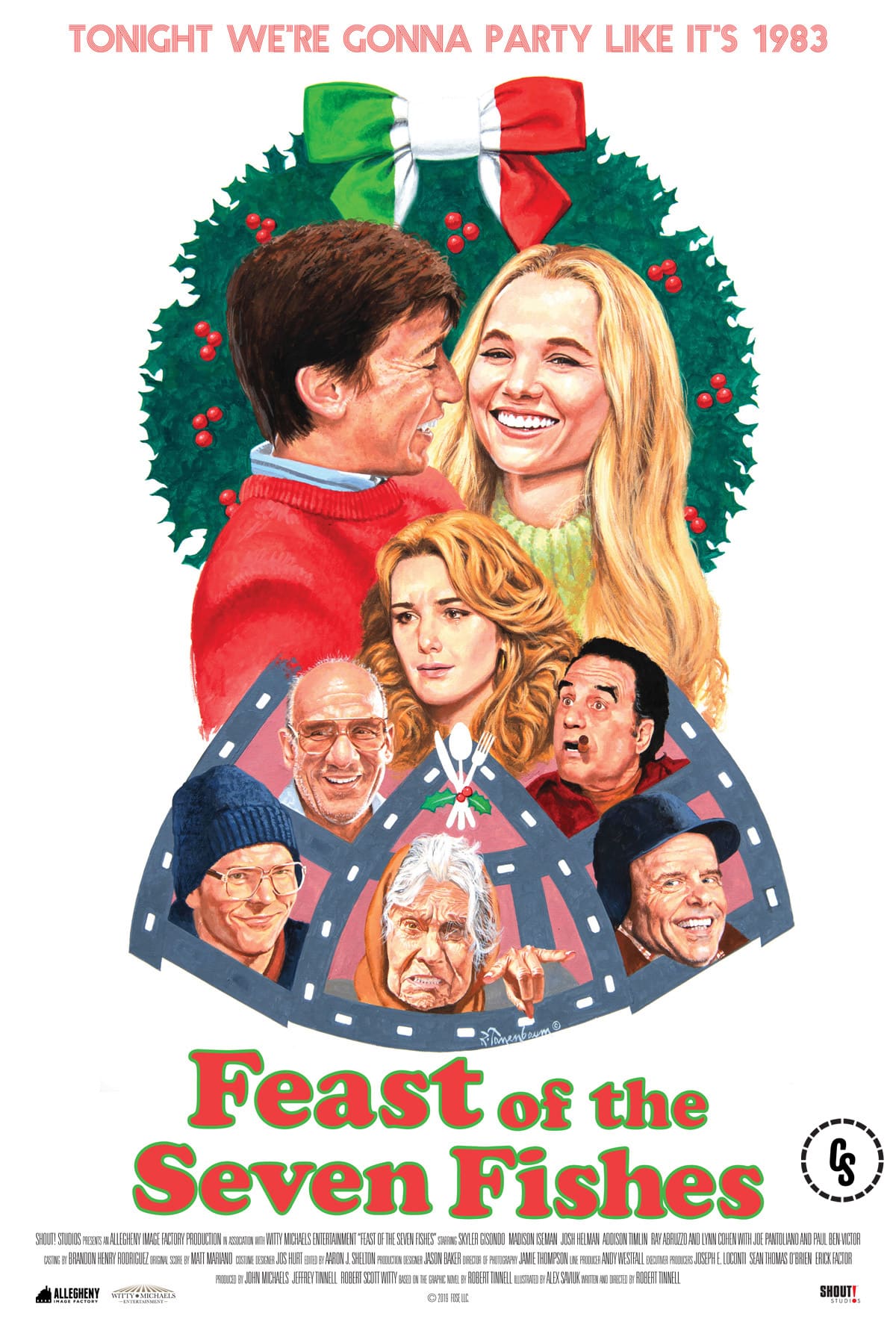 Starring

Skyler Gisondo, Madison Iseman, Josh Helman

Writer

Robert Tinnell

Director

Robert Tinnell

Rating

n/a

Running Time

99 minutes

Release Date

November 15th, 2019
Rating Summary
Feast of the Seven Fishes is a feel-good dysfunctional family dramedy that may not all work but features plenty of heart and zingers.
For almost as long as there have been film, there have been Christmas films and for as long as there have been Christmas films, there have been family Christmas films because at the end of the day, that's what Christmas is all about. This is why these types of films have been reasonably successful and now we have another with Feast of the Seven Fishes, based on a graphic novel of the same name. The writer of that graphic novel directs and writes this prototypical dysfunctional family dramedy that won't exactly set the world on fire but provides plenty of heart and entertaining moments.
While watching Feast of the Seven Fishes, many viewers will surely relate to this family which will probably be its biggest selling point but as it goes with most big families, it is sometimes hard to balance all of these characters and this was the case here. It was tricky at times to follow what was going on at times but what saved it all was the central subplot that tried to tie it all together. Taking place in the early 1980s small town Pennsylvania, the film follows a young, working-class man named Tony (Gisondo) who would decide to bring an affluent, Ivy league girl named Beth (Iseman), with a backstory of her own, to his large family's famed seafood feast (for which the film got its name). This feast was not just any feast and was more of an event. It may have involved quite a bit of preparation but it was always more about the time spent together as a family.
Again, Tony was the straight man of Feast of the Seven Fishes and our guide amongst all of the dysfunction. The film was at its best whenever he was front and center. There were certainly some fun family moments sprinkled throughout as they talked about the past and the future while occasionally zinging each other as most caring families did, however, it was hard to invest in the majority of the film in any deeper way. The film also touched on some familiar storylines along the way which should not come as that much of a surprise to anyone as Tony had aspirations beyond his small town and whose endings also won't come as that much of a surprise either.
The script had its moments but ultimately, the best part of Feast of the Seven Fishes was its performances, especially that of Gisondo as Tony. Though the chemistry between the family made them fun to watch, Tony's story was the best because he was so likable and relatable while impressively carrying the weight of the film on his shoulders. Meanwhile, Iseman was solid as Beth and had great chemistry with Gisondo. It was just a shame that we didn't get to see enough of them together as her own subplot paled in comparison to that of hers and Tony's.
In the end, Feast of the Seven Fishes has a plate may be a little too full but you certainly can't do wrong with this holiday meal.
*still courtesy of Shout Factory*
---
If you liked this, please read our other reviews here and don't forget to follow us on Twitter or Instagram or like us on Facebook.