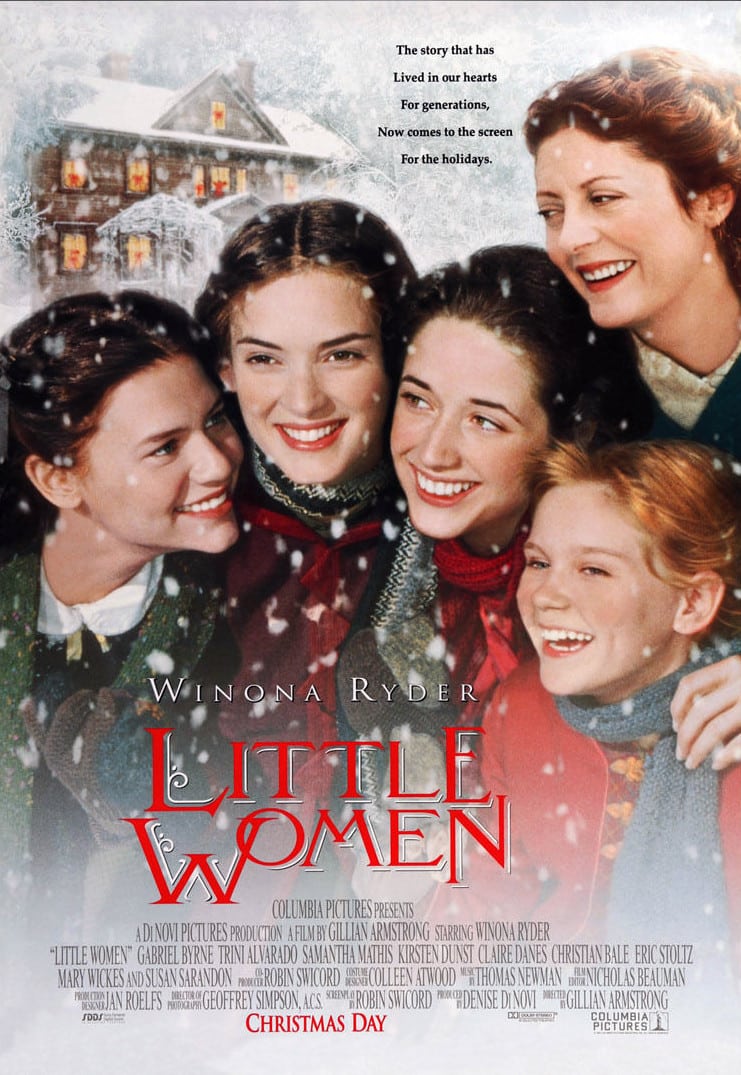 Starring

Winona Ryder, Gabriel Byrne. Trini Alvarado

Writer

Robin Swicord

Director

Gillian Armstrong

Rating

PG (Canada)

Running Time

115 minutes
Rating Summary
This version of Little Women is a great adaptation of the classic novel all the way down to the smaller details.
Little Women is a classic book by Louisa May Alcott, one that at every few generations shows up again on screen. Coming soon is yet another version from Greta Gerwig that is absolutely fantastic. This 1994 version was the best of the ones up to this point, one that got everything right, even in the smaller details.
Little Women follows the March sisters Jo (Ryder), Meg (Alvarado), Beth (Claire Danes) and Amy (Kirsten Dunst & Samantha Mathis) live with their mother Marmee (Susan Sarandon) in New England. Their father is fighting the War and they strive to survive when money is scarce. Jo wants to become a writer and gets the attention of their neighbor Laurie (Christian Bale) who would eventually become her best friend before falling in love with her. Meg marries a poor tutor; Beth gets sick with scarlet fever after catching it from a starving family she's helping, and Amy wants to become a painter and is the hope of the family for a strong marriage.
Before going into the positives for which there are many, one tiny criticism still remains: Little Women feels like a Christmas movie, a great Christmas movie, but still a Christmas movie. Not having read the book, it seems like the story is very heartwarming. It makes you cozy up around the fireplace with the characters and enjoy a hot coco. It's not a problem per se, it's just that the film, although great, feels a little bland, lacking a stronger punch. But again, this is not a huge problem since we follow the March family story with much joy.
The biggest praise for Little Women must go to Armstrong as she makes all the right choices here. The film looks and feels beautiful, from wardrobe and art directing to cinematography and music. Armstrong never treats the material lightly; she gives it a lot of intelligence, a lot of depth and personality. She greatly creates what appears to be the best quality of the novel: a sense of union of the family. Nothing is individually shiny over the course of the film, instead the ensemble cast do that together, giving us a fantastic feeling of familiarity with these people. It welcomes the audience into to their lives and troubles; we care for all of them as if they are our kin. To be able to make us feel that is quite remarkable.
That happens because the Little Women cast was on spot: Alvarado has the less showy role and she's adequate as Meg; Dunst is a perfect Amy, even is Mathis doesn't have that much to do with the character after she grows older; Sarandon is also perfect as Marmee; the moment she enters the screen, every time she speaks you just want to be enveloped by her warmth; the three standouts are Bale, Danes and Ryder. Bale is a very charming Laurie, Danes is great in suffering roles, bringing the same quality she shown in her breakout role in My So-Called Life to her fragile Beth; and Ryder, she was just the right actress in the right part. She's fantastic as Jo, giving her equal balance of softness and boldness, turning Jo into a very charismatic character.
Little Women is a great adaptation of the classic book and the perfect movie to enjoy during Christmas.
*still courtesy of IMDb*
---
If you like this review, look me up on Instagram for more suggestions.
If you liked this, please read our other reviews here and don't forget to follow us on Twitter or Instagram or like us on Facebook.