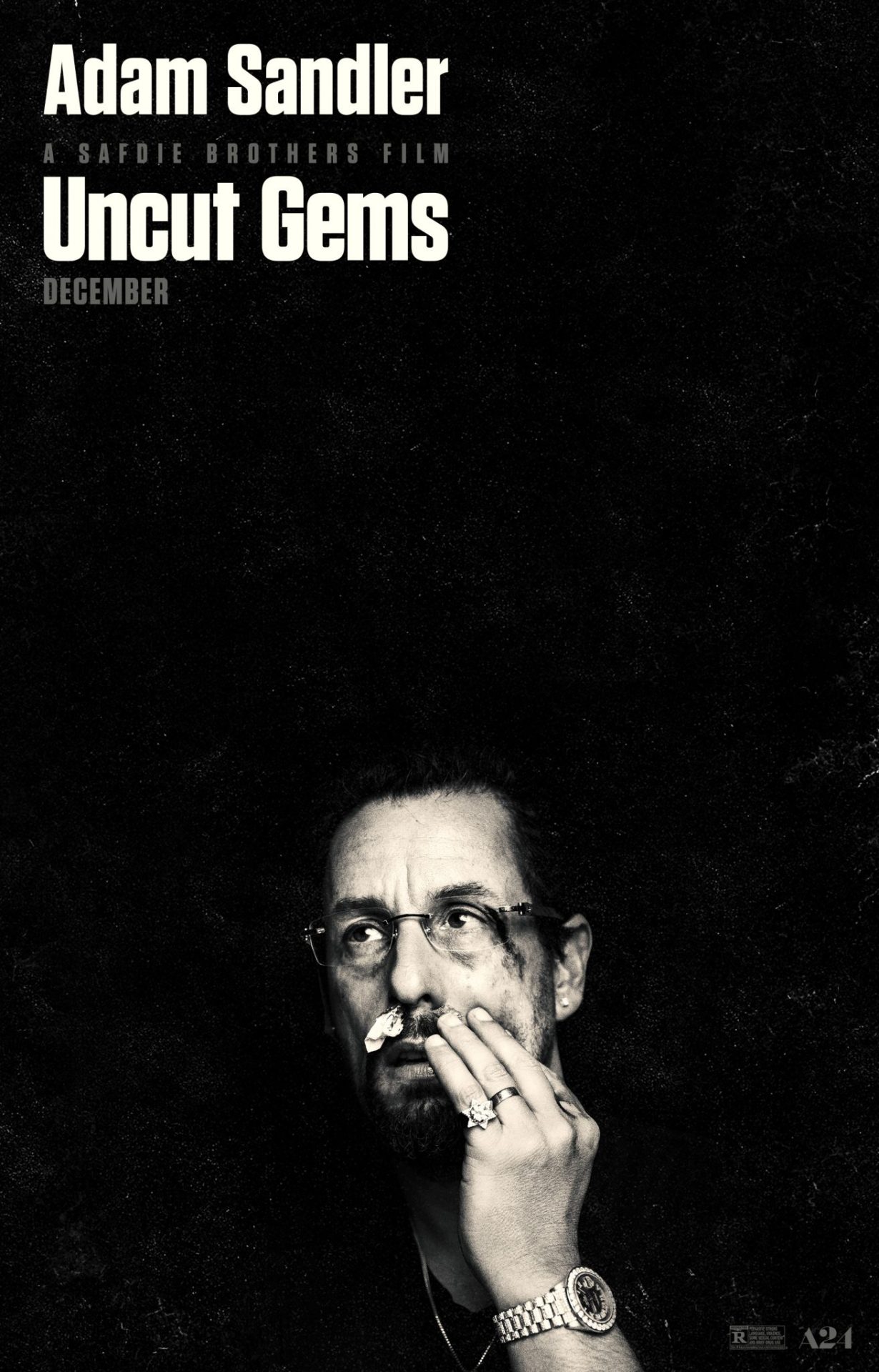 Starring

Adam Sandler, Julia Fox, Lakeith Stanfield

Writers

Benny Safdie, Josh Safdie

Directors

Benny Safdie, Josh Safdie

Rating

R (United States)

Running Time

135 minutes

Release Date

December 13th, 2019
Rating Summary
Uncut Gems is an utterly masterful and grounded character study featuring a career-best performance from Adam Sandler.
For our capsule review of Uncut Gems from this year's Toronto International Film Festival, click here.
Directed by Josh and Benny Safdie, Uncut Gems stars Adam Sandler as an insanely Jewish New York diamond dealer named Howard Ratner, a man with a serious gambling addiction who continuously digs himself into a deeper hole of troubles throughout a week of his life, as he attempts to hustle his way through various customers and loan sharks. With this film. the Safdie Brothers have crafted a truly epic masterpiece of hilarity, anxiety, and Jewishness in their fourth and most ambitious feature yet.
It's clear to see how Uncut Gems has been a passion project for the Safdies for over a decade, coming across in their efforts here. Much like their other films, Gems is injected with this kind of drug-fueled, anxiety-ridden energy that is unmatched by any other film today. Its grand and epic scope benefits from the Safdie's obvious comfort with New York City, and their beautiful wide-lensed celluloid cinematography.
Uncut Gems sees Sandler easily delivers the greatest performance of his career yet (and most likely ever?). The Sandman breathes so much life into Ratner that it's hard to see any other actor ever properly pulling that role off. Obviously, Ratner is masterfully layered within the film's script given that the film almost never leaves his perspective throughout its beefy, yet warranted 135 minute running time. Sandler's Jewish lens surely brings a much-needed level of realism to the role, and his audience's awareness of his religious background surely doesn't hurt our expectations.
The other actors in Uncut Gems are fantastic too. Someone who obviously stood out was Fox as Ratner's mistress Julia. The model's feature film delivers a truly breakout performance. It's easy to see her absolutely blowing up in our near future. Stanfield is also fantastic as Dermony while Idina Menzel, as Ratner's wife Dinah, was also great.
Something else that the Safdies do in their films, and have also done with Uncut Gems, is how they ground them in reality. A lot of the shots that take place on the streets of New York are not on a closed set and involve real people who don't know they're being filmed (thanks to New York one-way consent laws!). There is one specific reaction of a pedestrian watching Sandler and Fox argue from inside a cab that is priceless. Another fun aspect was the film's use of real-life celebrities playing themselves. Kevin Garnett is fantastic in this film and plays off of Sandler exceptionally well. The use of his real Celtics game footage from 2012 (the film's setting) adds a completely unique feel of realism to this film. The Weeknd's also appears in a scene that was slightly humorous within the context of the film.
On a more personal level and without getting too sappy, the way the Safdie's handled the entire concept of Judaism here in Uncut Gems in great degree of detail was impactful. The world it takes place in, the way Ratner operates with his world around him (specifically his wife and children) just feels completely accurate to what it's like to live life as a conservative Jew in the 2010s. The "Jews and colon cancer – what's about that?" bit especially. Meanwhile, the pacing in this film is also completely *insane*. The tension consistently rises throughout the ENTIRE film until it ultimately blows up in your face, and the way it balances tension with action and forces you to sometimes confuse the two is just perfect.
Uncut Gems is easily this reviewer's favourite Jewish movie of all time.
*still courtesy of A24*