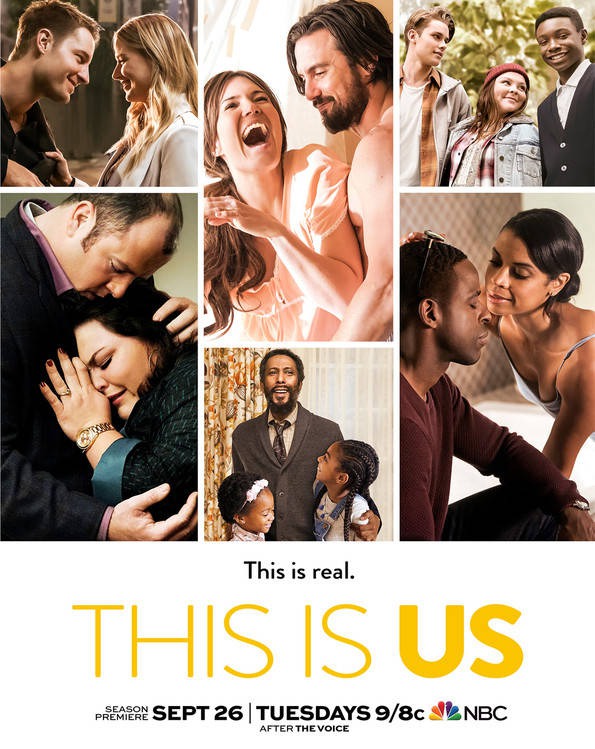 Director

Kevin Hooks

Writer

Danielle Bauman

Rating

TV-14

Running Time

43 minutes

Airs

Tuesdays 9pm

Channel

NBC, CTV
Rating Summary
We were on the edge of our seats as Kevin scrambled to make sense of his future--Sophie or no Sophie?
For our review of the last episode of This Is Us, click here.
Synopsis: Kevin revisits his past and questions his future. (IMDb)
A Hell of a Week: Part Two is all about Kevin, as we make our way through the Big Three trilogy. Any Kevin-centric episode is a great watch as Justin Hartley is incredibly underrated and is rarely ever recognized for how phenomenal he is as Kevin Pearson.
We start with young Kevin who is having trouble sleeping, just like Randall did in last week's episode. His reason for insomnia is because they've changed rooms and the mobile that used to hang above his head is no longer there.
Of course, Jack, being the adorable father he is, tries very hard to appease to him, and even wakes Rebecca up in hopes of finding it. But it's long gone and donated, and thus Jack must rely on his own creativity to get Kevin through the night.
In the present, Kevin is still filming the movie with M. Night Shymalan, but he's not all there. He's still frazzled by what happened with the beautiful stranger (Sophia Bush!), and it's made him question where he's at in life. Enter, Sophie–the love of his life.
He gets multiple calls from Sophie, who is calling to inform him that her mother has passed away. It's a bit strange that she's calling Kevin, especially since she is engaged to another man. But, we get it. Kevin is home, Kevin is comfort, and Kevin was close to her mother, once upon a time.
Without thinking about it too much, Kevin flies out to Philadelphia to attend her mother's funeral. It's a bit awkward, of course, but it's something he needed to do. He has so much history with Sophie, and her mother was his number one supporter. Before he was the Manny, Sophie's mother knew he'd make it big. She told him to never settle, and always strive high–and he did, he really did!
Taking it back to teenage Kevin days, we go back and forth between pre-Jack's death and post-Jack's death. The night Jack died, Kevin and Sophie were out camping because he had a fight with his parents. It was something he never really got over until he went to Sophie's mother's funeral and went to that very spot with Sophie.
As a newly married couple (after Jack's death), Kevin's career was starting to come together. He even snagged a small part in Days of Our Lives! Rebecca completely missed it, but, Sophie's mother couldn't get enough of it. She really was team Kevin, until the very end.
Kevin goes to the graveyard to pay his respects. He pours out a drink (don't worry, non-alcoholic!) as he reminisces about how much Claire loved and supported him. Once again, Hartley kills it!
Heartbroken and lost, Kevin makes his way back home to L.A. and shows up at Kate's house. She and Toby aren't there, but Madison is (you all remember Kate's annoying friend, don't you?). One thing definitely leads to another because the next morning, Kevin wakes up in bed beside her, crushing all our dreams that the blonde-haired woman was Sophie.
How many times will you do this to us, This Is Us?!
It looks like the Big Three are in trouble because as the episode comes to an end, we leave off with Randall's distressing phone call to Kevin. When they dial Kate in, things aren't looking so hot for her either. Ugh, what is going on?!
Looks like we'll find out in next week's conclusion to the Big Three trilogy.
---
Check out my TV blog to read reviews, recaps, and much more! Be sure to follow me on Twitter, Instagram, and like my Facebook page! @watchwithreebs
If you liked this, please read our other reviews here and don't forget to follow us on Twitter, follow us on Instagram, and also like us on Facebook.