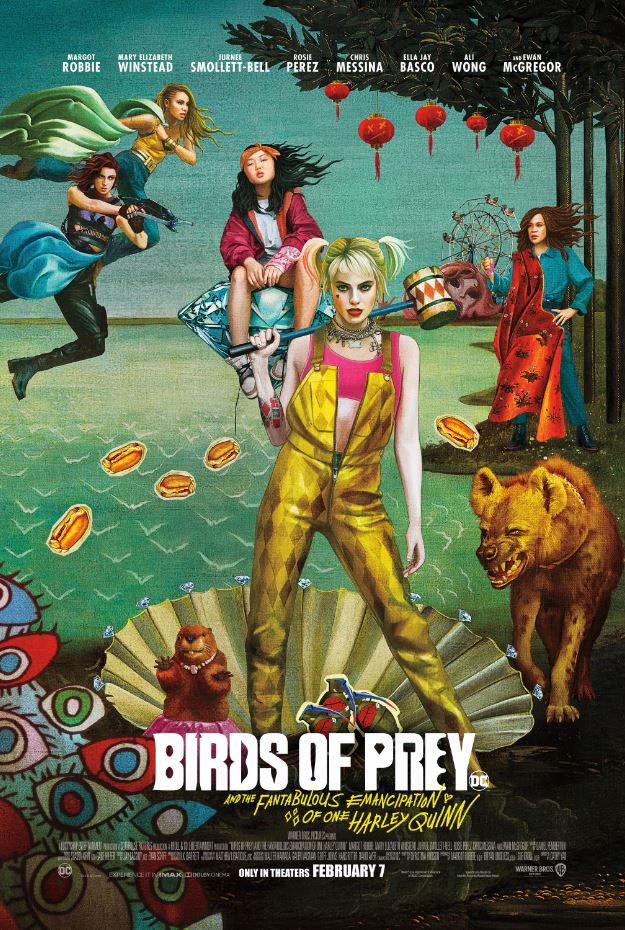 Starring

Margot Robbie, Mary Elizabeth Winstead, Jurnee Smollett-Bell

Writer

Christina Hodson

Director

Cathy Yan

Rating

14A (Canada), R (United States)

Running Time

109 minutes

Release Date

February 7th, 2020
Rating Summary
Birds Of Prey is a ridiculous blast that never loses touch of what it is, featuring a great script, action sequences, and a dynamic performance from Margot Robbie.
The DC extended universe has consistently been on an upswing since the critical failure that was Justice League. Instead of rushing to create some sort of shared universe, the focus has shifted to telling individual, stand-alone, sometimes adult-oriented stories to great success. Birds of Prey: And the Fantabulous Emancipation of One Harley Quinn looks to continue this recent run by not trying to force anything that isn't there, resulting in a highly-entertaining experience. Taking the best character from Suicide Squad in Harley Quinn (and the still very bankable Margot Robbie), this new film leaves the former in the dust. This self-aware, ridiculously over-the-top romp is definitely befitting of a character like Quinn for better or for worse.
Suffice it to say that the film lives or dies on the audience's view on Quinn as the film rests firmly on her shoulders. Told from her perspective through some witty narration (which wasn't always reliable or as straightforward as it seemed which could frustrate some though it did get better as the film went on), Birds of Prey was about Quinn as she tried to make a life for herself after an unceremonious break up with the Joker (who does not appear in this film but would still loom large). As a result, she would have to make a new name for herself but even without him, she certainly did not miss a beat. Let's not forget that she was a formidable character in her own right and the former brains of the operation (thanks to her doctorate in psychiatry). Unfortunately for her, her many past grievances were not done with her and now they were out for revenge especially since she did not have her relationship with the Joker to protect her anymore. Learning about her increasingly ridiculous indiscretions and watching her maneuver her way around them was fun to watch.
As the title suggested, Birds of Prey was about the emancipation of Quinn though she wasn't the only one looking for emancipation. While the film's promotional material suggests that it's a team-up film, this is firmly a Harley Quinn film but this did not mean that other characters didn't have their own moments. Though because of this, their introductions were arguably on the clunky side. It would eventually see Quinn join forces with Dinah Lance/Black Canary (Smollett-Bell),  Helena Bertinelli/The Huntress (Winstead), and Renee Montoya (Rosie Perez). What eventually brought them together was a young girl named Cassandra Cain (Ella Jay Basco) who found herself an unwilling target of a crime lord named Roman Sionis/Black Mask (Ewan McGregor). Spending most of her time with Quinn, the two were fun to watch together as Cain reigned in some of her craziness as Quinn became a mentor figure of sorts to her, thus becoming a real test during her character arc.
Once Birds of Prey finally got going, it really got going. Not only was it exciting, its action scenes are some of the best of any DCEU film (the film definitely earns its 14A/R rating), from the choreography, camerawork, editing, and sheer inventiveness. While the Batman universe could be overwhelming, the film carves out a big, bright, and colorful space for itself. It offers a fresh perspective and style helps set it apart from other films in the series. Its great script was fun and empowering (but not in an overwhelming way) while embracing its own ridiculousness which in turn eases some of the film's truly ridiculous moments. The fourth-wall breaking is arguably a little old at this point but it still works here. The team-building may be a little underwhelming, its work here is cause for promise going into an inevitable sequel.
The best part of Birds of Prey unsurprisingly was Margot Robbie's incredibly charming performance as Quinn. She appears to have a blast here, single-handedly carrying the film while commanding the screen. With half-decent material, she can be fun to watch and this was the case here as this version of Quinn is a lot deeper than how we saw her last. She simply took this and ran with it in delivering one of her best performances. Meanwhile, McGregor had a blast as well, chewing the scenery as Sionis, a brutal yet flamboyantly charming villain. It was just a shame that the team dynamic was a little disappointing because of the limited screen time they had together. Nevertheless, Robbie, Winstead, Smollett-Bell, and Perez had great chemistry and still found time for standout moments.
At the end of the day, Birds of Prey is another satisfying DC tale that doesn't try to reinvent the wheel but rather focuses on giving an audience a fun time and for that it works.
*still courtesy of Warner Bros.*
---
If you liked this, please read our other reviews here and don't forget to follow us on Twitter or Instagram or like us on Facebook.