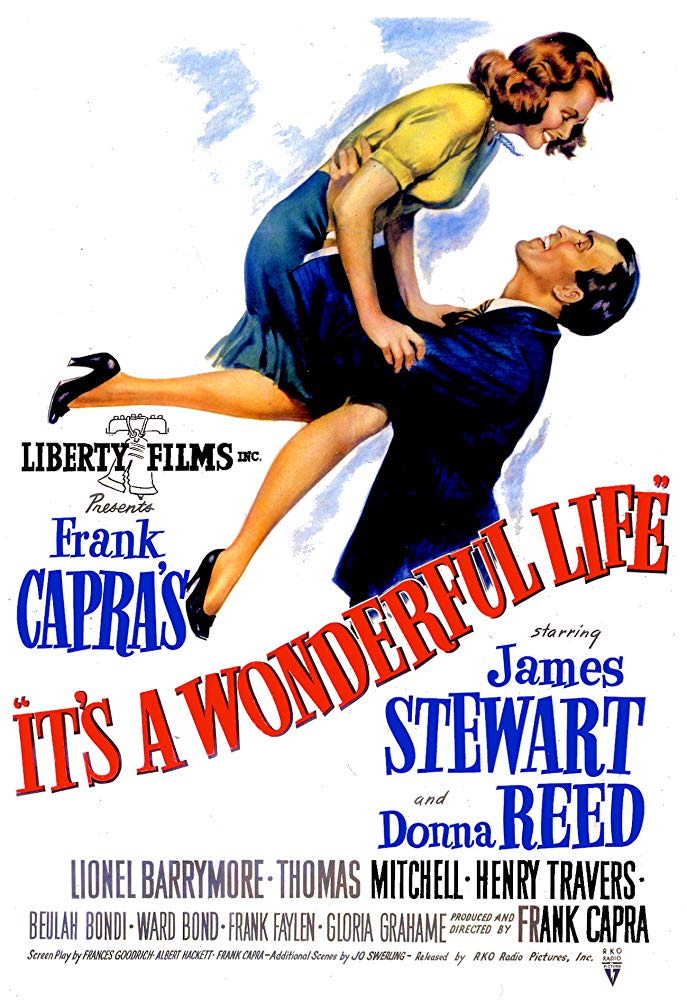 Starring

James Stewart, Donna Reed, Lionel Barrymore

Writers

Frances Goodrich, Albert Hackett, Frank Capra

Director

Frank Capra

Rating

G (Canada)

Running Time

130 minutes
Rating Summary
It's a Wonderful Life is undisputedly a timeless piece of engaging cinema and a superlative Christmas classic.
Certain movies settle themselves into a very secure place in our hearts and they'll never ever leave. It's a Wonderful Life will certainly be one of those types of films for many, many people. Frank Capra's masterpiece was released over 70 years ago, but it remains a perfect example of the power cinema has to engage and move us in very strong ways.
One of the most amazing aspects of It's a Wonderful Life is its simplicity. This isn't an ambitious film, on the contrary, it's very true to Capra's style, also known as Capra-corn. It's the story of George Bailey (Stewart), an earnest everyman from a small town called Bedford Falls. George doesn't feel special at all: he sacrificed his dreams all his life to maintain his family business, and in this particular Christmas Eve, he gets to his tipping point. His uncle Billy (Thomas Mitchell), who's not in his best mental health anymore, mixes things up with their money, and George finds himself in no way of recovering his funds. He's so afraid of what the scandal will do to his family, and especially to his wife Mary (Reed), that he asks for the help of the meanest man in town (Barrymore), who obviously says no. That sends George into a spiral of desperation that makes him decide to end his life, being sure the life of everybody around him would be better if he didn't exist. When he's about to jump off a bridge, an angel (Henry Travers) comes down from heaven, and invites George to witness what the lives of his loved ones would really be if he wasn't in the picture, and he finally understands his importance on this Earth.
People tend to dismiss Capra's strengths as minor accomplishments; his optimistic tales, his affable and cookie characters, the honest feelings he pursued; these were all looked down for a long time (still are actually) despite the huge success his movies made in the box office. But what people don't usually point out much is how hard this combination is to achieve. It demands the right actors, the right rhythm in the scenes, some very specific emotions and, most importantly, a very close attention to delivery. If the actors got it wrong, it would've become truly tacky. But the movies of Frank Capra manage, in a way, to make us aspire to do and be better than we are, and that is a phenomenal feat for a director to achieve. It doesn't just move us, but it makes us look inside and wish for a change. How many directors manage to do that?
It's a Wonderful Life comes to life with a delicious cast, most of them regulars from Capra's troupe, names that we became familiar to when watching his films: Barrymore, Mitchell, Beulah Bondi, H.B. Warner, these are all actors who are part of Capra's cinematic universe and they inhabit his characters with complete confidence and truth. While Reed is a nice addition to the team, Travers is a deliciously wicked angel. The standout here, is Stewart, utterly believable as George. His journey is heartbreaking, and Stewart gives him everything he's got and then some more. This is probably the most iconic performance of his career, and its easily understandable when you get to watch this. George goes through so many emotional states during the film, he loses all the confidence in himself and he hits rock bottom very hard. Stewart shows his vulnerability so honestly, we care for George the moment he graces the screen.
In the end, It's a Wonderful Life became one of those films that we just have to watch again and again and again. And it gets us. Every. Single. Time.
*still courtesy of IMDb*
---
If you like this review, look me up on Instagram for more suggestions.
If you liked this, please read our other reviews here and don't forget to follow us on Twitter or Instagram or like us on Facebook.