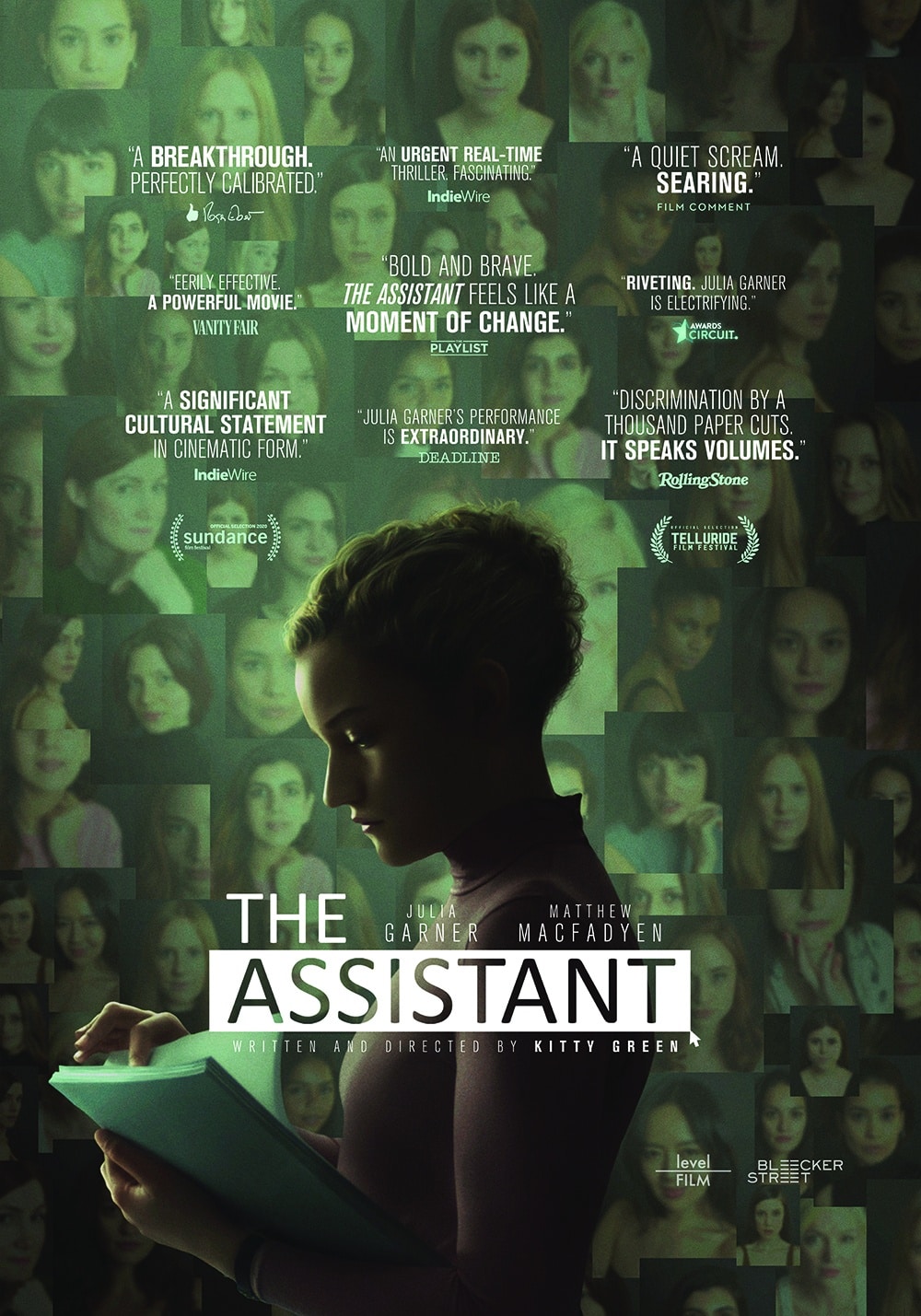 Starring

Julia Garner, Matthew Macfadyen, Makenzie Leigh

Writer

Kitty Green

Director

Kitty Green

Rating

PG (Canada), R (United States)

Running Time

87 minutes

Release Date

February 7th, 2020
Rating Summary
The Assistant is a cold and often uncomfortable survival tale that isn't too flashy and/or may be too simple for some but still spoke volumes.
This will be one of many reviews during this year's Sundance Film Festival, to keep up with our latest coverage, click here.
Everyone is more or less aware of the Harvey Weinstein saga so it's only inevitable that a feature film would be made about this saga although don't expect the big bad figure in the middle of it all to be glorified. This would be the right decision as The Assistant makes the Weinstein-inspired figure at the center of this tale a Jaws-type. While we don't see him, he still loomed large over the story. Instead, the film takes a more focused and intimate approach that may seem a little too mundane and simple for some though for many, it will surely be on the most uncomfortable experiences of the year. Clocking in with a running time of under 90 minutes, the film is on the short side. Sure it could be longer, however, its tough to imagine stretching out a story like this much longer.
The Assistant follows Jane (Garner), a recent college graduate and an aspiring film producer over the course of her day as an assistant for a big time Hollywood heavyweight, presumably a Weinstein-type. We watch her perform a series of mundane tasks that any assistant would do which sometimes were not easy. She worked very hard as her job had pretty much consumed her life, hoping that it would one day lead to producing. Though Jane performed her tasks without question, she started to notice that something wasn't quite right about her boss and his alleged actions (he seemed like not a nice person). Wanting to keep her job is understandable as she was merely a small cog in a much larger machine (the film made that very evident). Having to balance what was best for herself versus others was certainly an uncomfortable experience (especially knowing what we know now). It immediately became clear that she was powerless. Everyone knew what was really going on and there was also little that could be done about it as that's the way it always was and will probably still be (as change is coming but it's slow).
The best part of The Assistant was undoubtedly Garner's performance as Jane. As the film rests solely on her shoulders as she was the only real character here, it definitely would not have worked if not for her sensational performance. Her likable and insanely relatable turn pulls us in deeper into the story as we connect with her on a deeper level and feel uncomfortable right with her. The cloud over her was a near insurmountable one but she took it all in stride.
In the end, The Assistant was a chilling portrait that won't be easy to watch but is still an important one.
*still courtesy of levelFilm*
---
If you liked this, please read our other reviews here and don't forget to follow us on Twitter or Instagram or like us on Facebook.