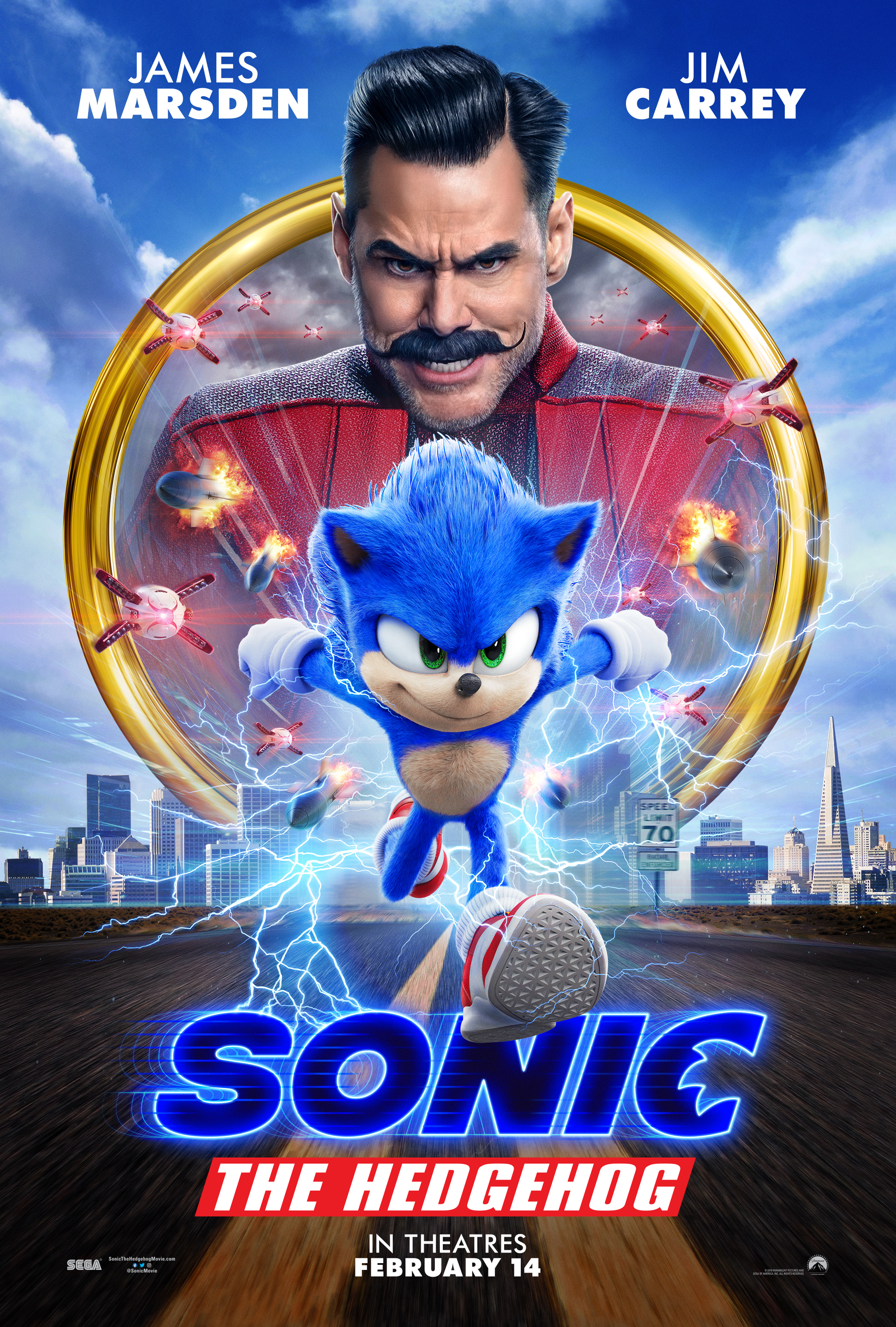 Starring

Ben Schwartz, James Marsden, Jim Carrey

Writers

Patrick Casey, Josh Miller

Director

Jeff Fowler

Rating

PG (Canada, United States)

Running Time

99 minutes

Release Date

February 14th, 2020
Rating Summary
While the humor doesn't always work, plenty of bright colors, and a comically over-the-top Jim Carrey make Sonic The Hedgehog a winner.
This has been said many times but films based on video game properties have been a mixed bag though lately, there have been signs of hope. After the success that was Detective Pikachu, Paramount Pictures looks to do the same with the character of Sonic the Hedgehog with the aptly-named Sonic the Hedgehog. Now the film has been in the news for almost an entire year before its release as the first trailer created plenty of controversy thanks to an unusual set of teeth, causing a delay so the titular character could be redesigned. Suffice it to say that this version of Sonic is less freaky-looking for sure. Meanwhile, the mention of Detective Pikachu is not a coincidence as audiences will surely notice plenty of similarities between both films (though also sharing the same problems). While this isn't necessarily a bad thing, it does make it a little more predictable, not that it already wasn't being a children's film. The film world may be much more impressive in the former, the latter does feel more like a video game and provides a slightly more engaging story.
Sonic the Hedgehog saw Sonic (Schwartz), a wise-cracking and very lonely juvenile hedgehog with the ability of superspeed who lived in the shadows, watching and learning about the world from afar. This distance clearly took a toll on him, leading to the aforementioned loneliness but something was going to give. After a freak incident put him on the radar of the United States government and the evil Dr. Robotnik (Carrey), Sonic would have to team up with a police officer named Tom Wachowski (Marsden). The two were very familiar with one another whether Wachowski realized it or not (Sonic found refuge in him). They would form the standard pairing of opposites (that perhaps were more similar than they once thought) that were played off for humor which worked more often than not as they embarked on a roadtrip. While the humor surprisingly wasn't overly juvenile, it still offers something for everyone. Despite a shorter running time, the film runs at a relatively brisk pace. Though those familiar with the character and the series will surely find more enjoyment, the film still offers enough for non-fans to enjoy.
In terms of the character himself, Sonic the Hedgehog's depiction of Sonic is definitely impressive to behold with plenty of detail behind his blue fur and the character animation. Who knows what the original version would have been like minus the teeth but the film didn't feature as much his abilities as expected, perhaps relying on the roadtrip aspect a little too much. What we did see was very well done, employing slow-motion sequences in hilarious ways. The Dr. Robotnik side of things was great as well from his many drones to his little ship. The climax was especially exciting to watch, without giving anything away, though it could have been longer. Meanwhile, it would be wrong to presume that Paramount wouldn't be trying to set up a new franchise and this film did exactly that so keen audiences should stay after the credits for a few surprises.
Ultimately, the best part of Sonic the Hedgehog was the acting across the board, be it the voice acting by Schwartz or that of Marsden and Carrey. Some of the dialog may be on the cheesy side but everyone brought their A-game. Schwartz was dynamic as the exuberant Sonic, bringing energy and enthusiasm while bringing his comedic timing to the role. Marsden was great as Wachowski, the main human character, bringing likability and charisma to a meatier role than just a mere straight character. However, Carrey as Robotnik may very well top both of them despite criminally limited screen time. Using that same kind of energy from past over-the-top comedic characters, his performance fits right in with the others, stealing scenes, and was entertaining to watch.
Run, don't walk, and see Sonic the Hedgehog, another good video game film and if not, at least it's another chance to see some classic Jim Carrey.
*still courtesy of Paramount Pictures*
---
If you liked this, please read our other reviews here and don't forget to follow us on Twitter or Instagram or like us on Facebook.