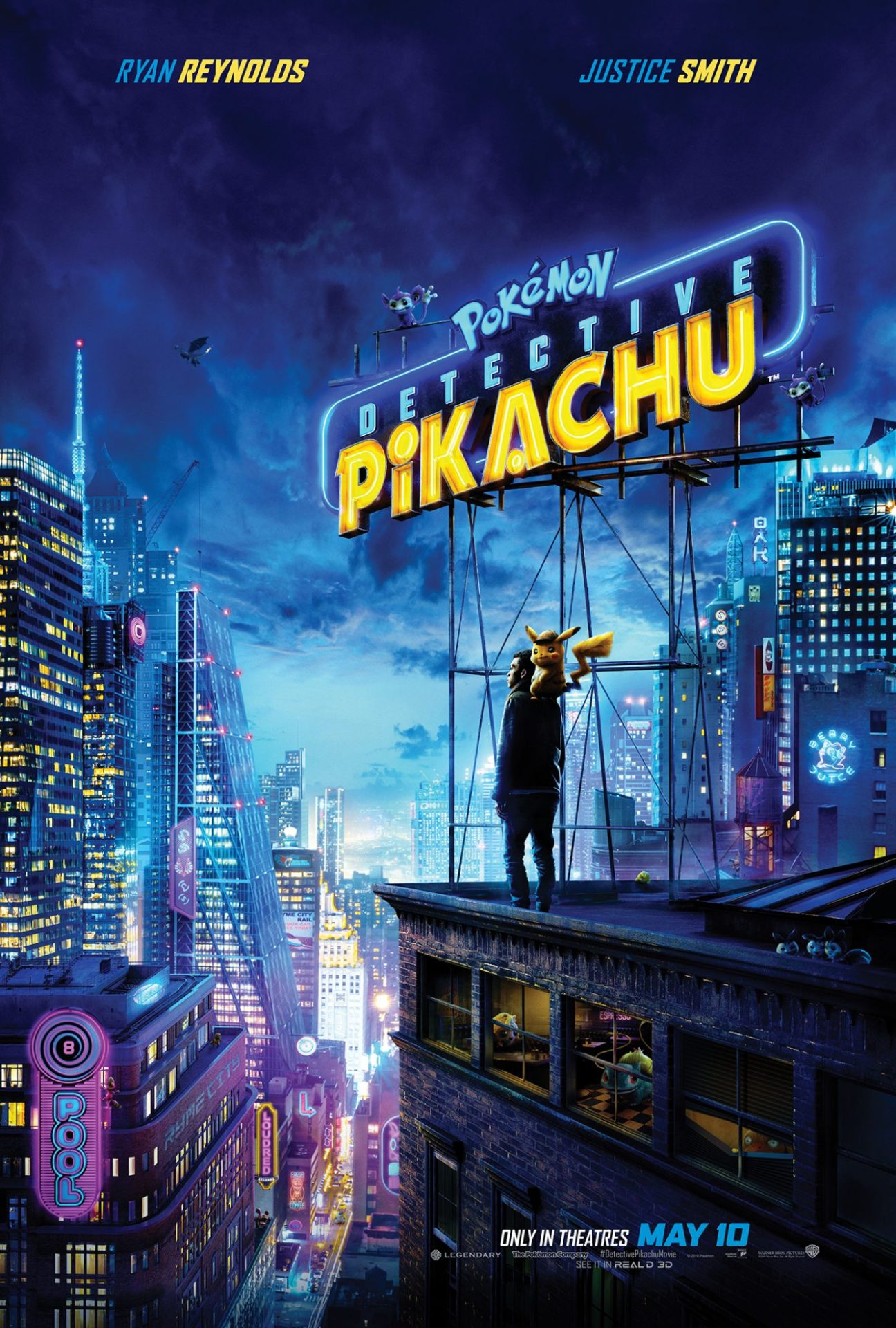 Starring

Ryan Reynolds, Justice Smith, Kathryn Newton

Writers

Dan Hernandez, Benji Samit, Rob Letterman, Derek Connolly

Director

Rob Letterman

Rating

PG (Canada, United States)

Running Time

104 minutes

Release Date

May 10th, 2019
Rating Summary
Detective Pikachu is a fun, albeit predictable, children's film whose impressive world-building and central relationship between Justice Smith and a perfectly-cast Ryan Reynolds help it to overcome a bogged-down story that fails to deliver.
Pokémon are making a come back. The famed video game property has been a part of many of our lives and is now coming back to the forefront with Detective Pikachu. On the other hand, films adapted from video games haven't had the best history but this film appears to change that trend by taking the cutesy characters we already know (and perhaps some you may not) and placing them in a familiar albeit predictable though fun story that will surely entertain both children and diehard Pokémon fans alike across its 104 minute running time.
Detective Pikachu follows 21-year-old Tim Goodman (Smith) who would be forced to return to Ryme City, a revolutionary city which saw humans and Pokémon live together side by side, once his detective father Harry suddenly goes missing. Tim and Harry may not have had the best relationship, which could be seen from the series of flashbacks throughout the film, but Tim still cared about his father and wanted to find out what happened. Little did he know, there would be much more to that mystery. However, Tim would not be alone as he and Harry's former Pikachu partner (Reynolds), with a mystery of his own, would reluctantly join forces as Tim was somehow the only human able to understand him.
The pairing of Tim and Pikachu was the most prominent in the film's marketing and was clearly the best part of the film. They were always compelling to watch, providing some hilarious exchanges and other fun moments along the way, regardless of the fact that the story that surrounded them would become unnecessarily bogged down at times, seemingly trying to justify itself while exploring the film's deeper mystery at play and how it would affect the main characters. The film would only somewhat suffer as a result, appearing to fall off the rails near the middle before not quite hitting the landing with an unsatisfying conclusion that didn't all work because of it.
Nevertheless, the world-building on display here was impressive to behold. Bringing Pokémon into a live-action world was going to be tricky but Detective Pikachu managed to do a formidable job at filling each scene with a decent amount of different Pokémon. Each, for the most part, were surprisingly detailed while fitting seamlessly on screen. However, their weathered or their lack of lighting at times may not be for everyone though they showed enough personality to be entertaining. Although at the end of the day, the film was called Detective Pikachu so thankfully the Pokémon the filmmakers definitely got right was the titular Pikachu.
The script may have been inconsistent, occasionally veering into cheese, but the acting was great across the board and helped make up for it. Smith, as Tim Goodman, was likable and definitely held his own as the film's main human character though he sometimes appeared overwhelmed by the rest of the film. Reynolds was perfectly cast as Detective Pikachu, using his natural charm and delivering his quippy lines in a way that only he could. Regardless of what was happening, Smith and Reynolds' chemistry made always made Tim and Pikachu fun to watch. Newton, as the arguably unnecessary Lucy Stevens, wasn't blessed with the best material, however, she did not let it impact her character too much.
On to the next case! 
*still courtesy of Warner Bros.*
---
If you liked this, please read our other reviews here and don't forget to follow us on Twitter or Instagram or like us on Facebook.