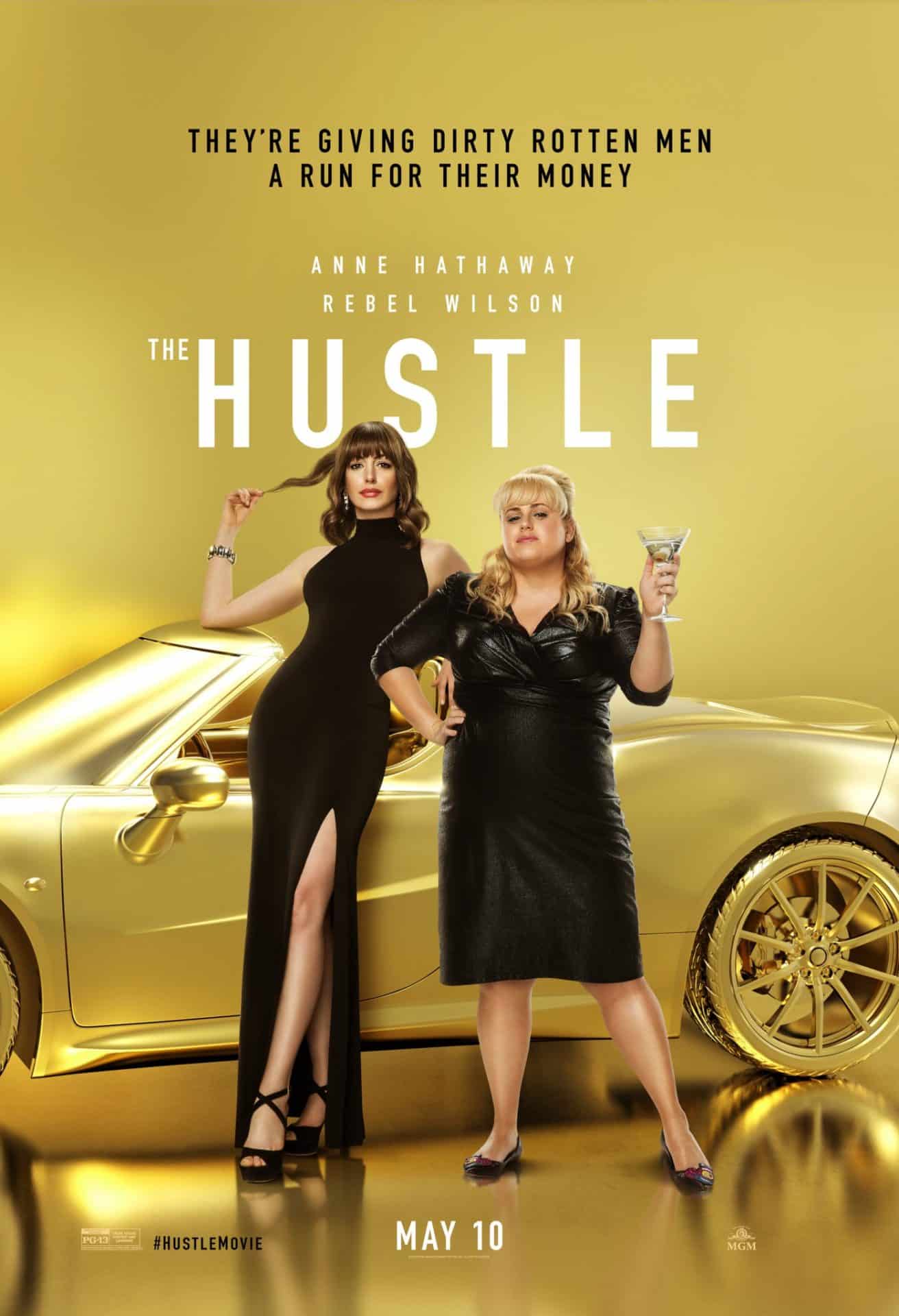 Starring

Anne Hathaway, Rebel Wilson, Tim Blake Nelson

Writers

Stanley Shapiro, Paul Henning, Dale Launer, Jac Schaeffer

Director

Chris Addison

Rating

PG (Canada), PG-13 (United States)

Running Time

94 minutes

Release Date

May 10th, 2019
Rating Summary
The Hustle is not going to chance anyone's lives, but will be entertaining for those who decide to give it a try.
In The Hustle, A low class grifter called Lonnie (Wilson), who survives doing small cons meets Josephine (Hathaway), a class act con-artist on a train, heading for a rich seaside French town. Josephine tricks Lonnie into leaving, but she soon comes back with a vengeance when she discovers she was fooled. The two pair up and start working together until they decide to bet against each other for $500,000.
Although it is not mentioned, The Hustle is a remake of Dirty Rotten Scoundrels, a fine 80's comedy starring Michael Caine and Steve Martin. The script of that film was great, but the chemistry between Caine and Martin was gold. That just happens to be the biggest achievement of this new installment: it is clear that Anne Hathaway and Rebel Wilson play very well opposite each other. And they also appear to be having a lot of fun during the process.
The story is simple and very straightforward, therefore making it more on the predictable side, meaning that there were no real surprises here. While there's nothing necessarily wrong with this, it would have been nice to see more interesting and creative turnarounds, though the film works fine the way it is. If one is not hoping to see an elaborate grifter film, and is only looking for some mild entertainment to pass the time, this film definitely fits the bill.
The Hustle has two tones of comedy that did not quite work well together. First, it's a sophisticated caper comedy, which was fine and provides best laughs. That is where Hathaway navigates and does a fine job. In some ways, it feels like a sequel to her character in Ocean's Eight as Josephine was very similar to Daphne Kluger, her character from Ocean's Eight. Her timing is spot on here as she took full advantage of the role.
Secondly is the absurd, slapstick comedy led by Wilson's Lonnie who is her wheelhouse here. Not only is she is very charismatic, she also has great screen presence. But her debauchery, so perfectly encapsulated in the first Pitch Perfect has become a little bit unbalanced over the years. Nowadays she always seems like she's doing too much. Wilson has the craziness and the penchant for absurdity that Will Ferrell displays so well, but his films are better suited to his talents and they makes sense by the end.
Here, Wilson appears to try too hard, and unfortunately the film couldn't quite accommodate her. When she's being outrageous, it is hilarious. But when you get to the totally silly scenes, it seems… uncomfortable. Over time, those scenes end up being quite tiring because of that. They are pretty much Wilson being a clown with little to no significance to the story. But despite all of that, she's still great and very entertaining to watch. Considering their two opposing acting styles, Hathaway and Wilson work perfectly together as Josephine and Lonnie respectively, both creating great moments.
At the end of the day, The Hustle may be short and not overly highbrow but was never boring.
*still courtesy of MGM*
---
If you like this review, look me up on Instagram for more suggestions.
If you liked this, please read our other reviews here and don't forget to follow us on Twitter or Instagram or like us on Facebook.