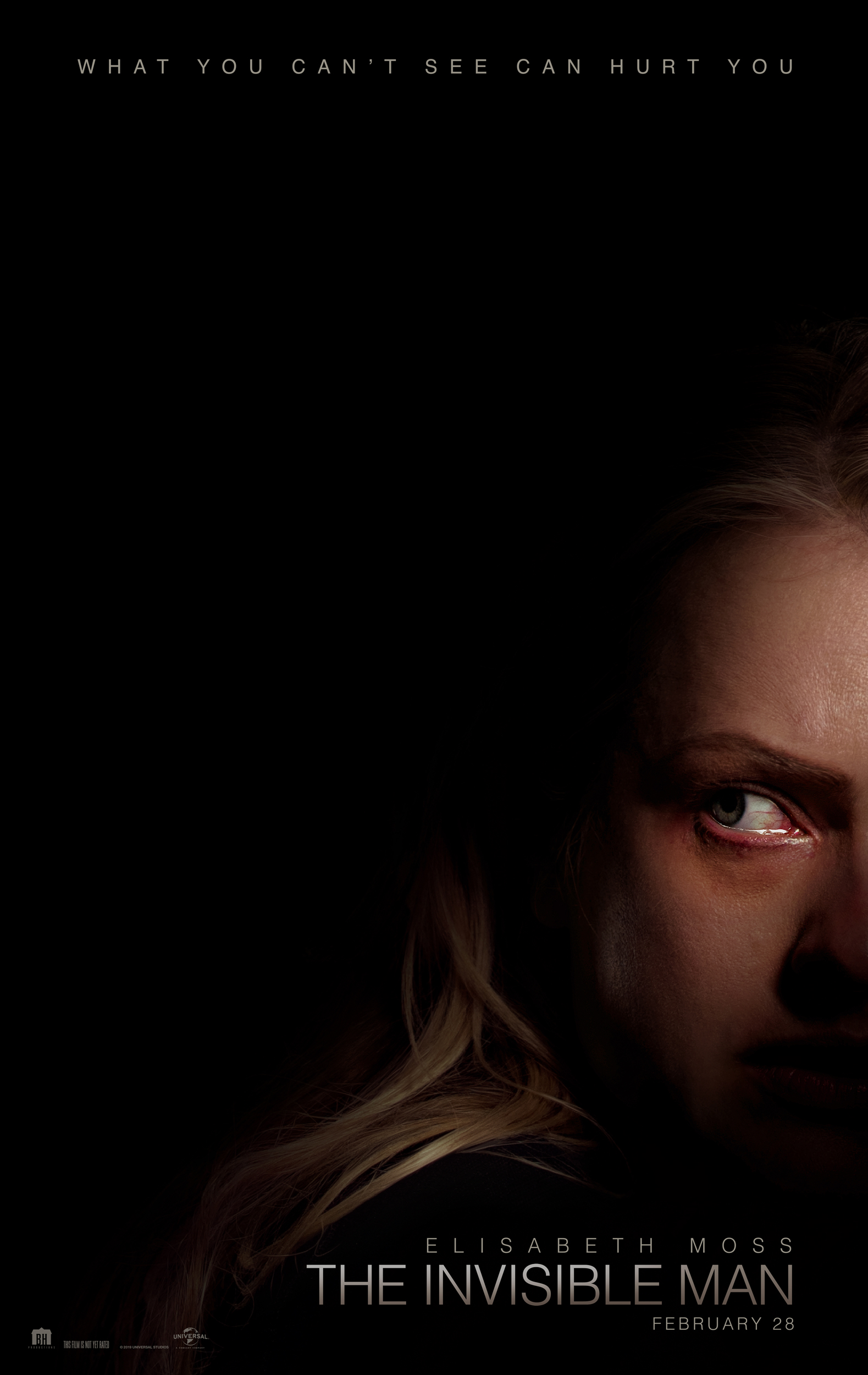 Starring

Elisabeth Moss, Oliver Jackson-Cohen, Aldis Hodge

Writer

Leigh Whannell

Director

Leigh Whannell

Rating

18A (Canada), R (United States)

Running Time

124 minutes

Release Date

February 28th, 2020
Rating Summary
Jaeden: The Invisible Man successfully proves that the horror genre is still alive and full of potential. Keith: The Invisible Man is a great horror film and an even better atmospheric thriller, finding terror in overcoming abuse in an inventive way.
You know what they say – the more, the merrier! As a followup to our Ad Astra double take review, check out this double take review for The Invisible Man (original review here) – with two different capsule reviews from different writers on the same film.
Review by: Jaeden Noel
Suspenseful, Well crafted and powerfully performed. Many terms can be used to describe Leigh Whannell's sophomore film The Invisible Man, a modern retelling of the 1933 horror classic of the same name. Whannell wastes no time by instantly setting an abysmal tone that sits with audiences throughout the movie. Quickly after the opening credits disappear, we are introduced to Cecilia played by the extremely well performed Elisabeth Moss. Cecilia finds herself in a game of Cat and Mouse with her abusive boyfriend Adrian (Jackson-Cohen), who has virtually taken full control of her life. Moss portrays a victim of abuse suffering from constant fear so flawlessly to a point where watching her on screen becomes extremely unsettling. After the apparent suicide of Adrian, things turn out they may not be as they really seem. 
You can assume what is bound to happen next based on the film's title, but Whannell's ability to write such great screenplays always leaves room for the perfect amount of suspense. What separates The Invisible Man from 90% of recent horror films is that it does not rely on the notorious jumpscare. As a matter of fact, with a film that relies so much on what we can't see it would be quite hard to do so. Instead, atmosphere, subtle movements, accentuated by themes of grief, anxiety create tension which make the film so thrilling to watch. Needless to say there were some visceral moments, however, the execution of these moments make for some of the most brutal kills on screen in recent years. Supporting performances provided what was necessary by never overdoing their screen time. However, Storm Reid as Sydney Lanier adds some well balanced heart to the film and another great performance onto Reid's resumé. 
It would be difficult to call The Invisible Man a complete masterpiece as some flaws appear throughout the film, however none of them detract from the film's ability to do what it's intended to do which is scare and entertain. The film's biggest problem per se, would be its running time. With a runtime of just over 2 hours, it is much longer than your average Blumhouse pic. Although it wont have you checking your clock on your phone, viewers may start to notice it as the pace arguably slows down over its final act. 
At the end of the day, we are only 2 months into 2020 and we have been given some bombshells and some great surprises, but it's pretty safe to say that The Invisible Man falls into the latter category.
---
Review by: Keith Noakes
The colossal failure that was 2017's The Mummy single-handedly put an end to Universal's Dark Universe as soon as it got started which arguably was the best thing that could happen for it. Shared universes are a tricky business so the standalone route is certainly the best way to go more often than not. Everybody knows about The Invisible Man, it's about a man who becomes invisible before becoming insane. Now where can the story go nearly 90 years later with this new version of The Invisible Man? This film breathes new life into the series by rooting it in themes that are more current to today relating to domestic abuse from of a woman's perspective and creating a terrific creepy atmosphere through its use of sound design and score and also set design and swinging camerawork that only emphasized the audience's fear of the unknown (i.e. not being able to see what's coming).
Knowing the film's title or having seen any of the film's promotional material will already give you an idea of what to expect but despite this, it's hard to not be enthralled by Cecilia's (Moss) journey of moving on from an abusive boyfriend named Adrian (Jackson-Cohen). From the film's exciting opening sequence, we are hooked and it does not let us go throughout its 2+ hour running time. The technical prowess of The Invisible Man may be impressive but what really ties it all together is the incredible performance from Moss as Cecilia. As much as this is a horror film, it's also a thriller about overcoming trauma for which that trauma would manifest as some of the same kind of horror we are used to. Moss sells the trauma angle with a deep performance unlike that of a horror film. Cecillia was a broken down woman haunted with plenty of scars as a result of her past. She was trying to move on but it was clearly not done with her. Moss' performance also involved quite a lot of physicality for which she was committed, basically allowing herself to be ragdolled back and forth.
In the end, The Invisible Man is a rollercoaster horror experience, providing a fresh take on the classic character, and proving that great stories always prevail over forced universes.
*still courtesy of Universal Pictures*
---
Follow Jaeden on Twitter and Instagram and check out my Letterboxd.
If you liked this, please read our other reviews here and don't forget to follow us on Twitter or Instagram or like us on Facebook