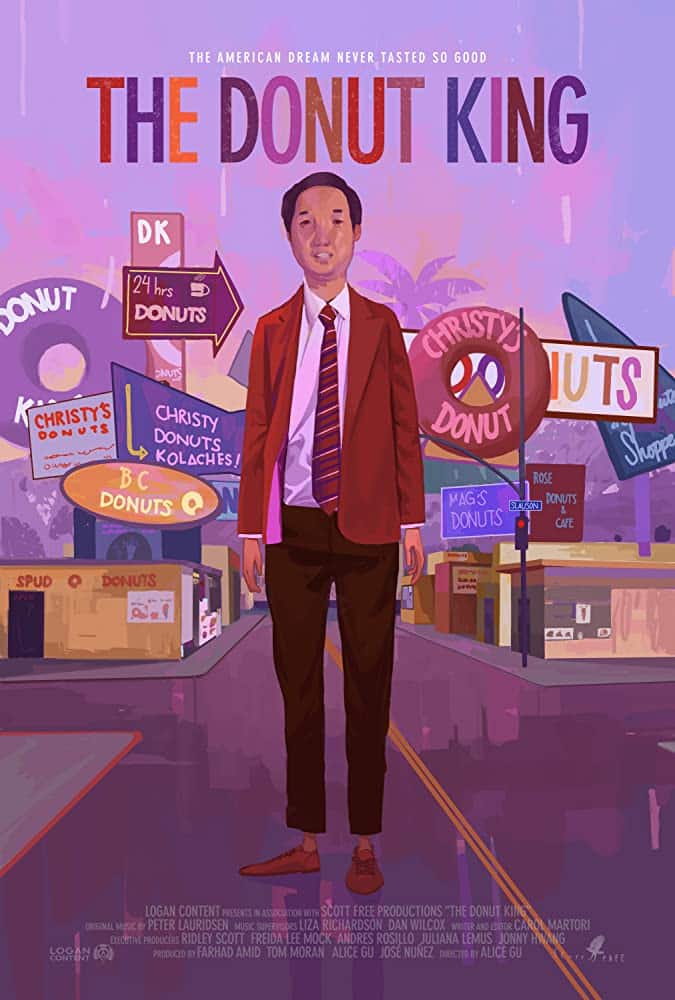 Starring

Ted Ngoy, Daewon Song, Mayly Tao

Director

Alice Gu

Rating

n/a

Running Time

90 minutes

Release Date

n/a
Rating Summary
The Donut King has an entertaining and captivating story elevated by unique editing, an empowering structure, and a fresh voice from debut-director Alice Gu.
For those who didn't already know, this year's SXSW was cancelled do the coronavirus outbreak. We at KLM are still here to do our part to help cover films slated to appear at this year's festival. To keep up with our latest post-SXSW coverage, click here.
Many people may not know this, but in the 1980's, practically 90 percent of California's mom & pop donut operations were run by Cambodians who were initially sent to the state as refugees. What you may also not know is that one man is responsible for that – entrepreneur Ted Ngoy, who's success story still stands the test of time. With The Donut King, first time director Alice Gu directs Ted's legacy here with true class, intrigue and creativity that fits perfectly into our golden age of documentary filmmaking.
Without a doubt, Ted's story is beyond fascinating, and incredibly worthy of being told on the big screen. The scale of his story holds up to epic proportions, and it's genuinely shocking how little known his story is – because it's truly empowering like no other. The Donut King's way of telling the story is particularly interesting, because this kind of lacks the bland rise & fall narrative. Sure, Ngoy has had some personal troubles in his life, but none of them were drastic enough to change the amazing things he's done. It's presumably hard to keep up with being a multi-millionaire and Ngoy definitely demonstrates that – but the film always respects him and puts him on a high pedestal, and deservedly so. After all, we all make mistakes – and we can all redeem ourselves for them. Ngoy definitely was no different and the film paints a vivid portrait of his story that always maintains a level of empathy with the audience.
In addition, everything about the film's production values are insanely cool, in a way that truly elevates the content. The narration is often paired with gorgeous, painted animations of the stories Ngoy and his family members tell. While he is already a brilliantly engaging storyteller, these animations are stunning and truly add to the film's cinematic quality. Everything about the way it's edited also gives it an elevated quality, and does a great job at immersing you into the already captivating story. Not only in the way said animation sequences are placed, but practically everything about the look and feel of the film. The hip-hop needle drops are surprisingly fitting, and the tracklist featuring everyone from the Wu-Tang Clan to Macklemore suit the film and are in no way arbitrary. Though what's particularly impressive is the super colorful, breakneck editing techniques that cut the stories and ideas together. Whether it's really inventive food-porn montages or the opening credits where a skateboarder is tracked as hand drawn donuts fly around him, everything about this feels super innovative. It's quite clear that Gu aspires to much more than telling a story, and all the choices she makes to prove that are quite impressive.
In the end, The Donut King is not only a truly empowering story about a particularly fascinating figure, it's a brilliantly edited, colourful and hopeful film that is incredibly cinematic that is well deserving of a big screen experience. It's time we all learn about the amazing character, and this film does a great job at immersing you into his world.
Truly hoping this one gets a good distribution deal!
*still courtesy of SXSW*
---
Follow me on twitter @daniel_azbel and on letterboxd @danthemovieman.
Don't forget to follow us on Twitter and Instagram and like us on Facebook.