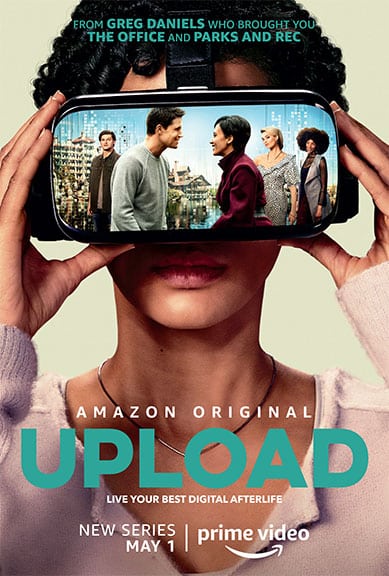 Creator

Greg Daniels

Rating

TV-MA

Episodes

10

Running Time

300 minutes

Channel

Amazon Prime Video
Rating Summary
Upload Season One sets up a strong world, but it feels lacking in its storytelling, characters and above all an inconsistent tone that feels like a step back from its creator.
It has been five years since Greg Daniels, half of the minds behind The Office (US) and Parks and Recreation, has created any new series but this year has been lucky enough to have two released (Upload and Space Force). During his hiatus, his old The Office (US) writer and Parks and Recreation co-creator Michael Schur has become a dominant force in the sitcom world, creating the likes of Brooklyn Nine-Nine and The Good Place. Funnily enough Greg Daniels' return to the sitcom world is also an after life comedy that perhaps shows why they split up to do their own creative endeavors. Question is: who did it better?
The first season of Upload is set in the near future where the after life has become a digital world. App developer Nathan Brown (Robbie Amell) has a near death experience and at the request of his girlfriend Ingrid Kannerman (Allegra Edwards), he is uploaded to her family's after life plan in the village of Lakeside. There he meets the other residents and adapts to his new reality with the help of his angel Nora Antony (Andy Allo). Things become a bit complicated when Nathan starts to uncover that his death may have been no ordinary "accident."
There's a lot to unpack as a whole because Upload tries to set up this highly detailed and expansive world while also telling an intricate and layered story that spans over both the virtual and real landscapes. For the actual setup and premise, it is a phenomenal concept. Digitizing and then monetizing the after life using technology as the gateway isn't necessarily original, but it's what Daniels and Co. do with this concept that makes it unique. It is the subtle moments in Lakeside that show the intricacies and potential pitfalls of this world.
Because of this attention to detail in the world building, not only in Lakeside, but the after life itself, Upload sets up so many possibilities. Characters from one world can enter another, updates can cause major shifts in the software and revamp the entire series and as is mentioned many times, people can be deleted. This uncertainty within the world paired with the underlying class system built into it proves to be a strong building block for an analysis on the current state of society.
However, everything else beyond the world feels a bit underdeveloped. The characters are bland for the most part and feel very one-dimensional. Beyond the small group of recurring characters, the one-note stereotypes are thrown in there as filler with no real reason other than attempted comedic breaks in the dramatic storyline. The saving grace isn't even the acting per se as many of them come across as uninspired and lacking that extra memorable oomph. Instead, it is the love triangle between Nathan, Nora and Ingrid as they struggle to define their relationships in two different worlds. Fittingly, one of these relationships comes full circle during the first season and it sets up a new twist with can help propel it forward.
However, the story is lacking in originality as it feels like it doesn't add anything to the concept of exploring the after life as the next chapter. It feels gimmicky at times and takes the easier route for many of its story choices making it more easily digestible binging content rather than thought provoking narrative work. The biggest issue is the inconsistent tone throughout. While Michael Schur's The Good Place centered around ethics and morality and used these themes in very successful comedic ways, Upload seems to bounce back and forth between comedy and its themes of capitalism and monetizing everything.
So far, I'm not buying it.
What did you think of Upload? Was it a good dramedy series? Let me know in the comments!
---
If you liked this, check out my YouTube channel The Film Fanatic, my other reviews and my website!
Don't forget to follow us on Twitter and Instagram and like us on Facebook.