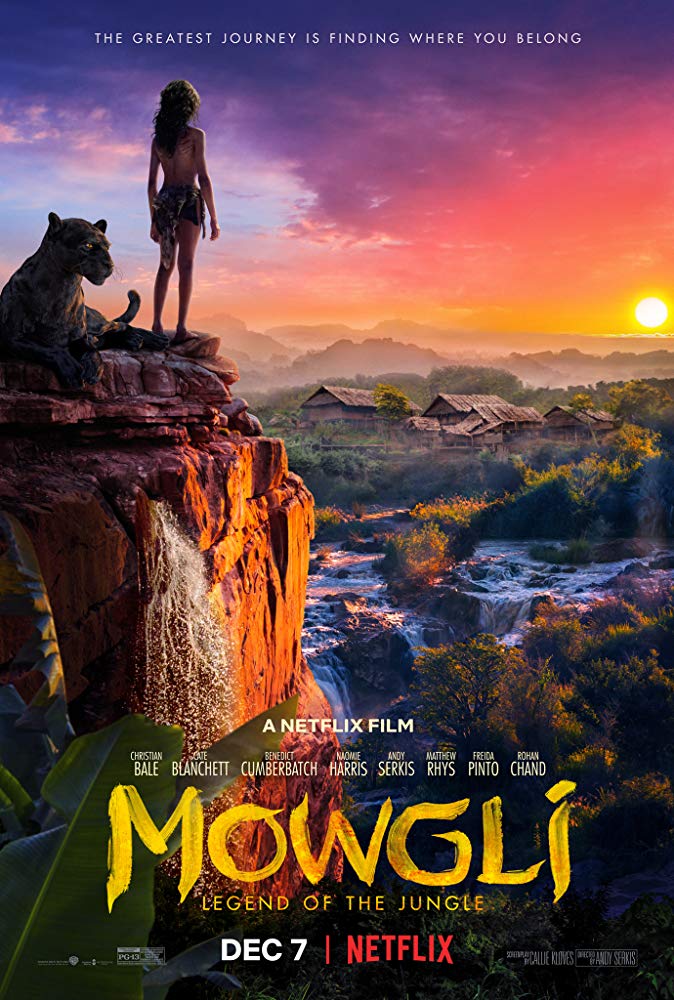 First and foremost, if you're looking for a retread of your childhood memories and a lovely sing-a-long with Baloo & Co. this isn't it. As a matter of fact, it couldn't be further from it, but that doesn't necessarily mean that it isn't worth your time.
Synopsis: Acclaimed actor and director Andy Serkis reinvents Rudyard Kipling's beloved masterpiece, in which a boy torn between two worlds accepts his destiny and becomes a legend. Mowgli has never truly belonged in either the wilds of the jungle or the civilized world of man. Now he must navigate the inherent dangers of each on a journey to discover where he truly belongs. (Netflix)
Starring: Christian Bale, Cate Blanchett, and Benedict Cumberbatch
Writer: Callie Kloves
Director: Andy Serkis
Rating: PG-13
Running Time: 104mins
Trailer:
Just prepare to hum "The Bare Necessities" by yourself during the film.
By now, you've seen at least one of the various interpretations of this Rudyard Kipling classic but what first sets this Andy Serkis directed venture apart from the others is its extremely dark tone. The jungle can be a very unforgiving place and from the beginning, Serkis makes sure you never forget it. The story is nothing new from previous films; Mowgli, an abandoned child due to the murder of his parents at the hands of Shere Khan, is raised by a pack of wolves which challenges the natural law and order of the jungle setting the stage for an eventual showdown between he and Shere Khan (Cumberbatch).
The cast boasts robust A-list talent with Bale as Bagheera, Blanchett as Kaa, Cumberbatch and Serkis himself as the endearing Baloo. Each does what they can to enhance their characters, however, it's apparent from very early on that they are hampered by the limited dialogue the script offers. Despite that, where the film shines above everything else is in the incredible motion capture of each animal. The attention to detail depicted in everything from the animals' matted fur, facial expressions or even the flies surrounding the animals themselves proved to be beyond impressive and added a subtle incentive to keep engaged through a film whose plot beats are more than predictable.
The tone is also a standout aspect of Mowgli. As mentioned previously, this story takes on a very dark nature that never shies away from the possibility of death at any moment due to life in the jungle and leans into it with Mowgli's maturity at an early age. It's uncomfortable at times but also frees up the film to carve its own path apart from its former predecessors in a new way. For this, Serkis' uncompromising approach to realism is commendable as it provides a very different feel early on.
In truth, the story is the least interesting part of this film. Typically that would be a red flag that the movie isn't worth viewing for any reason, but as Mowgli's story became less and less interesting than everything else going on within the movie. Another piece that is lacking lies in the green screen work with Rohan Chand as Mowgli, who sometimes looks as if he is in fact just acting to a room full of tennis balls placed on sticks, but this seemed to be the cost for going the extra mile for the motion capture and was easy to get past because of just how good the mo-cap turned out.
Outside of the exceptional visuals and sound editing, Mowgli: Legend of the Jungle leaves very little to be desired. It's very clear that Andy Serkis is a sound director who hopefully will continue to perfect his vision behind the camera just as much as in front of it, but for this venture he is at times crippled by fighting to make subtle changes to a story that has been told so many times that it proves difficult to break free from the mold of the previous iterations. That's not to say he doesn't try and while his effort is admirable the source material is severely limiting. Mowgli: Legend of the Jungle is a nice watch but nowhere near a must-watch. However, on a weekend that is proving slow at the box office you could do far worse.
Score: 6/10