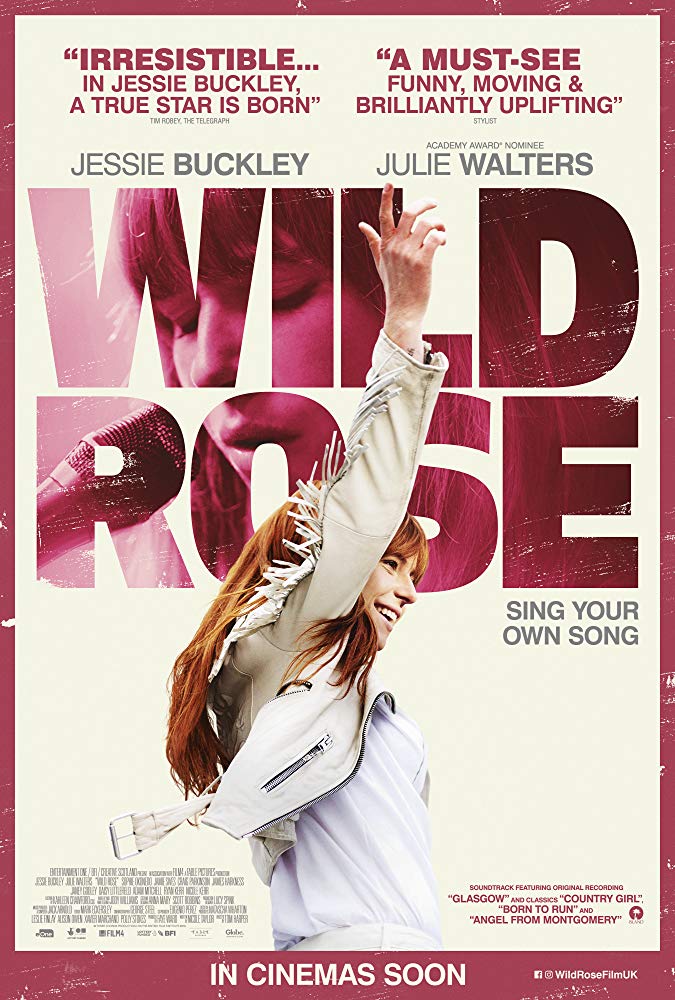 Starring

Jessie Buckley, Julie Walters, Sophie Okonedo

Writer

Nicole Taylor

Director

Tom Harper

Rating

14A (Canada), R (United States)

Running Time

100 minutes

Release Date

June 21st, 2019
Rating Summary
Wild Rose is a fun musical drama with plenty of heart and is elevated by Jessie Buckley's incredible charisma and screen presence despite the familiar and predictable story.
This will be one of many reviews during this year's SXSW Film Festival, to keep up with our latest coverage, click here.
Many cinematic journeys are similar in nature but sometimes you still want to go because of the character you get to go on that journey with. Wild Rose is one of those films. The story was about a brash and immature woman named Rose-Lynn (Buckley). Her dream was to get out of Glasgow and make it as a country singer in Nashville. Being fresh off a one year jail sentence and with two young kids, achieving that dream would be easier said than done. Reconciling her dream with her current life would mean that Rose-Lynn would finally have to grow up. However, she wasn't alone as her frustrated mother Marion (Walters) was by her side if only for her kids' sake.
Stories about self-discovery through overcoming adversity aren't new by any means but there was something about Rose-Lynn's story that was so fun to watch despite its predictable nature. She was such a dynamic personality and relatable that she was a blast to watch. She may not have always came across the right way, however, her enthusiasm and sheer determination was simply infectious. Of course with the film being about a country singer, the film would feature a few musical sequences. Even non-fans of country music should be entertained.
The best part of Wild Rose, without a doubt, was Buckley's performance as Rose-Lynn. She makes the film as it would not have worked nearly as well if not for her. The film lives or dies on the likability and reliability of Rose-Lynn and she was nothing but thanks to her incredible charisma and screen presence. She was a blast to watch and most importantly, she can definitely sing. Her chemistry with Walters as Marion was great as well, helping to sell their mother-daughter relationship.
Suffice it to say that Jessie Buckley is going to be a star and that woman can definitely sing.
*still courtesy of eOne Films*
---
If you liked this, please read our other reviews here and don't forget to follow us on Twitter or Instagram or like us on Facebook.