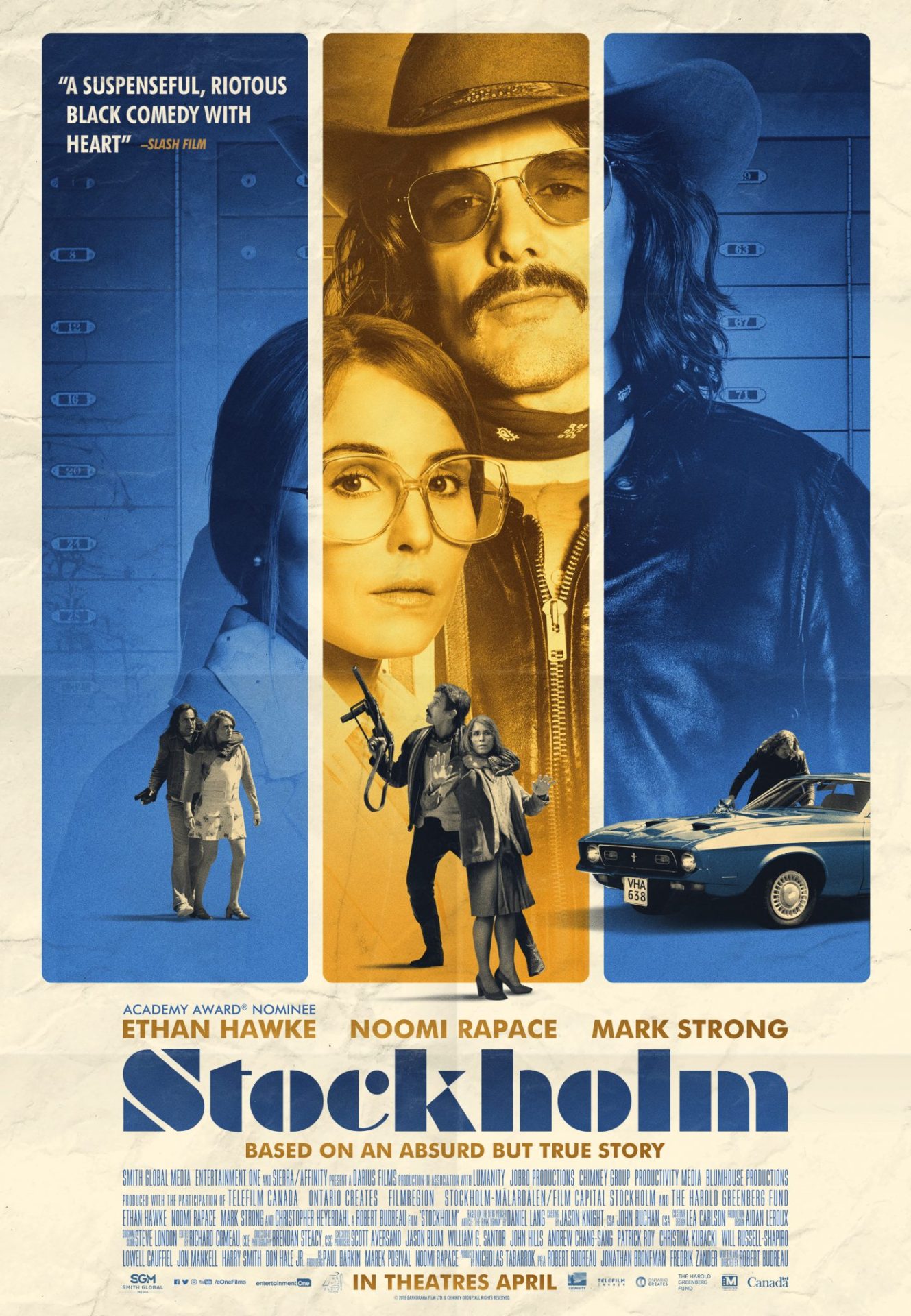 Starring

Ethan Hawke, Noomi Rapace, Mark Strong

Writer

Robert Budreau

Director

Robert Budreau

Rating

14A (Canada). R (United States)

Running Time

92 minutes

Release Date

April 12th, 2019
Rating Summary
No surprise here, as Stockholm features Ethan Hawke who shines once again as a kooky bank robber who finds himself in a bit of a pickle.
What's the most bizarre way to meet someone new? A blind date perhaps? Or a social event hosted by a mutual friend. How about a bank robbery? Well, all the way back in 1973 in Stockholm Sweeden an uncanny bound was formed between a female bank employee and the man robbing it gave birth to the term "Stockholm syndrome". Defined as a condition which causes hostages to develop a psychological alliance with their captors as a survival strategy during captivity. Now, who better to guide us through this fairy tale than Hawke as Lars Nystrom and Rapace as Bianca Lind.
Being a bank robbery film which by all accounts is a harrowing and terrifying ordeal, Stockholm is actually quite funny. The subtle comedy and the impeccable comedic timing of Hawke were tremendous while the layered interactions between Lars and others, including his best friend Gunnar (Strong), were thrilling and often hilarious to watch. Lars and Gunnar may have seemed over their heads but it would be Bianca who would be the main driving force behind the scenes. Rapace was fantastic as many of the little tricks and schemes they came up with were quite ingenious.
With a running time of just over 90 minutes, the pacing was near perfect. At its core, Stockholm was a simple film, with the majority of its time spent in one location but it would be the characters and the performances across the board that keep it compelling to watch under such interesting circumstances would unfold over the course of the film. This type of story would surely not have worked nearly as well and would not have come across the way it did if not for these filmmakers and actors assembled. At the end of the day, these are what elevate a film, terrific acting and solid direction.
Overall Stockholm is an enjoyable ride, with some all around fantastic performances from Ethan Hawke, Noomi Rapace, and Mark Strong. Knowing that this film was based on a true story added yet another dimension while watching. Obviously, not every detail is known about how this story actually went down, but in its essence, it is a unique and truly unbelievable story with ramifications that still resonate to this day. If you like Ethan Hawke then you will surely not be disappointed. He is simply an underrated talent that continues to shine with each new film he appears in.
*still courtesy of eOne Films*
---
If you liked this, please read our other reviews here and don't forget to follow us on Twitter or Instagram or like us on Facebook.