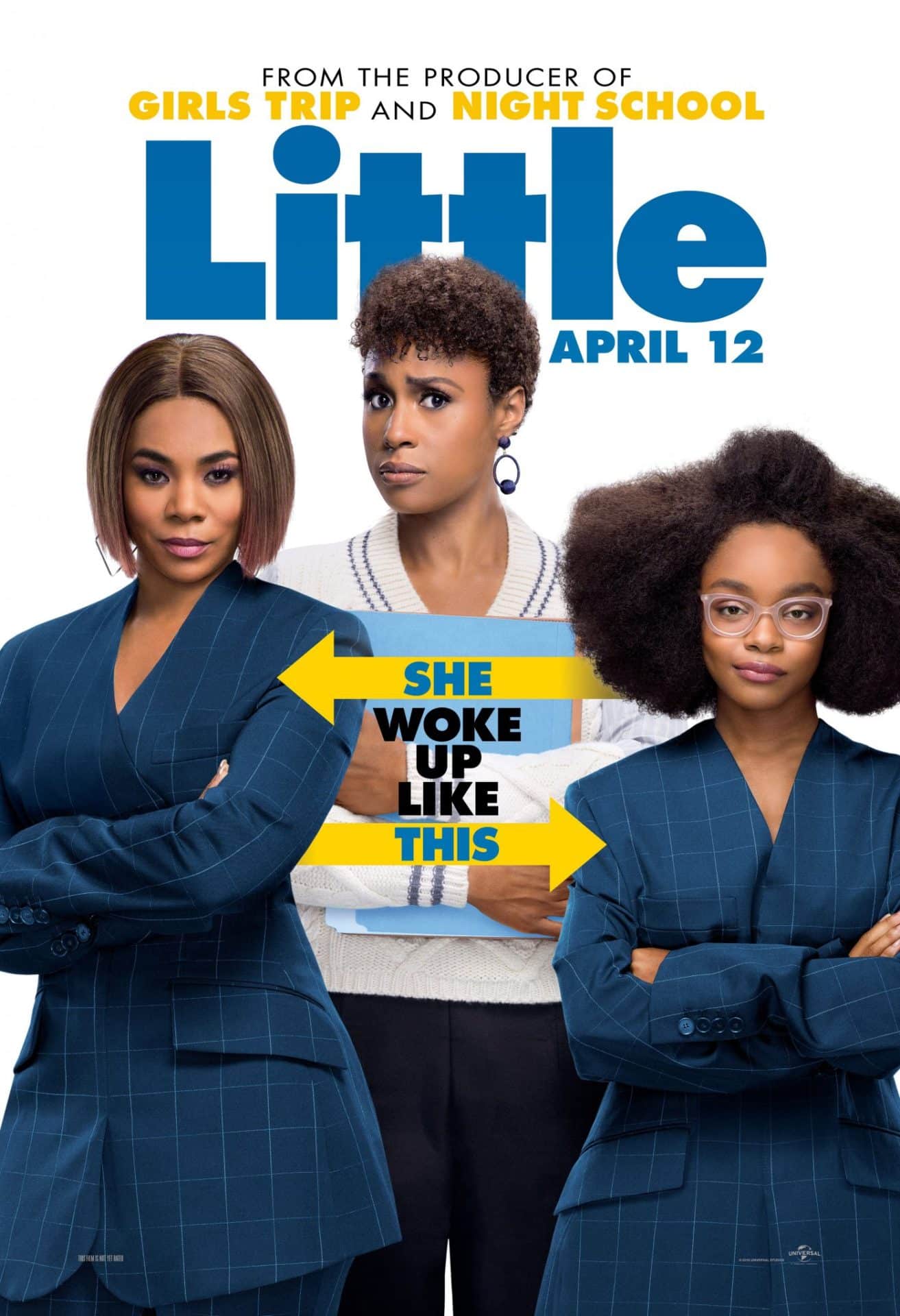 Starring

Marsai Martin, Issa Rae, and Regina Hall

Writers

Tracy Oliver, and Tina Gordon

Director

Tina Gordon

Rating

PG-13

Running Time

109 mins

Release Date

April 12th, 2019
Rating Summary
Little is a passable comedy that brings a fresh idea to a familiar formula. The cast is charismatic, fun and have some funny moments in a feel-good story. Unfortunately the message doesn't quite hit its mark in an unevenly paced and poorly-written film that finds itself confused over who its underdog protagonist really is. It is full of big ideas, but small laughs in another generic, somewhat forgettable addition to this niche genre. 
Little follows the story of Jordan Sanders (Hall), a cutthroat businesswoman, who runs her own tech company. After a traumatic childhood, Jordan avoids any sort of attachment in her personal or professional lives. That is until a spell is cast on her turning her back into her 13-year-old self (Martin). With the pressures of her adult life closing in and the nightmares of reliving childhood feel all too real, Jordan enlists the help of her assistant April (Rae) until they can solve her little problem.
This film is the next in a long list of additions to a subgenre made most famous by films like Big and Freaky Friday. These stories make their protagonist deal with the problems in their life by changing their age and experiencing difficulties from a newfound perspective. While this is a familiar style, Little brings a different take to this mold by incorporating some diversity.
This is done through the fantastic performances by its entire cast. Hall is phenomenal as the cutthroat CEO who pushes everyone away, figuratively and literally. Meanwhile, Rae is relatable, grounded and hilarious as her assistant and forced companion on this journey. However, the scene stealer is Martin as the younger Jordan Sanders. Her ability to fill the same shoes and persona of Hall's older character while maintaining a sense of child-like fear and insecurity makes for a deeply layered performance. Other notables were Tone Bell as Preston, Justin Hartley as Mr. Marshall and the group of kids.
Beyond the performances, this film has a relatively uplifting story with a feel-good atmosphere. The dual storylines of both Jordan and April show two people struggling with different aspects of their lives and how sometimes all we need is a friend to help push us to be our best selves. However, the story doesn't hit the emotional mark it needs to in order to deliver the message it hopes to make.
This isn't the only issue present with the story as there are a ton of issues with the underdeveloped, slow script. The pacing is uneven as the story loses steam in the latter half. It splits focus between the problems of both Jordan and April making it difficult to distinguish who the true protagonist is. It tries to use the Big-style narrative as its backbone and sprinkle in workplace issues, but it causes the audience to become confused as to who we should truly invest in.
The final nail in the coffin is the lack of comedy throughout this film. There is some lighthearted, breezy comedic moments and it keeps everything family-friendly. Unfortunately, the jokes are few and far between as it tries to fill its longish running time with quieter moments that fail to bring anything to its character development. Little had the ingredients for a fun, fresh, family film, but becomes a forgettable body swap comedy.
*still courtesy of Universal Pictures*
---
If you liked this, check out my YouTube channel The Film Fanatic, my other reviews and my website!
Don't forget to follow us on Twitter and Instagram and like us on Facebook.