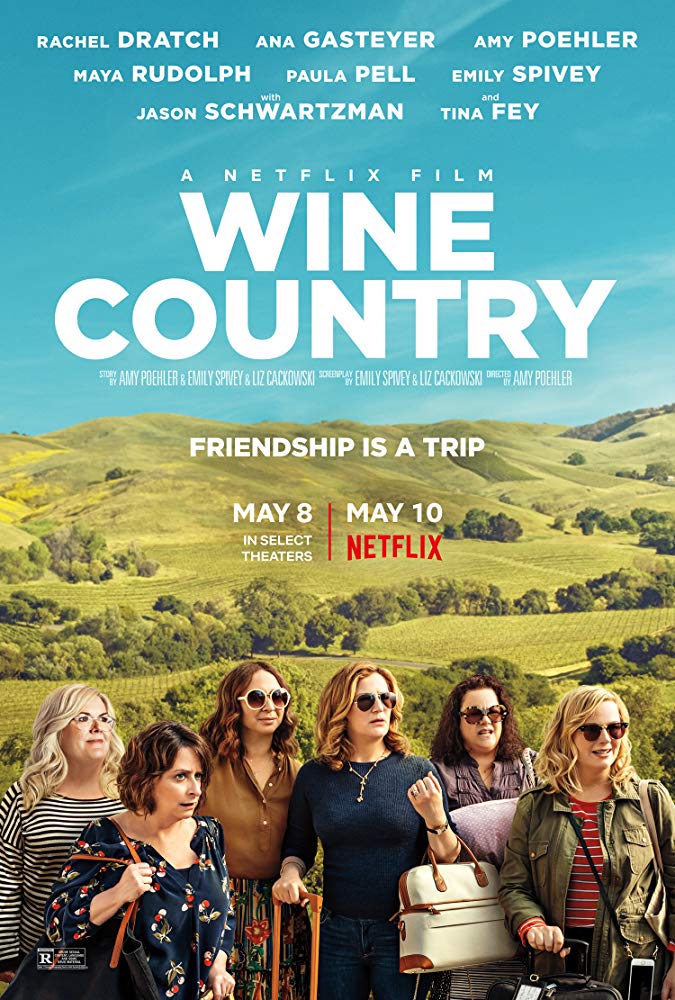 Starring

Amy Poehler, Rachel Dratch, Ana Gasteyer

Writers

Liz Cackowski, Emily Spivey

Director

Amy Poehler

Rating

R (United States)

Running Time

103 minutes

Release Date

May 10th, 2019 (Netflix)
Rating Summary
Wine Country is overall a wonderful time. While it's not much of a film, it's a perfect excuse to spend time with actors we love.
From the inspiring, vaguely Parks and Recreation-theme sounding music in the background of opening scene of Wine Country, the film reveals itself as ideal and enjoyable Netflix fodder, made with some of the best female comedians in the world. It should be a super nice movie to enjoy on the couch with someone you love, or just some wine. With Poehler's light directorial touch, and a combination of the holy trinity of female comedians (Poehler, Maya Rudolph, and Tina Fey), it's super watchable. As a (basically nameless) character says in the second scene, "cheers to us!"
While the setup is mostly pointless, it's still a nice idea. We follow a wonderfully huge cast of wonderful and talented people who used work at a pizza shop together. Now that Rebecca (Dratch) is turning 50, Abby (Poehler) organized a weekend getaway in the Napa wine country. Think Sideways but without any of the crushing existentialism, and more mediocre and laughable humor. It's also got some touching and sad grace notes which draw nice line between mediocrity and pathos. Abby's just lost her job, and she sleeps with a CPAP machine (another reminder of age). While Abby is sort of a workaholic, Catherine (Gasteyer) introduces herself by having to send an email about the next version of Top Chef, as she's a big wig producer.
The film gets by mostly on the comfort of each character, and how they interact with each other. If this script was acted by and produced by anyone else, it's hard to imagine Netflix picking it up. Each scene seems to have a moment worth chuckling about ("No 'Sweet Home Alabama', Kid Rock ruined it), or laughing out loud about (A character asks another what Prince's artistic pain was, the other replies "His hips"). Another funny section comes when discussing a podcast about micro-dosing some molly, or a scene at a restaurant where after hours they sing "Eternal Flame" by The Bangles. A number of catchphrases appear throughout, but one of the funniest/saddest is "Things we say these days", said after a number of things that imply aging. Most of these parts are more sweet than funny, but you can always do with Poehler's presence.
The film also succeeds with a number of wonderful cameos and brief roles. Tina Fey pops up for a brief and harden role as a bee farmer and owner of the house. She steps outside of her standard range for a second to be outlandish and still sort of realistic as a woman who's husband has passed away. It's a side-dish of a role turned into a full steak, just with Fey's talent. Jason Schwartzman appears as Devon, providing less Wes Anderson-esque apathy than ever before. He's the cook, driver, tour-guide for the house, appearing early the second morning and scaring Abby. Another catchphrase pops up with Devon, that being that "he comes with the house". It's a break from his usual casting in films from auteurs like Alex Perry Ross and Wes Anderson. Both of the two are delights, making the film more enjoyable than ever.
The vague framework of a wine weekend doesn't even matter. Wine Country's time well spent in good company, even if it may not be the comedic masterpiece we all hope these talented people behind and in front of the camera are capable of.
*still courtesy of Netflix*
---
If you liked this, you can find me on Twitter at @selfseriousness.
If you liked this, please read our other reviews here and don't forget to follow us on Twitter or Instagram or like us on Facebook.