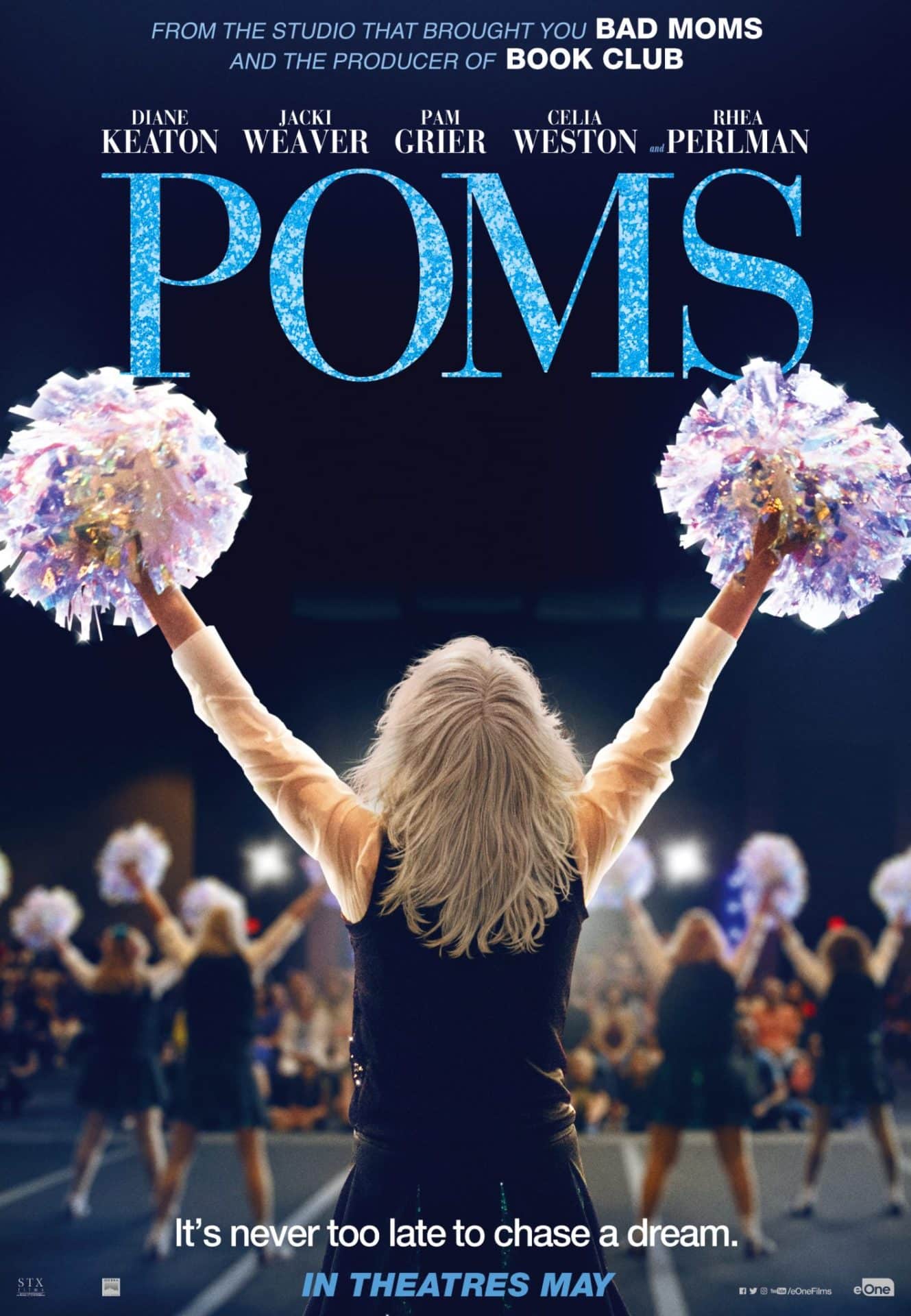 Starring

Diane Keaton, Jackie Weaver, Pam Grier

Writer

Shane Atkinson

Director

Zara Hayes

Rating

PG (Canada), PG-13 (United States)

Running Time

91 minutes

Release Date

May 10th, 2019
Rating Summary
Poms does everything but embrace its obvious message while never quite get its act together. The camaraderie was there but these women deserved better.
On first glance, Poms had to travel a fine line in that it would either be an inspirational tale of a group of seniors still living their dreams and living their lives to the fullest while not making them the butt of the joke. Fortunately or not, this film does neither, lacking direction and as a result, could never find its voice. Despite this, there was still plenty of entertaining moments to be had here but they would be few and far between during what was a predictable, cliche-riddled mess that would take far too long to get going. With a running time of 90 minutes, this was not necessarily a good thing.
The film's trailers pretty much gave the film away so for those who haven't seen it, Poms follows a new retirement community arrival named Martha (Keaton) who out of her dissatisfaction with her new community, formed a cheerleading squad with her fellow community members. One of the more disappointing aspects of the film was the lack of a backstory for the cheerleading squad. Martha's aspiration to fulfill the glory she never received and something else in the background led the way as her story took precedent over the others who were just along for the ride. While the group wasn't overly interesting as a whole, the only two who stood out were Martha and her outrageous next door neighbor Sheryl (Weaver).
Instead of allowing us to be inspired by these women, the story would throw several other subplots in our way instead that would only bog things down. First and foremost, not everyone approved of what Martha and the others were doing primarily the head of their retirement community, an over-the-top Southern woman named Vicki (Celia Weston) while others considered the women a joke. It was not going to be easy for them to prove themselves and everyone else wrong but they would inevitably find a way. There'd be some growing paints, however, the film surprisingly did not pile on the old people humor.
The film would find some moments of humor, missing more than hitting however, while also being depressing at times. Ultimately, Poms would be better served leaning more towards comedy than drama. The material was okay though at the end of the day, the best part of the film was the sense of camaraderie on display between all the women (also including Grier, Rhea Perlman, Phyllis Somerville, Patricia French, Ginny MacColl, and Carol Sutton as Olive, Alice, Helen, Phyllis, Evelyn, and Ruby respectively). All were fun to watch thanks to their great chemistry with Keaton and Weaver leading the way as Martha and Sheryl. Each would get the better material, featuring some great line deliveries from Weaver but the film missed a big opportunity by not going deeper with Martha.
Despite everything else, Poms is still more than worth it for fans of any of the actresses on screen.
*still courtesy of eOne Films*
---
If you liked this, please read our other reviews here and don't forget to follow us on Twitter or Instagram or like us on Facebook.