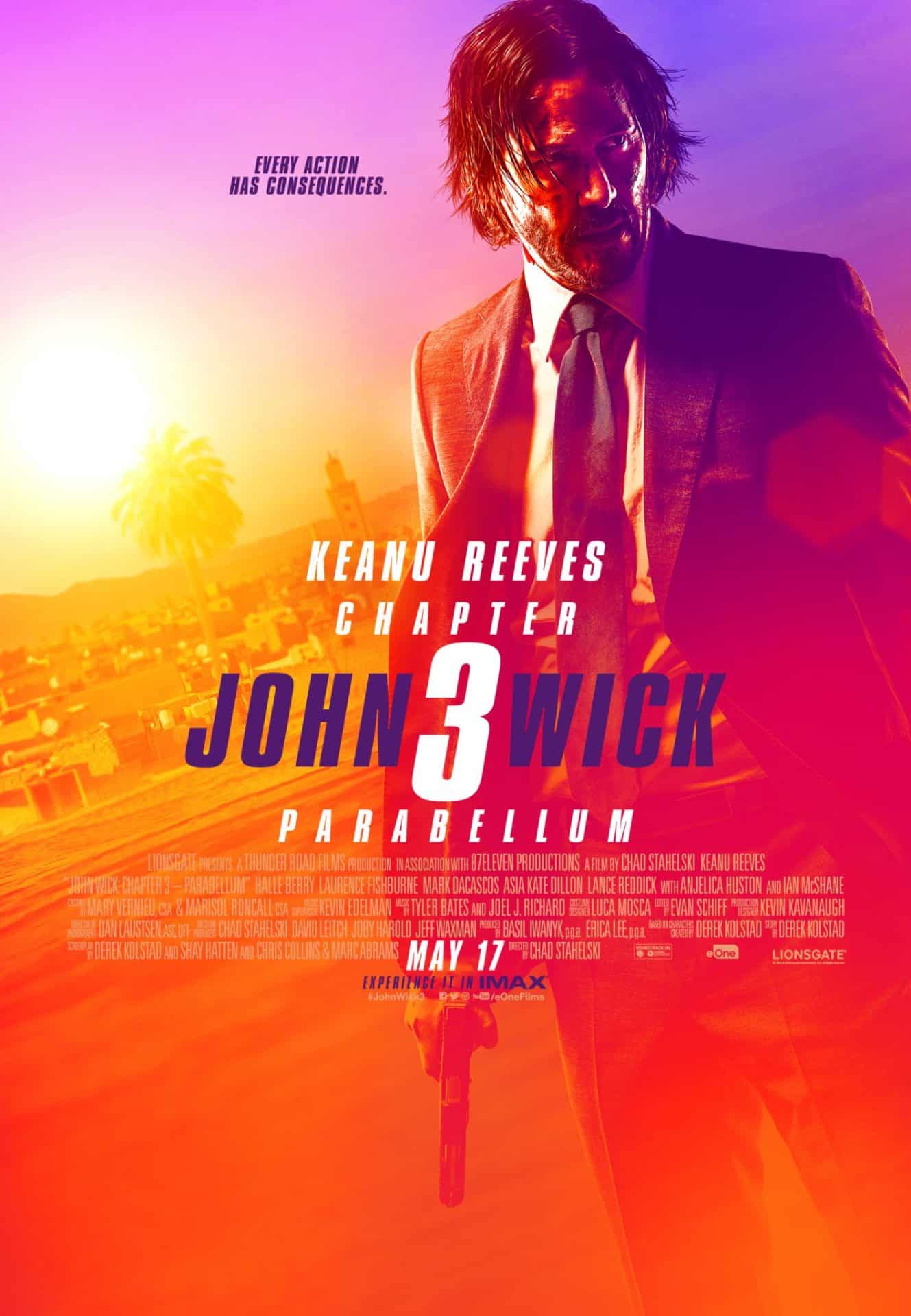 Starring

Keanu Reeves, Hally Berry, Ian McShane

Writers

Derek Kolstad, Shay Hatten, Chris Collins, Marc Abrams

Director

Chad Stahelski

Rating

18A (Canada), R (United States)

Running Time

130 minutes

Release Date

May 17th, 2019
Rating Summary
John Wick: Chapter 3 may knock you over the head with a surplus of repetitive, over-the-top action but it is still well-shot and choreographed and Keanu Reeves definitely still looks good as Wick despite a lackluster and overstuffed story that is arguably more focused on Chapter 4.
The John Wick series has been one of the best action film series ever made. After two reasonably successful installments, it would be interesting to see where this third installment would go after the cliffhanger that ended Chapter 2 where John Wick (Reeves) found himself on the run after being designated excommunicado and having a rather high bounty put on his head. This new film, obviously entitled John Wick: Chapter 3 (but with a parabellum this time around for whatever reason), started pretty much where the last film left off as Wick prepared for the inevitable onslaught that was heading his way. Though this is a John Wick film after all so he clearly could take care of himself as he has done countless times before. Expect plenty of style, ingenuity, and of course brutality in several action sequences but the problem with those was how they would get repetitive, over-the-top, and often pointless and anti-climactic after a while.
The action sequences may be well shot and exciting to watch but they couldn't quite make up for the lack of a compelling enough story to tie everything together. We already knew that Wick was on the run, however, the series picked the absolute wrong time to go deep as a sort of backstory for Wick as he worked to clear his name all while those around him suffered on the sidelines as a result of their actions in helping him in the previous film. Alluding to larger forces at play, the film couldn't quite consolidate all these storylines. Neither would have the right impact or any momentum as it transitioned back and forth. Over the course of the film, it became clear that John Wick: Chapter 3 seemed more interested in setting up what was to come (i.e. Chapter 4) than telling a compelling story which was surprise being the third film of the series.
What most people will surely remember about this film was a woman for whom Wick shared a past with named Sofia (Berry) and her killer dogs. They were not on the best of terms but they still worked together with her and her dogs all participating in some of the action with the dogs making a fun addition. Wick and Sofia were fun to watch together, however, the film did not feature nearly enough of them (though based on early reaction, this may not be the last we'll see of Sofia and her dogs). As expected, the film could not keep up its breakneck pace throughout, making its just over 2 hour running time feel longer, though things would pick up for the film's climax.
Nevertheless, the film's main draw will always be Reeves as Wick and he definitely did not disappoint here. The film may not have asked him to go particularly deep but his commitment to the film's action was without question. He was all in here and was exciting to watch as he was put through the ringer, handling himself with plenty of style while taking a fair share of abuse in the process. Despite the film's problems, he is well worth the price of admission. Berry was impressive as Sofia in limited screen time thanks to excellent chemistry with Reeves and a surprising action prowess. McShane as Winston was McShane, however, Mark Dacascos as Zero, the film's over-the-top villain, was somewhat entreating.
Either way, John Wick is pissed now as will some after watching this film. John Wick: Chapter 4 will definitely be interesting.
*still courtesy of eOne Films*
---
If you liked this, please read our other reviews here and don't forget to follow us on Twitter or Instagram or like us on Facebook.