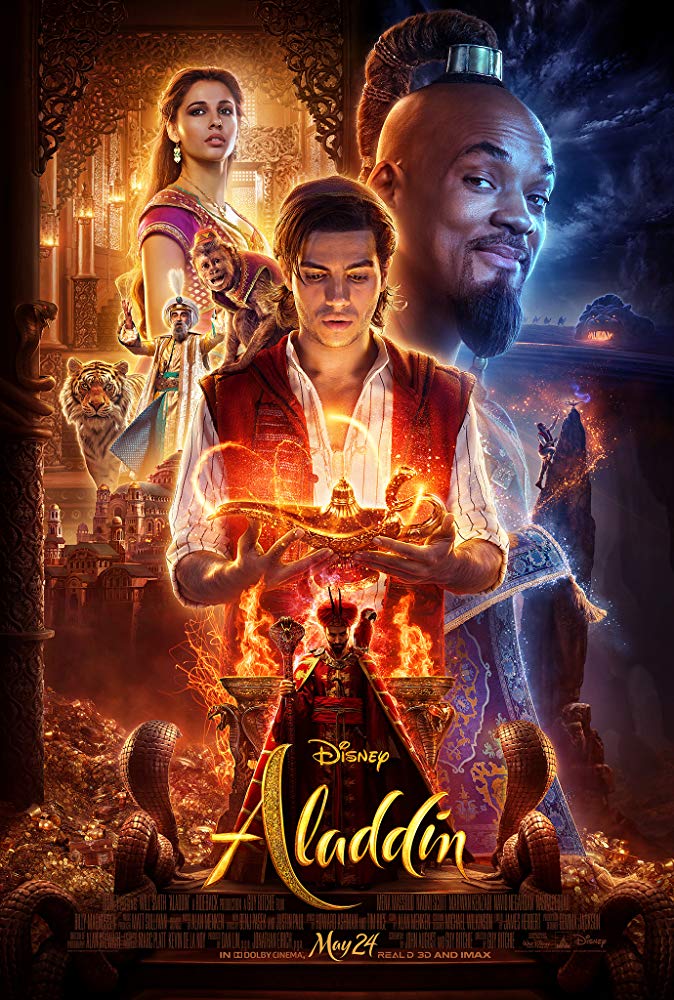 Starring

Will Smith, Mena Massoud, Naomi Scott

Writers

John August, Guy Ritchie

Director

Guy Ritchie

Rating

PG

Running Time

128 minutes

Release Date

May 24th, 2019
Rating Summary
The live-action Aladdin is a disappointing adaptation that may invoke some feelings of nostalgia but despite a great score and costumes, turns the spectacle of the animated original into a dull and lifeless cringe-fest weighed down by an awful script.
For our earlier review of Disney's Aladdin, click here.
Live-action adaptations of their animated properties has been a big thing for Disney lately. The next property on their list to adapt is Aladdin based on the famed 1992 classic of the same name. This adaptation may look and sound the part while surely conjuring feelings of nostalgia with some viewers but it unfortunately fails to tie everything together in a satisfying way. Some purists may object to the necessary and unnecessary liberties in which this film takes in translating an animated feature film to a live-action film though in doing so, creates an overly silly mess that not even nostalgia, bright colors, or catchy songs can save or make us care about.
Most viewers more or less know the story of the original Aladdin. When it comes to this film, the story was more or less the same with the same street rat turned prince named Aladdin (Massoud) and Princess Jasmine (Scott) but it also took some aforementioned liberties, the majority of them involving Genie (Smith), making a few extra turns along the way with some working better than others. However, regardless of what Aladdin may or may not do right, it ultimately crumbled under the weight of its truly awful script. Just about every aspect of the film was coated with a certain level of cringe and cheese that was simply too difficult to ignore which would only make it obnoxious while also unintentionally hilarious at times to watch.
The bad dialog and lack of chemistry between Aladdin and Jasmine made Aladdin tough to watch with the slight exception being this film's version of Genie who manages to subvert expectations by adding some energy to the proceedings despite not all of his antics working. One of the best parts of the original Aladdin was the relationship between Aladdin and Genie. In this film, it was nowhere near as fun as it should have been. Standing in the way of the three was of course Jafar (Marwan Kenzari) but there would be little reason to care about him either as the film failed in its depiction of one of the most popular Disney villains. He was dull to the point of irrelevance while posing no real threat whatsoever.
The spectacle was there but it was hard to care about any of the film's many elaborate musical numbers or set pieces. While not lacking in brightness and detail, it all still felt too much though also somehow lifeless thanks to equally lifeless camerawork. Some of the songs from the original returned which will excite some viewers along with some original songs which may do the opposite. Regardless, they were ruined by bad, mostly autotuned singing that never felt organic to the story (with one musical number in particular stood out for the wrong reasons). If there were any positives to take away from the film, it would be the epic score and inventive costume design.
The acting was mediocre for the most part but it wasn't necessarily the fault of the actors as the script and direction left much to be desired. Massoud and Scott were still somewhat compelling to watch as Aladdin and Jasmine respectively despite that, however, their lack of chemistry let them down considerably. The film never gave them nearly enough time to establish any kind of believable relationship. They were both overshadowed by Smith as Genie and his inexplicably large role in the film. While Smith is understandably a big star compared to Massoud and Scott, he took away from the other two. As Genie, Smith managed to get out of Robin Williams' shadow by making the role his own, however, he will still be compared to Williams' iconic performance by Aladdin purists.
In better hands, this could have very well been a diamond in the rough but as it stands, is a major disappointment that should still make money despite leaving viewer divided.
*still courtesy of Disney*
---
If you liked this, please read our other reviews here and don't forget to follow us on Twitter or Instagram or like us on Facebook.