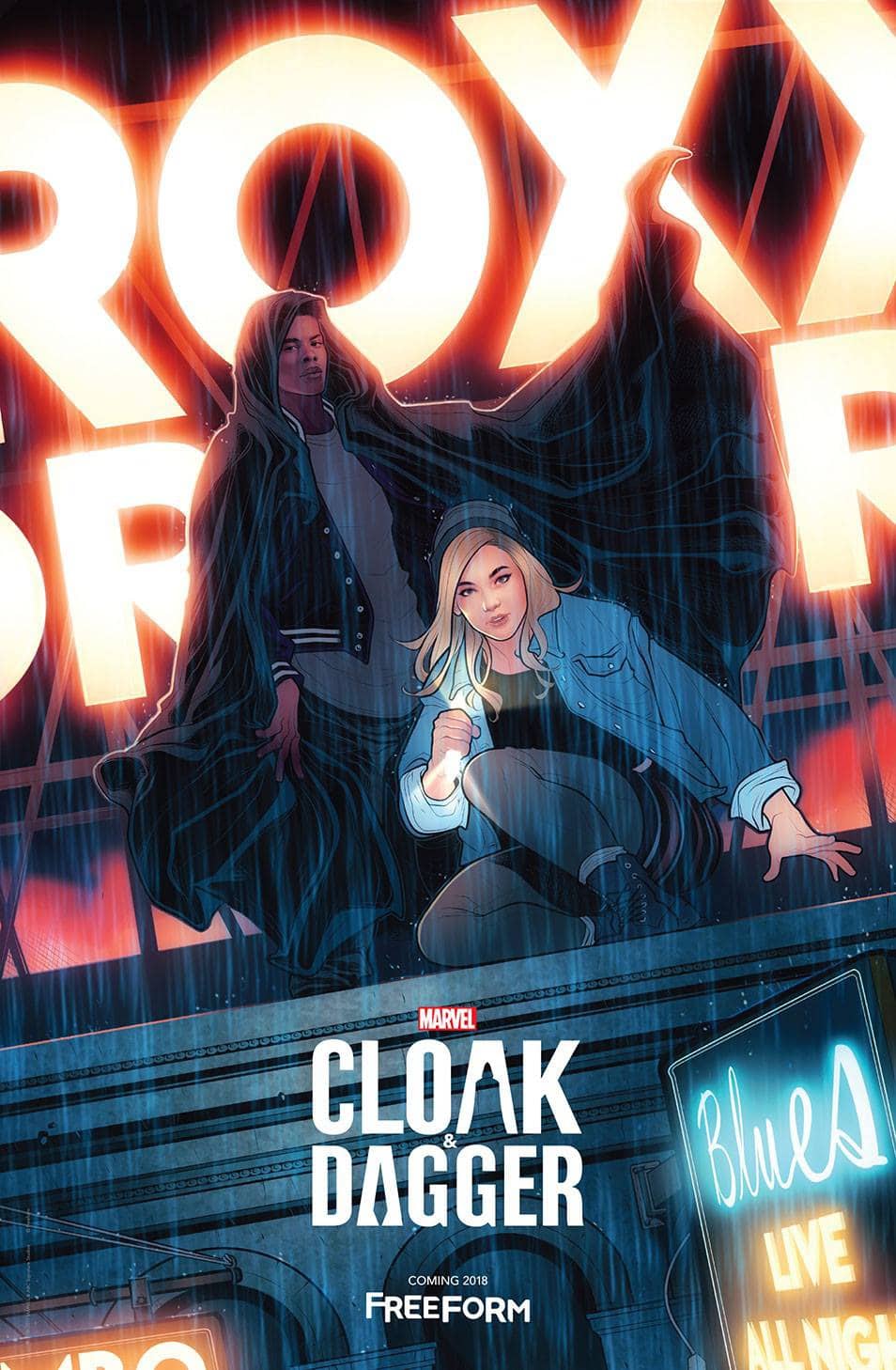 Director

Ami Canaan Mann

Writers

Alexandra Kenyon, Peter Calloway

Rating

TV-14

Running Time

40 minutes

Airs

Thursdays 8pm

Channel

ABC Spark, Freeform
Rating Summary
In Blue Note, things come to a dramatic head as Tandy and Tyrone work with Mayhem to find Andre in the season two penultimate episode.
If you would like to read our review of the last episode of Marvel's Cloak & Dagger, click here.
Synopsis: Tyrone and Tandy turn to questionable allies in their attempt to find and stop the villain behind the trafficking ring; Tandy learns more about Lia's past. (TVGuide)
Things kicked up a notch in this week's episode of Marvel's Cloak & Dagger, and we even got a shout-out to Harlem's Luke Cage and reporter Karen Page. Isn't it always exciting when worlds collide unexpectedly? It's not the first time a Luke Cage character has been referenced if you'll recall that Misty Knight was brought up in season one.
There's an emotional conflict between Tandy and Tyrone courtesy of Andre who has really been messing with everyone's minds. He's given me a fear of records, that's for sure. While Tyrone is more or less ready to keep pushing forward, Tandy can't rest until Andre is dealt with. He's hurt so many innocent women and Tandy wants him locked away so he can't get to anyone else.
Tyrone tries to work through contacts to see if he can find Andre, while Tandy comes across Lia, who was left on the side of the road at the end of last week's episode. Mayhem/Brigid is with her–who is now officially one person. Tandy does her Tandy hope-finding thing and learns that Lia has absolutely zero hope. What happened to make her this way?
Tandy and Tyrone go into Lia's mind and come across Andre there, who met Lia the night of the rig explosion when he was about to end his life. What's Andre's deal? Apparently, he used to play the saxophone and always striving to reach "the blue note". A note so glorious that it would bring you close to God. He wasn't able to achieve this goal because of his migraines which brings us to the night of the rig explosion when he wanted to jump to his death.
The Roxxon explosion essentially gave him the powers to get rid of the migraines by taking away the hopes of other people. Taking everyone's hopes would help him achieve his dream of hitting the blue note, something he had become obsessed over during his lifetime.
While Tyrone is out trying to stop gang members who hurt and manipulate women, Tandy is trying to convince Mayhem to not resort to murder. It's an interesting parallel to see Tandy and Tyrone both trying to do the right thing, but having to resort to other means. Eventually, Tyrone gets aggressive enough to put fear into the gang members and learn Andre's location.
Tandy and Tyrone arrive at Andre's location to see a group of hypnotized people, one of which is Tandy's mom, as Andre is playing the saxophone and feeding off the hope energy of all the people standing there. With little time left, Tyrone tells Tandy to throw a light dagger towards him so he can hit Andre. While he succeeds in doing so, something strange happens–everyone disappears and a trumpet plays in the background.
Blue Note ends with Andre in the record store walking through the doors that finally opened for him. Did he succeed in his mission? It appears he just might have as he walks through the doors to thunderous applause.
This season has been a whirlwind but definitely stronger than the first one, and it will be interesting to see where this Andre narrative will end in next week's season two finale. It's been quite the journey for both Tandy and Tyrone, and their character progression thus far has really added to the allure and intrigue of the story. Let's just hope they can stop Andre, even though it appears he's already won.
---
Check out my TV blog to read reviews, recaps, and much more! Be sure to follow me on Twitter, Instagram, and like my Facebook page! @watchwithreebs
If you liked this, please read our other reviews here and don't forget to follow us on Twitter, follow us on Instagram, and also like us on Facebook.