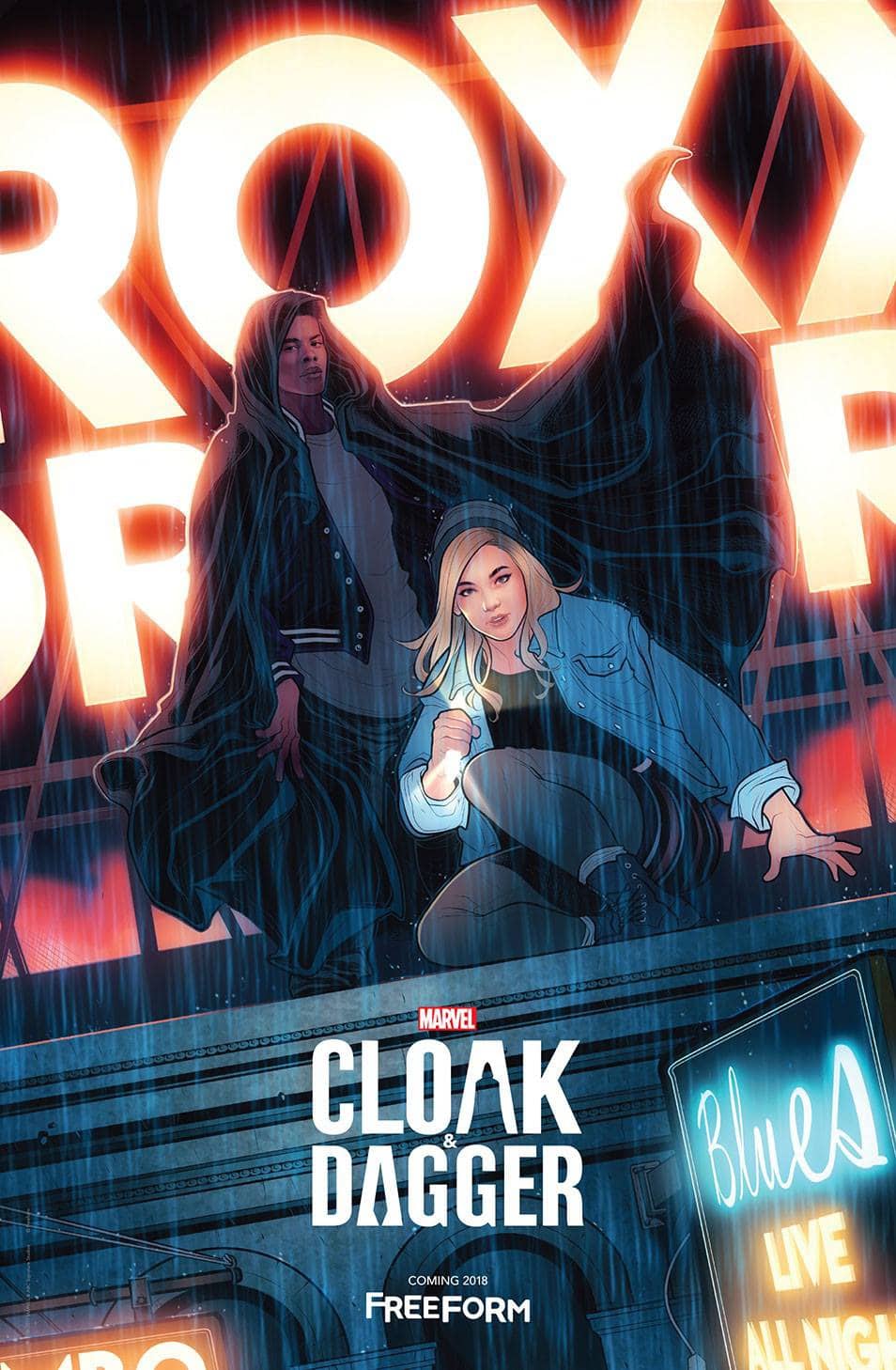 Director

Jessika Borsiczky

Writers

Kate Rorick, Joy Kecken

Rating

TV-14

Running Time

42 minutes

Airs

Thursdays 8pm

Channel

ABC Spark, Freeform
Rating Summary
In Two Player, Brigid, Tandy, and Evita band together to save Ty's life in this slightly slower, uneventful episode.
If you would like to read our review of the last episode of Marvel's Cloak & Dagger, click here.
Synopsis: Tandy and Evita must go to great lengths when Tyrone is put in a dangerous situation; Adina looks to someone surprising for help. (TVGuide)
After the hotel fiasco, Tandy has a new mission to focus on–saving Ty's life. Given that this is Marvel's Cloak & Dagger, some magic and mysticism come in play to save Ty. Tandy calls Evita to come help with this aspect of saving Ty's life, Evita channels Papa Legbe as Brigid and Tandy jump into the darkness from Ty's cloak. Both of them wind up in different places–Tandy in an arcade and Brigid in a mall.
The arcade is run by Baron Samedi (Justin Sams) with whom Tandy tries to cut a deal where if she wins one of the games, her and Ty can go free. Baron makes the stakes more interesting and says Ty will have to join her, and if Tandy can Ty to agree to leave, then they can go.
When all is said and done, Ty isn't enthusiastic about leaving this place. A place where he doesn't have to worry about fear, being hurt, and one where he is not being hunted. But going back to the video game the two have to play, it's pretty epic. It's basically a game starring them in 8-bit form. There are multiple levels in the game in which the last one requires them to face off with Andre. Ugh, again? Hasn't Tandy suffered enough at the hands of that man?
It was too much to handle for Tandy who leaves the game with a frustrated Ty behind her. Tandy basically tells him, at this point, if he is going to stay here, so will she. She'd rather be near him than away from him. Are these strong friendship vibes or…what?
Meanwhile, Evita is trying to work with Legba to help save Ty's life. Instead, her dead Auntie shows up who tries to persuade Evita to step up to the mantle. But Evita isn't too eager to take this step, she still has a life she wants to live. Ultimately, the decision is left up to her, and if she wants to save Ty's life–there's only one thing she can do. Basically, she'd have to become mambo and marry a loa, who in this case, is Baron Samedi.
Just as the wedding nuptials begin, Tandy and Ty see a bouquet pop up in the darkness which means a life was given in exchange for another. Samedi promptly kicks Tandy and Ty out of the darkness as a result. At least Ty is alive!
Brigid's experience in the darkness involves her being in a mall and running into Mayhem. During a conversation, Brigid tells Mayhem that with how things have been, the world needs someone like her. Basically, Brigid lets Mayhem in, officially making them one entity, so to speak–with a mission to take down Andre once and for all.
Speaking of Andre, he takes complete advantage of Lia when he's overcome with painful headaches. He inflicts pain on her until he gets relief, and winds up leaving her on the side of the road at the end of the episode. All he wants is to become a loa, and now, he may have the key to unlock his mission.
While in words this episode sounds sort of thrilling, it fell short of expectations. It is admirable how the series for how different and unique it is, even for its darkness and gloom, so without being too critical, it just wasn't as intriguing as it could have been. But hey, we still have two episodes left in the season!
---
Check out my TV blog to read reviews, recaps, and much more! Be sure to follow me on Twitter, Instagram, and like my Facebook page! @watchwithreebs
If you liked this, please read our other reviews here and don't forget to follow us on Twitter, follow us on Instagram, and also like us on Facebook.