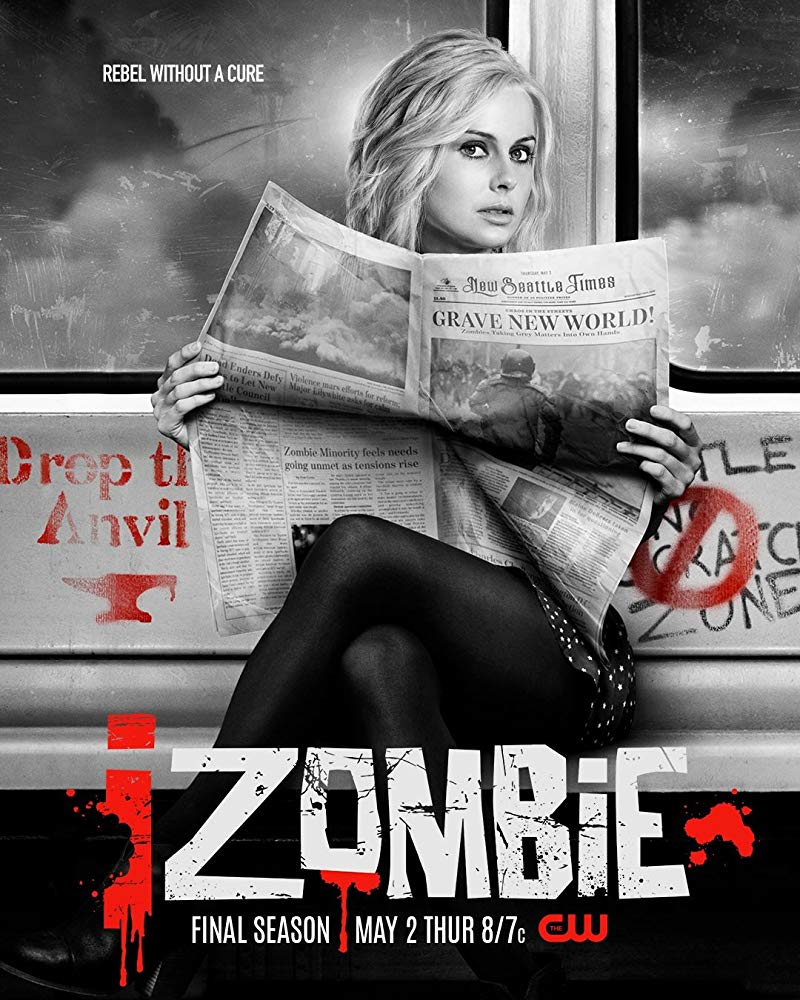 Director

Viet Nguyen

Writer

Diane Ruggiero-Wright

Rating

TV-14

Running Time

42 minutes

Airs

Thursdays 8pm

Channel

The CW
Rating Summary
In Five, Six, Seven, Ate, Liv and Ravi tango to solve a mystery, and it is everything.
If you would like to read our review of the last episode of iZombie, click here.
Synopsis: While investigating the deaths of Seattle's winning dance duo, Liv and Ravi go undercover as dance partners to size up the other contestants; Peyton confronts Major after she's told that one of his soldiers was out of line. (TVGuide)
It is so heartbreaking that with every passing episode, we are nearing the end–and this reviewer is not ready for it. This week's episode has Ravi and Liv dancing up a storm as they work together to solve the murders of two dancers.
The episode begins with two salsa dancers doing their thing but suddenly falling to their death after drinking a protein shake laced with cyanide. Upon further investigation, it turns out these dancers were getting ready for a competition in which the grand prize was two tickets out of Seattle.
Liv eats the brain of the woman dancer and suggests that she and Ravi go undercover to figure out what happened. Enter, Liv with a red wig–she looks absolutely amazing, by the way. After arriving at the auditions, Liv and Ravi soon meet another dancing duo, Tina and Lars. While out for drinks, the bar they are at turns into a club, which throws Ravi in for a surprise. After all, he was told he wouldn't have to actually dance. Seeing Rahul Kohli bring life to a dancing Ravi was everything.
Tina suggests that she and Liv be roommates during the competition which gives Liv an advantage to look into Tina a bit more. However, right at that moment, Liv has a vision of Lars and the male dancer from the beginning of the episode, Gulliver. It turns out they were having an affair, and the female dancer, Nancy found out!
Liv decides to eat Gulliver's brain to get a better idea of what might have happened, after all, Tina would have been livid if she found out about the affair. Despite all of this, Liv and Ravi had to prepare for their performance which mainly meant getting Ravi ready. In a series of attempts to learn and practice, Liv and Clive teach Ravi all the salsa moves until he nails each and every one of them down.
Speaking of Clive, he's thrown in for a loop when he runs into his ex, Michelle, while at a birthing class with Dale. It appears Michelle is very pregnant, and given the timeline, it could very well be Clive's baby. We'll have to wait and find out but at least Dale is being a champ about it!
During their performance, Ravi kills it but Liv has a vision of another man asking Gulliver not to leave and stay with him. When Clive and Liv go to see this other guy, they learn that he did want to get Nancy out of the way. Unfortunately, they don't learn much because he too collapses and dies from cyanide poisoning.
Major and Peyton have a lot to deal with in this week's episode as the human/zombie tensions continue to grow. This time around, Major learns that routine lice checks are being done at school to single out the zombies from the humans. He sends Fillmore-Graves soldiers over to the school, but things get out of hand when one of the soldiers makes a comment about the humans, and then one of the kids tries to take a gun.
Peyton is livid over the situation but learns from Major that one of the kids tried to take the gun. They both argue over the situation but later come together to tackle the issue at hand, especially when one of the zombie kids being bullied at school goes rogue on his bullies. It turns out that this kid and his older brother are Jordan's siblings, who recently passed away in the line of duty. With nowhere to take them, Peyton and Major bring the boys to Liv's safe house where she promises to take care of them.
It will truly be sad to see iZombie end because of how wonderful the show has been and the chemistry between the actors. They can basically do anything, and this episode proves it.
---
Check out my TV blog to read reviews, recaps, and much more! Be sure to follow me on Twitter, Instagram, and like my Facebook page! @watchwithreebs
If you liked this, please read our other reviews here and don't forget to follow us on Twitter, follow us on Instagram, and also like us on Facebook.