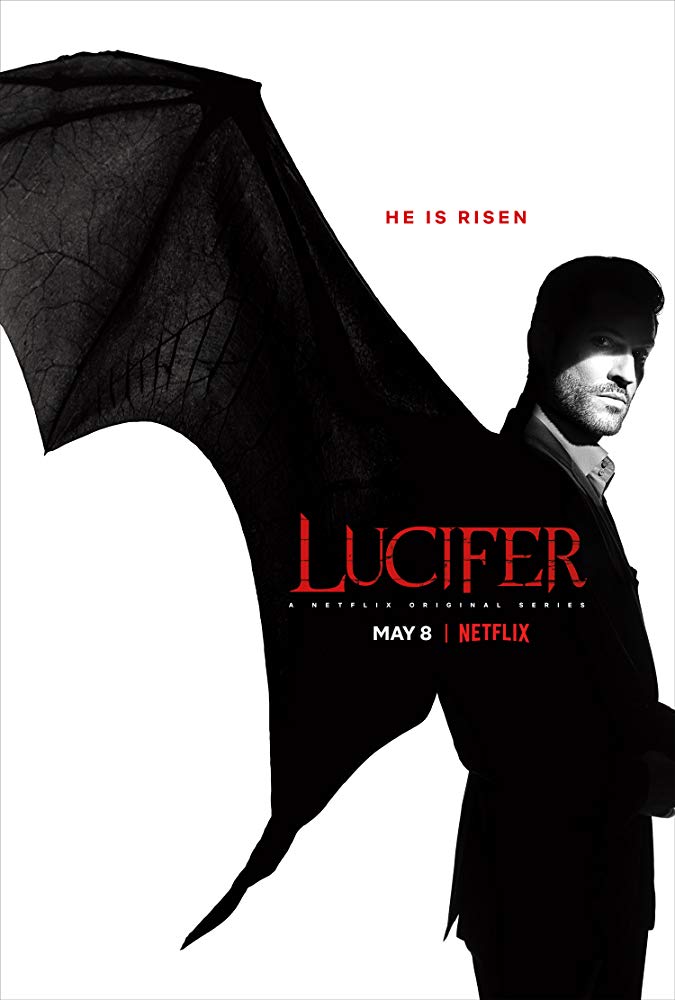 Creator

Tom Kapinos

Rating

TV-14

Episodes

10

Running Time

42 minutes

Channel

Netflix
Rating Summary
This season of Lucifer manages to be the perfect example of the series's evolution from just another network TV property to something that is wholly supported by a streaming platform that will hopefully keep it around for several more seasons.
For our review of last season of Lucifer, click here.
As a Lucifan, words were one of the only devices available when experiencing the emotional roller coaster that was learning that Fox had cancelled the successful procedural. First, it's Fox, which means their previous history of cancelling beloved series on a whim while attempting to disguise shadowy business dealings within its corner offices that are far far removed from the actual production of their series is extremely commonplace and thus should be expected when it comes to any and every thing that we love.
Anger was quick to follow based on where the third season left Lucifer and Chloe after she was finally able to see his devil face. Then came rage after Fox deemed releasing two throw-away episodes (reviews here) as a sort of backhanded apology for abruptly cancelling the series and the stories contained in both of those episodes never dealt with the fallout of the series finale. But then a soothing calm came rushing in as television series in today's viewing world always possess a small possibility to be revived by streaming networks with big pockets and nothing to lose. Enter Netflix as Lucifer's ultimate savior who was able to bring it back for a fourth season.
Season four of Lucifer is a fan's perfect scenario – it's on a streaming network which allows it to have more freedom in terms of content as well as in its production, it demands a slimmer episode order and it allows for other countries to find and support it on a larger scale. Right away, the series manages to flex its censorship-free muscles as it delves deep into Lucifer's depression from Chloe's absence as he seeks to fill the emotional void in any way possible. Once Chloe returns from her time away, things begin to move quickly as her eyes are now opened to everyone within Lucifer's close circle and their roles involving the divine.
This affords each episode's story the opportunity to venture into more bizarre places and involving much more fantastic elements none of which are surpassed by the emergence of Eve (Inbar Lavi), the first woman, who rekindles a long dormant flame with Lucifer that throws him into fits of emotional regression of his former more evil self which he is desperately trying to distance himself from. This morality push-pull frequently occurs throughout the season until finally reach a pinnacle with which Lucifer is forced to choose who he ultimately wants to be. The series does seem to falter slightly in its approach to Father Kinley's (Graham McTavish) motivation towards Lucifer which bookends the season but it more than makes up for it with Eve's strange role-reversal with Lucifer and her ability to bring out the best and worst in him.
It's odd to be able to summarize an entire season of Lucifer within one paragraph but it proves yet another strength that it possessed – its running time. At only 10 episodes, instead of the network induced 22, the story moves much more nimbly from one to the next and each one resembles the best representation of the characters that we've come to love all due to the fact that they do not have to "fill" the in-between episodes that aren't essential to the major storylines but are necessary to complete the order. Personally, this is one of the greatest missteps from network TV today but Lucifer's ability to shed the excess weight allows for it to focus on telling a much more fluid story.
Even with the hope of a season five renewal on the horizon from Netflix, Lucifer has already managed to complete the one thing many others fans wanted – closure. Yes, it was still able to leave us wondering what is next after a solid finale but it also gave us the answer to what came after Chloe saw who Lucifer really was as well as spend an entire season exploring her feelings towards the acceptance of his true nature.
Season four of Lucifer was a welcomed return to a series that has been enjoyable to watch ever since its premiere and holds a special place in this binge-viewing reviewer's heart. It never asks too much of you as a viewer and is simple, predictable yet is consistently entertaining..
---
If you liked this, please read our other reviews here and don't forget to follow us on Twitter, follow us on Instagram, and also like us on Facebook.