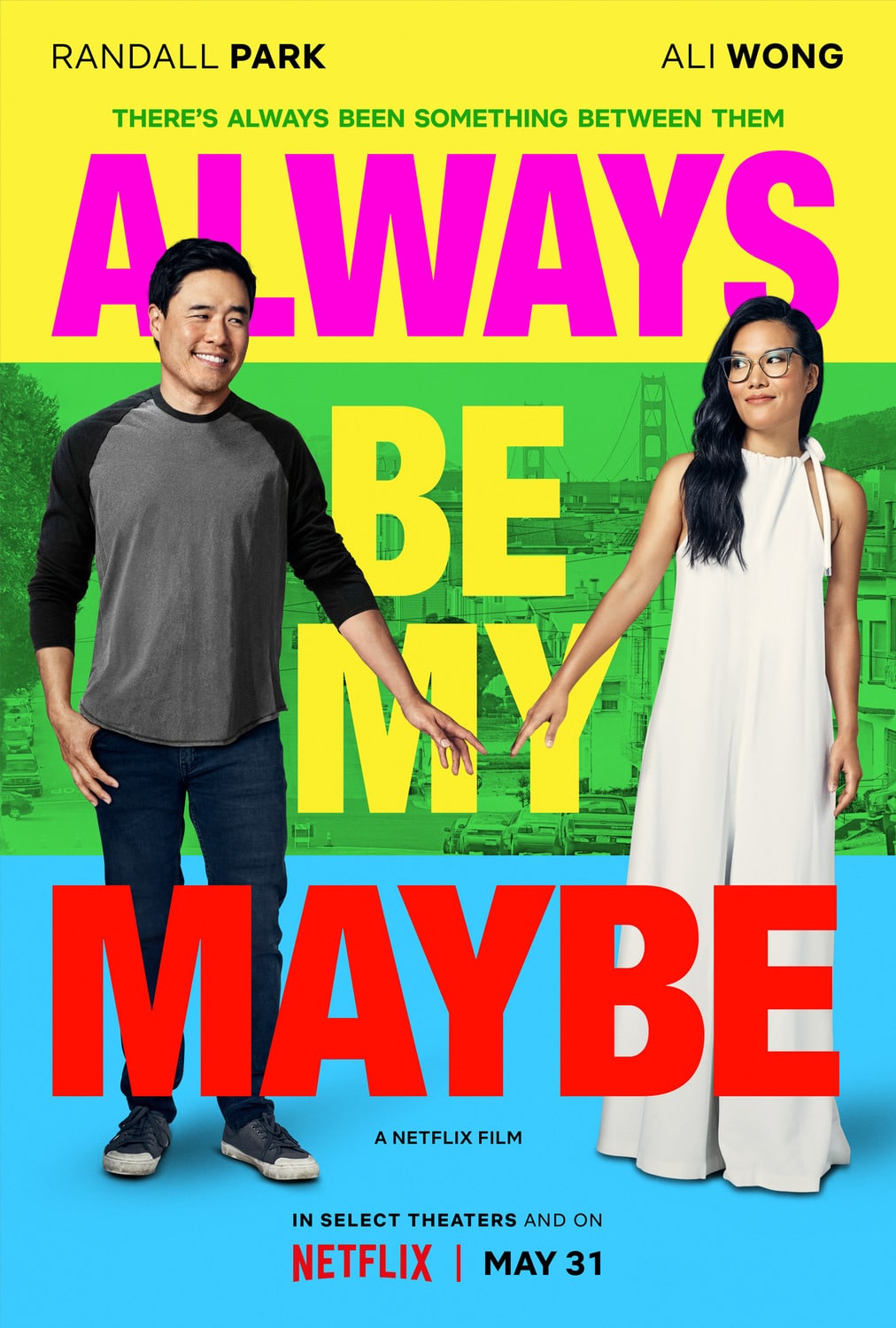 Starring

Ali Wong, Randall Park and Keanu Reeves

Writers

Michael Golamco, Randall Park and Ali Wong

Director

Nahnatchka Khan

Rating

PG-13

Running Time

101 minutes

Release Date

May 31st, 2019 (Netflix)
Rating Summary
Always Be My Maybe is a smart, entertaining romantic comedy filled with love, laughter and loss while using an Asian ensemble to tell a universal story that feels like a modernized version of When Harry Met Sally.
Always Be My Maybe follows the story of childhood friends Sasha (Ali Wong) and Marcus (Randall Park) who after an awkward night have a falling out and go their separate ways. Fifteen years later, Sasha returns to San Francisco as a successful celebrity chef to open a new restaurant where she runs into her old best friend. While Sasha's life moved forward, Marcus is stuck in the past, working as a content bar musician who lives at home with his father. As the two keep crossing paths during her stay, they soon find old sparks reigniting between them complicating both of their lives.
Netflix is the home for these middle budget rom-coms. Films that have a big enough cast and comedic potential, but would do poorly in theatrical release. These films deserve to be seen and there is no better way to watch these feel-good, uplifting stories than on our couches in our comfiest pair of sweatpants. With that out of the way, let's look at the film itself and why this story ends up being another step in the right direction for the romantic comedy genre.
With films like Set It Up and To All The Boys I've Loved Before being released on Netflix and others like Crazy Rich Asians and Isn't It Romantic in theatres, the romantic comedy genre has seen a resurgence over the last few years. However, what Always Be My Maybe does is take the genre and bring it to the next level. The all Asian American cast is not the central focus of the story. There are no overtly cultural themes throughout the film to force a particular narrative. Instead, the casting is a product of the writers starring in their own film and that makes the story more universal and relatable.
In regard to the premise itself, it has a very When Harry Met Sally vibe as it has two lifelong friends, who won't admit their attraction to one another, constantly butting heads. This story translates well to screen thanks to the offscreen friendship of stars Wong and Park, but it feels like something else is missing along the way. Some of the dialogue feels awkward and the jokes don't land at times as the story goes through a very formulaic format that never really pushes the boundaries of its potential.
Thankfully, these small issues are pushed aside due to the strong performances of Wong and Park as well as the scene stealing caricature of Keanu Reeves. His entire performance is hilarious and picks up a slightly dragging narrative mid-way through the story. Beyond the performances, the themes help to elevate the film with some surprisingly emotional and touching moments that tackle empowerment, independence, grief and loss.
Always Be My Maybe may be predictable, but it is the perfect late night comfy couch comedy.
*still courtesy of Netflix*
---
If you liked this, check out my YouTube channel The Film Fanatic, my other reviews and my website!
Don't forget to follow us on Twitter and Instagram and like us on Facebook.