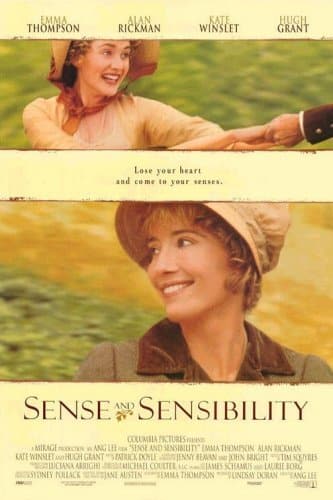 Starring

Emma Thompson, Alan Rickman, Kate Winslet

Writer

Emma Thompson

Director

Ang Lee

Rating

PG (Canada, United States)

Running Time

136 minutes
Rating Summary
This version of Sense and Sensibility is a charming and delightful adaptation of a classic novel and one that will make you cry and will make you laugh.
Period films had a great decade in the 90's; after A Room With a View became a success in 1986, they started escalating towards bigger and bigger returns and turned into something of a genre itself. In a way, it was like a superhero movie, but the iconic characters in these stories were the masterminds who created the books, E.M. Forster, Henry James and, of course, Jane Austen. Her, in particular, had quite a decade with Sense and Sensibility, Clueless, Emma and Pride and Prejudice, the last one a very popular BBC miniseries.
Sense and Sensibility is the best one in the lot, by far. One of the best aspects of the film is that every piece of it works perfectly and although it is somewhat ambitious, it feels very understated. The narrative is so smooth and the story unfolds in such a suave way it makes us forget sometimes we are actually watching a film.
Mr. Dashwood (Tom Wilkinson) asks his oldest son (James Fleet), on his deathbed, to care for his wife and three daughters. After promising to do so, the half-brother very quickly (and in a very effective opening sequence) dismisses his promise, influenced by his greedy wife (Harriet Walter). They soon take control of the family estate, obligating the widow Mrs. Dashwood (Gemma Jones) and her three daughters to accept the offer to move to a small cottage in a distant relative's property.
The eldest daughter, Elinor (Thompson) falls in love with Edward (Hugh Grant), but her sense forbids her to act on that love. The middle daughter, Marianne (Winslet), on the contrary, is all about her sensibility, and very imprudently demonstrates her feelings for John Willoughby (Greg Wise), breaking the heart of Colonel Brandon (Rickman). Life and its twists and turns puts their sense and sensibility to proof, and both sisters learn how to embrace the other side.
The high quality of Sense and Sensibility comes from the two stepping-stones from where everything else was built upon: the brilliant script written by Thompson and the direction of Lee. Thompson highlights the humor of Austen's words and finds very small intimate moments between the characters that let us dive into their souls while Lee compliments the script amazingly, using his sensibility to enhance the quality of the material. It's a very strong combination of both parts, to the point where we can't tell where one starts and the other ends.
Some moments in Sense and Sensibility are very interesting on a visual level, especially because they are not flashy, like the party where Marianne and Elinor follow Willoughby through different rooms. In each room they cross, they get into a higher social and economical group than the room before and at the end of their search, they are several steps down the social ladder from the people they see across the room, where Willoughby is so voraciously clinging to. Nothing is said about the matter, but we see the different through the characters clothes, hair and especially by the jewelry.
One of the most hilarious aspects of Sense and Sensibility (which also works as a social commentary) is the way the actors bow down to each other. There's awkwardness and a sense of silliness to it all, and the actors play it on spot. Every time the characters meet, there is this little weird moment between them as if they are trying to coordinate all their movements, and we see they think that such formal reverence is ridiculous, but unfortunately necessary. It's like they are all trying to say, "let's stop this nonsense and go straight to the point" but the next second they just comply to formality. The looks on the actors in those moments are to laugh out loud. Every. Single. One.
In some moments, the camera lingers on the characters for an extra second or two, giving us the opportunity to feel closer to their hearts and minds. These are moments that we, the audience, are sharing with these characters; just us, and no one else is acknowledging them. These moments connects us to these characters in ways that are impossible to let go. It's like we are witnessing these people unfolding right before our eyes.
Of course, this also happens because of the absolutely brilliant cast assembled here. There are no low points in the team. The same was the case with the film's minor characters. Everybody here brought his or her A-Game. But the three leads are especially inspired. Rickman is heartbreaking as Colonel Brandon; Winslet is a force of nature with as Marianne (it's her breakout role, and deservedly so), and Thompson is amazing in her restraint, killing us with every moment she holds herself back from professing her feelings. If that was not enough, hers is probably the most unbelievable gasp in the history of films. Wait to see it: it's perfect.
Technically, the film is beautiful all around; It's surprisingly sunny and bright (it's set in England after all) and has a great soundtrack. If you are looking for a delicious movie for the weekend, look no further: watch Sense and Sensibility.
*still courtesy of Columbia Pictures*
---
If you like this review, look me up on Instagram for more suggestions.
If you liked this, please read our other reviews here and don't forget to follow us on Twitter or Instagram or like us on Facebook.