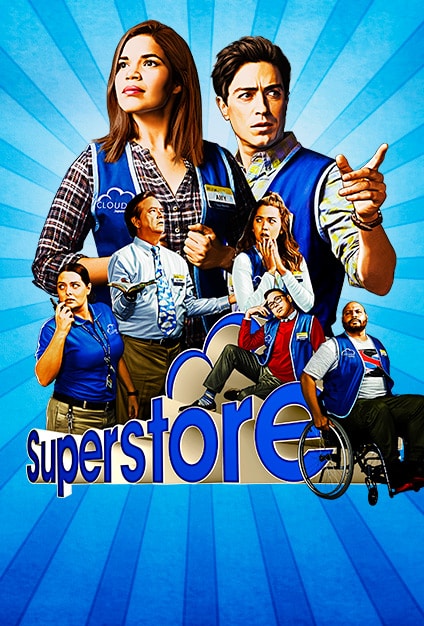 Creator

Justin Spitzer

Rating

TV-14

Episodes

22

Running Time

484 minutes

Airs

Thursdays 8pm

Channel

Global, NBC
Rating Summary
Season Four of Superstore was yet another season of hilarious and grounded workplace comedy thanks to the chemistry of the ensemble paired with its quirky tone.
Through its first three seasons (click here to read our review of last season), Superstore has managed to successfully blend elements of beloved sitcoms before it while adhering to its own unique tone and atmosphere. It follows the single-camera format of Brooklyn 9-9 and Arrested Development, the workplace setting of The Office and the ridiculously absurd yet grounded humor and situations of Parks and Recreation. The show does all of this while pushing forward a layered, serialized narrative that left last season on quite the cliffhanger.
The main story of this season revolved around Amy and Jonah having to come to terms with the store discovering their secret relationship. Dina and Amy both have their babies, Garrett cannot get over his feelings for Dina and Mateo struggles with his undocumented status. After Glenn steps down as manager, a vacancy allows Amy to push her career forward causing tension between her and the others. As the atmosphere of Cloud 9 changes with some upper management issues, things take a turn for the worst when ICE arrives at the store.
If anything, this season was consistent with the series as it stays true to its characters no matter what situation is thrown their way. With the dynamic change through the season's narrative, the characters are able to grow and adapt to the new world around them while keeping the audience invested in their lives. This is seen most through the layered storytelling that has each character, lead or supporting, dealing with their own problem. Unfortunately, some are pushed to the background and have little-to-no growth throughout this season, but their relationships with the rest of the characters make up for it.
The strongest aspect of this season is the same as last which was the writing. The world continues to be a fun and hilarious setting for a sitcom as these retail workers deal with very real customer service issues. This pairs nicely with the show's humor which is nothing short of gut busting. Each episode has a handful of laugh out loud jokes that make for some memorable moments throughout. This is paralleled by some surprisingly deep and emotional themes that bring a necessary break to the constant laughter.
At the end of the day, while some storylines and characters seem cast into the background and forgotten, the chemistry of the ensemble paired with its quirky tone and absurd world make this an entertaining retail experience.
What did you think of the fourth season of Superstore? Let me know in the comments!
---
If you liked this, check out my YouTube channel The Film Fanatic, my other reviews and my website!
Don't forget to follow us on Twitter and Instagram and like us on Facebook.