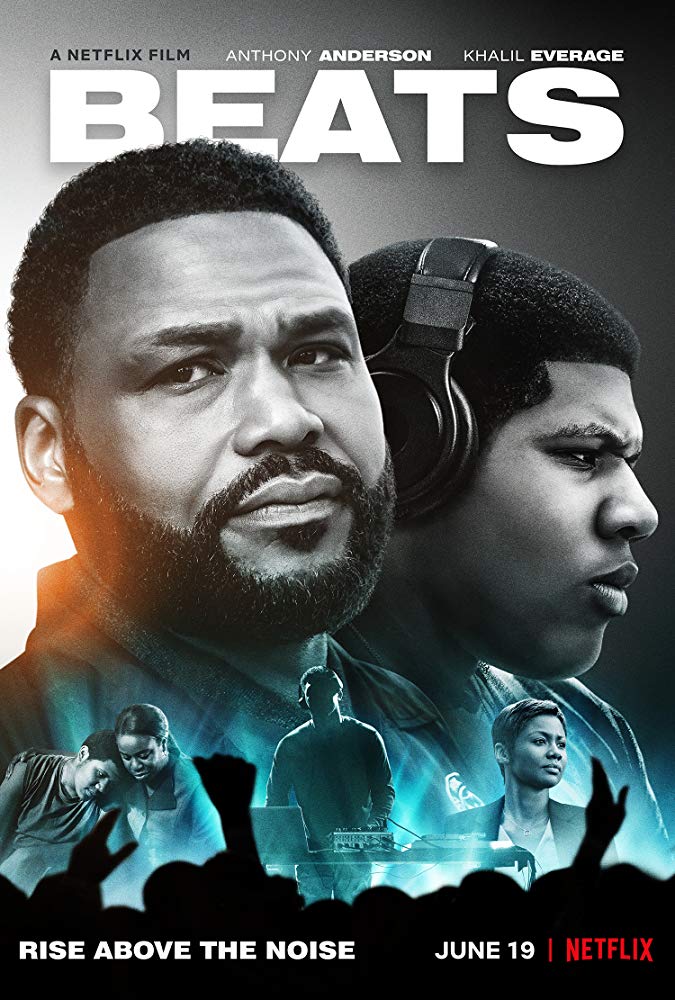 Starring

Khalil Everage, Anthony Anderson, Evan J Simpson

Writer

Miles Orion Feldsott

Director

Chris Robinson

Rating

TV-MA

Running Time

109 minutes

Release Date

June 19th, 2019 (Netflix)
Rating Summary
Beats is a solid Netflix original movie and one worth recommending if you have two hours to spare on a weeknight or weekend.
Netflix newest original movie Beats centers around a hip hop producing prodigy who's life is turned upside down after the loss of a family member and is slowly coached back to life by a wayward manager who's looking for redemption.
On its surface, Beats can give the appearance of being a fairly common story about a child seeking to overcome hardship, but with further examination, it is far more. Beats focuses on August Monroe (Everage), a teenager attempting to survive everyday life in South side of Chicago. August shows an immense talent for producing music for hip hop artists but his craft is brought to a halt with the accidental murder of his sister This incident forces his mother to keep him locked inside their apartment fearing the same fate could fall upon him some day. It isn't until Romelo (Anderson), a school security guard who's tasked with visiting each truant student in an attempt to get them back to school, discovers August and his abilities and attempts to slowly draw him back into the world in order to share his gift.
Where Beats captures its audience and truly keeps them engaged is with its depiction of Chicago and the dangers that face its inhabitants, especially its children, each and every day. It does this with great care to supporting the story and August's very real fear of becoming yet another negative statistic and never seeks to over-dramatize the harsh nature of the character's surroundings. It's a figure that is always present in every scene and serves as the single driving force for almost every character's motivation to better themselves. Everage, who makes his feature film debut in Beats, does a solid job of bringing August to life and in the several scenes where he is the emotional anchor he carries the weight effortlessly.
It will be exciting to watch Everage grow in his profession and Beats serves as a very strong first step in the right direction. What was perhaps the most surprising was Anderson's dramatic performance. He serviced the script well and often played a wonderful accompaniment to Everage's August, but the film also managed to showcase him in various moments that solely focuses on Anderson and his character's internal struggles with what is right versus what is easy. Beats never wavers from being about August, however, it does find many opportunities to balance his story with its supporting character's battles which strengthens the overall production.
Naturally, another strength of Beats is its soundtrack which features a myriad of tracks that immediately catch your ear. It also manages to surprise the viewer with its playful camerawork that feels slightly experimental in certain scenes but always manage to elevate its characters and tone. The only misstep came in its final third act where the story reached a conclusion that felt somewhat rushed after spending almost two hours becoming invested in August's life. The movie possesses a good conclusion, just one where we could've spent several more minutes in for closure's sake.
Beats boasts a formidable cast telling a heartfelt story amidst a great soundtrack if you enjoy hip hop. It's an easy watch that will not demand too much of an emotional investment from its viewer but will still deliver a strong entertaining experience for anyone willing to give it a chance.
*still courtesy of Netflix*
---
If you liked this, please read our other reviews here and don't forget to follow us on Twitter or Instagram or like us on Facebook.