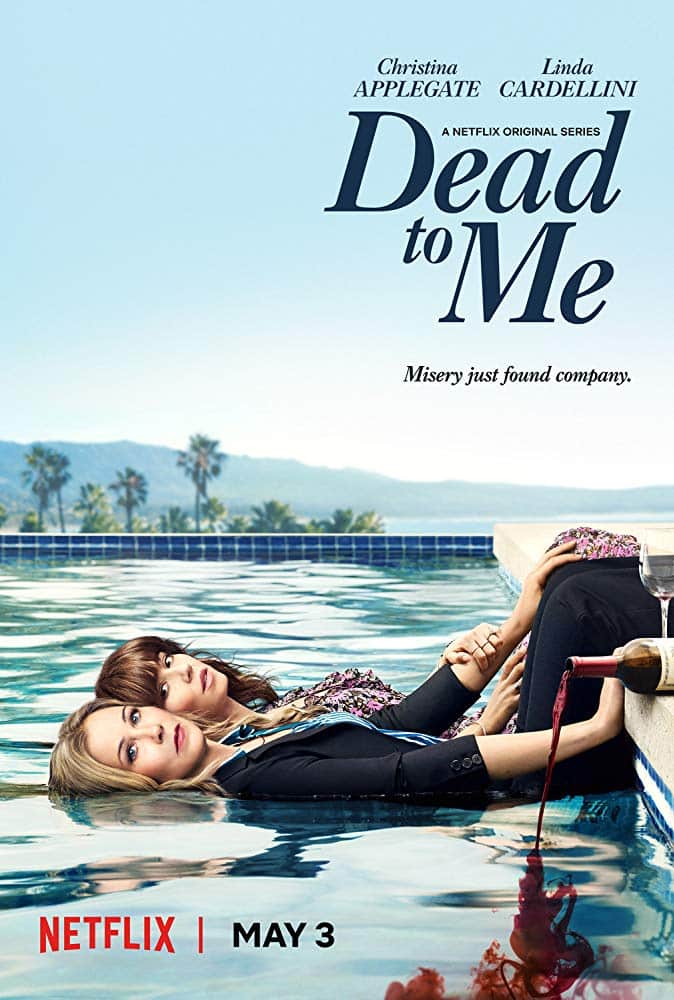 Creator

Liz Feldman

Rating

TV-MA

Episodes

10

Running Time

300 minutes

Channel

Netflix
Rating Summary
Dead to Me is a delightfully dark comedy, tackling the issues of life after loss. Ultimately, the chemistry and charisma of Christina Applegate and Linda Cardellini, the moving themes and strong tone make for a worthwhile journey in the end.
Within a couple of months, Netflix has decided to tackle not one, but two dark comedies centered around bereavement. The first foray into this genre, After Life, took a cynical man, beautifully cast as Ricky Gervais, trying to live life after the loss of his wife (review here). However the second, Dead to Me, took a slightly different route. While both manage to dive into the same themes in a quirky, albeit disturbingly dark and humorous way, they manage to feel different enough to stand as their own potentially long-running premises.
The main story of this season of Dead to Me revolved around the grief of recently widowed real estate agent Jen (Christina Applegate) whose husband was killed in a hit-and-run accident. Trying to find some semblance on normality in her life, she attends bereavement meetings where she meets the optimistic Judy (Linda Cardellini). The two form a quick bond over their recent losses, but Jen becomes suspicious as Judy's story slowly doesn't line up. After finding out that Judy's "dead" fiance Steve (James Mardsen) is alive and well, she begins to dig deeper into this mysterious woman's past and questions how she managed to easily entered her family's life.
This is a series that could easily have gone wrong from the beginning. The comedy could have been too morbid or the depiction of grief too off-putting. Instead, it narrowly avoids those pitfalls with a genuine depiction of loss and how those left behind must struggle with it. This heartfelt look at these profound themes allows for a strong, emotional backbone for this series and its characters. Unfortunately, the same cannot be said for its comedic aspects as they are few and far between. While this isn't necessarily a bad thing, given the direction of the show, it certainly changes its tone as time goes on.
The writing is the continued source of highlights and low points as the story unfolds throughout its short season. Each episode feels a little long as the stories start to drag two-thirds of the way through their run-time. This causes characters and situations to overstay their welcome and create a dull tensionless narrative. However, the writing manages to consistently pick up this slack in delivering well thought out and satisfying cliffhangers that rope the audience back into the intense situations at hand.
The writing proved to be both a highlight and low point of this series, however, is elevated thanks to its cast and their performances. Marsden, Max Jenkins, Sam McCarthy, Luke Roessler and Brandon Scott as Christopher Doyle, Charlie and Henry Harding, and Nick Prager respectively all help surround the two lead characters with the necessary foils to cause tension in their lives. However, this series lives on the chemistry and charisma of Christina Applegate and Linda Cardellini as Jen and Judy. Both women deliver strong, flawed and innately human performances that bring these characters to life and instantly make us feel exactly what they are going through. Their hardships, struggles and small victories all help to further their development creating two strong females we would watch for seasons to come.
What did you think of the first season of Dead to Me? Let me know in the comments!
*still courtesy of Netflix*
---
If you liked this, check out my YouTube channel The Film Fanatic, my other reviews and my website!
Don't forget to follow us on Twitter and Instagram and like us on Facebook.