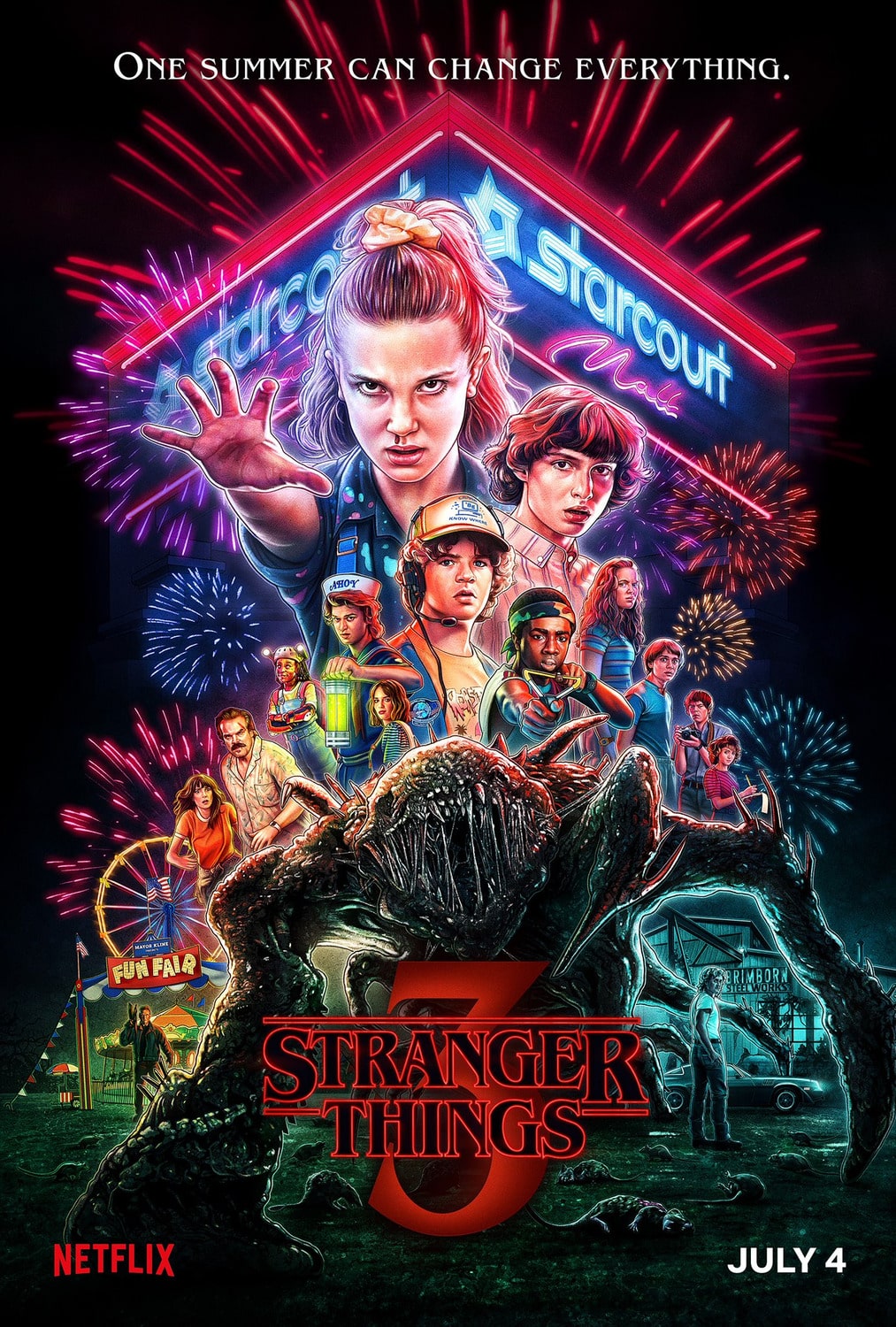 Creator

The Duffer Brothers

Rating

TV-14

Episodes

8

Running Time

480 minutes

Channel

Netflix
Rating Summary
Season Three of Stranger Things is an entertaining, albeit familiar, sci-fi adventure that brings back its 80's nostalgia in full force without neglecting its characters. The series finds itself walking somewhat in place with a lack of new, interesting characters and repetitive, one-note villains and tropes. However, the focus on pop culture references, music and Easter eggs from the decade continues the strong and unique atmosphere of this series. This pairs well with a strong, thrilling storyline filled with character moments, strong development and relationships that continue to elevate this show to its highest potential.
This series has become a cult-pop culture phenomenon. While House of Cards and Orange is the New Black may be the first hit shows to make Netflix a serious contender in the TV industry, Stranger Things has been the most consistent of their series by delivering stronger, darker and more nostalgia inducing seasons as it goes on. While many series may start to dwindle in the writing department and fallback on the ability to cite pop culture references left and right, the showrunners of Stranger Things have managed to create such a unique world with an intricately built series structure to bring the right amount of camp to this sci-fi adventure. Does this stay true for its third season? Only a trip to 1985 can answer that question.
The main story of Stranger Things season three revolves around the town of Hawkins during the summer of 1985. A new mall has opened in town giving the residents, mainly teens, a place to hang out on the weekends. Sheriff Hopper (David Harbour) has become concerned with the co-dependent relationship of Eleven (Mille Bobby Brown) and Mike (Finn Wolfhard) while trying to figure out his own relationship with Joyce (Winona Ryder). As the group gets older and romance starts to blossom for each of them, things seem to be going their way. That is until Will (Noah Schnapp) finds himself triggered by the return of something otherworldly. As the kids search for answers, secrets surrounding Hawkins continue to unravel causing them to band together once again and protect our world from the Upside Down.
Instantly, the easiest thing to talk about in regard to this season, or the series in general, has always been its atmosphere and tone. Each episode dives deeper into a nostalgia-filled show that brings blatant and obscure references whether it is within the world itself or its storytelling elements. Season three was no different by having tons of direct references to iconic sci-fi films and TV series. In one of the major storylines of the season it blends elements of Invasion of the Body Snatchers, Alien and Dawn of the Dead. The other combines aspects of Red Dawn with The Terminator and Indiana Jones. This isn't including the direct imitation of many iconic shots from some other series including Jurassic Park, Star Wars and even having Back to the Future as part of the season's narrative.
This continued use of 80's nostalgia is seen also through the soundtrack, which again feels like a character in itself. The heavily synthesized music creates an immediate connection to the decade it was born in while setting the perfect atmosphere for the story. However, while the nostalgia is great, it feels like the overuse of imitation rather than references to classic sci-fi causes this season to feel a little less original than the ones before it. The repetitive use of a face-less, voice-less one-note villain shows a series that is going through a cyclical story of "bad supernatural enemy faces off against a group of quirky kids." This mixed with the overly used and completely unoriginal trope of a secret Russian base hidden in America to set up a secondary villain makes the tension of a true villain character this season fall flat.
Thankfully, the series manages to mask this major issue by using strong writing and its characters to execute a layered and thrilling narrative. The characters are growing up and in turn must deal with new issues. Whether it's the kids and their hormones or their parents and trying to cope with these changes, season three finds a way to integrate these topics into the show without making them the focal point. Mix that in with subtle references to misogynistic work environments and the show gives itself enough to say without becoming a series that focuses on sending a message. Well except for its action-packed and surprisingly tearjerking finale that packs quite the emotional punch with a few fist-clenching cliffhangers. Regardless, in the end it continues to be exactly what it should be: an entertaining escape from reality on this thrilling sci-fi adventure through Hawkins, Indiana.
What did you think of the third season of Stranger Things? Let me know in the comments!
*still courtesy of Netflix*
---
If you liked this, check out my YouTube channel The Film Fanatic, my other reviews and my website!
Don't forget to follow us on Twitter and Instagram and like us on Facebook.