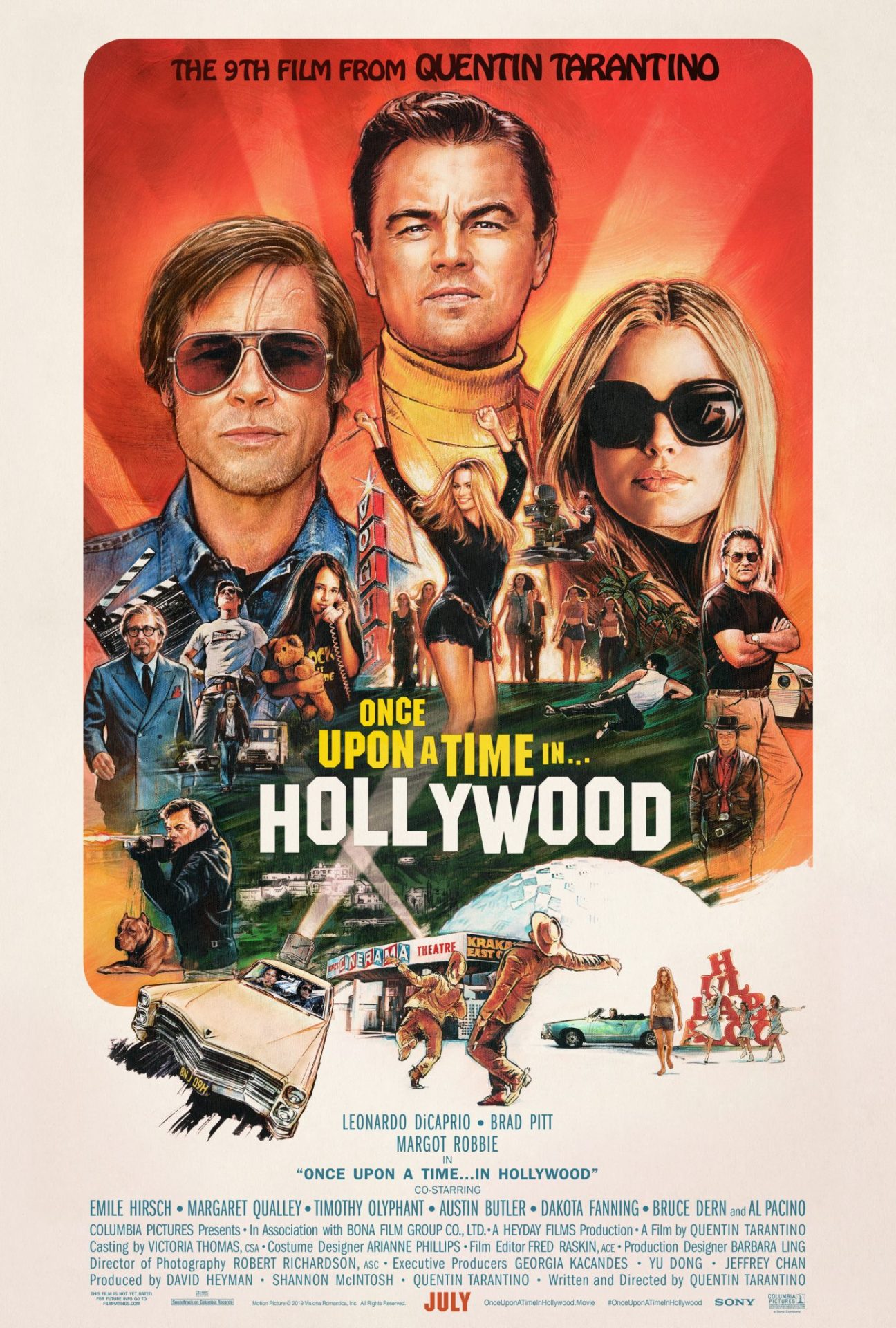 Starring

Leonardo DiCaprio, Brad Pitt, Margot Robbie

Writer

Quentin Tarantino

Director

Quentin Tarantino

Rating

14A (Canada), R (United States)

Running Time

161 minutes

Release Date

July 26th, 2019
Rating Summary
Once Upon A Time In... Hollywood is an engrossing and technically impressive slice of life love letter to Hollywood with plenty of incredible performances to boot.
There are, so… so. so. so. many shots of feet in this movie.
Once Upon A Time in Hollywood is the ninth (and alleged second-last) film from writer/director Quentin Tarantino which follows a fading television star named Rick Dalton (DiCaprio) and his best friend/stunt double Cliff Booth (Pitt), as well as Sharon Tate (Robbie) over the course of their day-to-day lives in 1969 Los Angeles.
Once Upon A Time in Hollywood is oh, so very interesting. The film simultaneously feels entirely on-brand for Tarantino, as well as a departure from the genre schlocky-ness we're used to seeing from him. We've seen very talky films of his in his earlier work like Reservoir Dogs and Jackie Brown, more action-oriented (although still including amazing, and lengthy dialogue) films like Inglorious Basterds and Django Unchained, and healthy hybridization of both in his previous feature The Hateful Eight. While it seemed like it would be something in the category of The Hateful Eight (and it still very well could be), it's hard to not put it in the same boat as his most ignored and overlooked film, Jackie Brown.
A gargantuan portion of Once Upon A Time in Hollywood (clocking in at nearly 3 hours) is dialogue. Now at this point, all the Tarantino-heads are probably kicking themselves thinking that this is no different than his other films, but it is. And the reason why this was the case was that while his previous films all had dense/lengthy dialogue and conversations regarding and filling the film's plot, this one doesn't. In fact, this film almost doesn't really have a plot? If anything, it's a slice of life film that follows three people working in Hollywood as entertainers. This fact could very well turn a lot of people off of the film and it will be interesting to see how the mainstream will react to this one.
This fact has to do with the fact of being invested and respecting the themes Once Upon A Time in Hollywood is going for. Tarantino grew up in the city the film takes place in at the time it takes place, and it ultimately feels like a love-letter, and an homage to the place he calls home. So much of it is filled with nostalgic pop culture references that are dated while completely marinating you in its world.
Everyone is obviously incredible in Once Upon A Time in Hollywood. DiCaprio gives an absolute knockout of a performance as Dalton that will surely earn him a nomination come Oscar season. Pitt is having a total blast in what very well might be his most fun role ever as Booth. Robbie is also really good as Tate, although her screen time is limited, and her dialogue even smaller than that.
Tarantino doesn't play around with the look and feel of his films, and that comes across very clearly here in Once Upon A Time in Hollywood. The sequences that take place on actual Los Angeles streets are amazing and technically impressive that he was able to achieve such a 60s vibe with the city when he actually filmed on real roads. On top of this, the cinematography is unreal. Some of the lengthy shots and the way the camera traverses around the city were mind-blowing. Personally speaking, editing is not something that often comes up in my reviews but the masterful editing here was well worth talking about. However, the one thing holding the film back from a perfect score and masterpiece status would be the film's final moments.
Ultimately, life is so great now that there's another Tarantino movie playing in theatres. Once Upon A Time in Hollywood is a real joyous time at the movies, and a great reminder of why this reviewer reviews films, and all of us like these things in the first place.
*still courtesy of Sony Pictures Entertainment*
---
---
Want more TIFF and film coverage from me that's not just on this site? Follow my site whatshouldwesee.blogspot.ca and follow me on Twitter @izmebenji.
Don't forget to follow us on Twitter and Instagram and like us on Facebook.